How to Firearms TIPs by Brownells, Inc. Gun Gurus.
Iowa, USA – -(Ammoland.com)- Muzzle brake? Flash hider? Compensator?
Firearm Muzzle Devices come in a bewildering array of shapes and sizes designed to perform specific functions. Brownells Gun Techs Steve Ostrem and Caleb Savant are here to help you figure out which muzzle device is right for you and your gun.
FLASH HIDERS (aka "flash suppressors") do exactly what their name suggests: they mitigate the fireball emitting from the muzzle when you fire a shot.
Originally developed for the military, they help reduce the risk of your muzzle flash telling the enemy where you are. COMPENSATORS direct combustion gas upward to counteract the natural tendency of the muzzle to rise when a shot is fired. Due to its closed bottom, a compensator also kicks up less dust when you're on the ground shooting prone. MUZZLE BRAKES reduce felt recoil by redirecting the gas outward, to the sides.
The faster the bullet velocity, the better a muzzle brake works. For AR-15 rifle shooters, Caleb answers this old question: Does it make sense to put a muzzle brake on a rifle chambered in .223 / 5.56? Because it reduces or at least slows the amount of gas coming out of the muzzle, a SOUND SUPPRESSOR also serves as an effective muzzle brake.
Finally, some muzzle devices are designed to perform two – or even all three of these functions – but the results tend to illustrate the old saw, "Jack of all trades, master of none."
Ready to add or upgrade your rifle's Muzzle brake, Flash Hider, or Compensator?

Check out the selection of Muzzle Devices online here and use the coupon codes below to $save some money.
---
About Brownells:
Serious About Firearms Since 1939, Brownells is the world's leading source for guns, gun parts and accessories, ammunition, gunsmithing tools and survival gear. With a large selection of both common and hard-to-find items, and an extensive collection of videos, articles, and gun schematics, Brownells is the expert for everything shooting-related. Committed to maintaining our great traditions, Brownells has more, does more, and knows more – and guarantees it all, Forever. For more information or to place an order, call 800-741-0015 or visit Brownells.com. Stay up-to-date with Brownells on YouTube, Facebook, Twitter, and Instagram.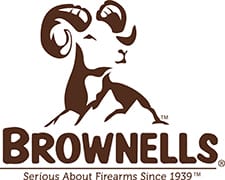 Brownells.com Coupon Codes
$15 off $125+
BROWNELLS15
Expiration Date 4/30/2022

$40 off $315+
BROWNELLS40
Expiration date 4/30/2022

Free S/H Orders $99+
Q63
Expiration date UnKnown

$15 off $150
SAE
Expiration Date Unknown

$10 off $100
PTT
Expiration Date Unknown

$15 off $150
TAG
Expiration Date Unknown

FREE 2-DAY SHIPPING on all orders with Membership
No Code – The Edge Program
Expiration Date Unknown

$10 off $100
AMMOLAND10
Expiration Date Unknown

$15 off $150
AMMOLAND15
Expiration Date Unknown