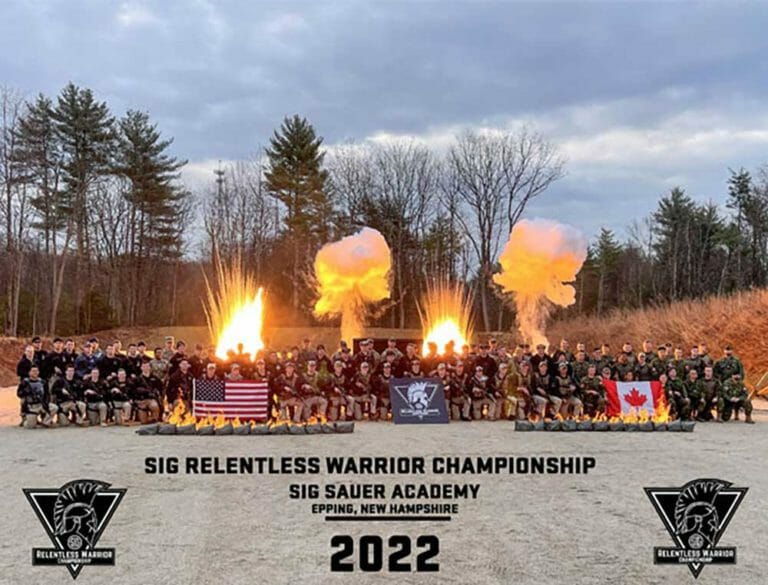 U.S.A. –-(AmmoLand.com)- SIG SAUER, Inc. is honored to announce the conclusion of the Fourth Annual SIG Relentless Warrior Championship. On Saturday, April 9, 2022, over eighty cadets from the United States Air Force Academy, United States Naval Academy, United States Coast Guard Academy, United States Military Academy at West Point, Texas A & M, Virginia Military Institute (VMI), Virginia Tech and the Royal Military College of Canada competed in the SIG Relentless Warrior Championship at the SIG SAUER Academy in Epping, New Hampshire. The course of fire consisted of six mission stages that tested the marksmanship and leadership skills of our future military leaders. The U.S. Military Academy at West Point Combat Weapons Team defended their title to earn the honor of 2022 SIG Relentless Warrior Champion.
"The SIG Relentless Warrior Championship is the highlight of the season for West Point's Combat Weapons Team, as it is the ultimate test of our Cadets' abilities to problem solve, plan, and test their training and shooting skills against some of the best collegiate-level combat weapons shooters in the nation," explained Lieutenant Colonel Charles Faint, the Team's Officer in Charge (OIC). "This was an exceptional win for the Team and validates our program's focus on developing our Cadets to be the best leaders, shooters, and warriors that they can be."

"Our team was relentless when it came to our training and their hard work and dedication was validated by the win and defending our title," added Coach Gary Salman. "We are extremely thankful to SIG SAUER for providing this opportunity to our cadets and for creating a format to bring these teams together for competition and camaraderie. We look forward to next year's challenge."
Additional top awards for the SIG Relentless Warrior Championship are as follows:
Top Gun: Awarded to the individual first place finisher of the competition
Jake Vollmond (US Military Academy at West Point)
High Lady: Awarded to the top female competitor
Ayla Myrin (Texas A&M)
Top Shot: Awarded to the best shooter from every school
Caleb Brady (US Air Force Academy)
Joseph Simmons (US Coast Guard Academy)
Jaimeson Hamsho (US Naval Academy)
Joshua Delgado (Texas A&M)
Braden Kerr (Virginia Military Institute)
Adam Jardines (Virginia Polytechnic Institute)
Jake Vollmond (US Military Academy at West Point)
"It's an honor for SIG SAUER to host the SIG Relentless Warrior Championship for these cadets each year, and after a two-year hiatus from an in-person event, it was especially meaningful to bring this group together to participate in their development and watch them persevere throughout the competition as they prepare to lead and serve our country and defend our freedoms," added Tom Taylor, Chief Marketing Officer and Executive Vice President, Commercial Sales, SIG SAUER, Inc.
The 2022 SIG Relentless Warrior Championship was sponsored by GO RUCK, GT Targets, and Atlas PyroVision Entertainment.
Get Social: follow SIG SAUER on Facebook, Twitter, Instagram, and YouTube for the latest news, product announcements, events, and updates.
---
About SIG SAUER, Inc.
SIG SAUER, Inc. is a leading provider and manufacturer of firearms, electro-optics, ammunition, suppressors, airguns, and training. For over 250 years SIG SAUER, Inc. has evolved by blending American ingenuity, German engineering, and Swiss precision. Today, SIG SAUER is synonymous with industry-leading quality and innovation which has made it the brand of choice amongst the U.S. Military, the global defense community, law enforcement, competitive shooters, hunters and responsible citizens. Additionally, SIG SAUER is the premier provider of tactical training and elite firearms instruction at the SIG SAUER Academy. Headquartered in Newington, New Hampshire, SIG SAUER has over 2,900 employees across eleven locations. For more information about the company and product line visit: sigsauer.com.