Oh, what a wonderful world it is when another firearm manufacturer offers us a shotgun!
I love shotguns, and as such, I was taken by surprise when the Smith & Wesson M&P 12-gauge landed in our collective laps.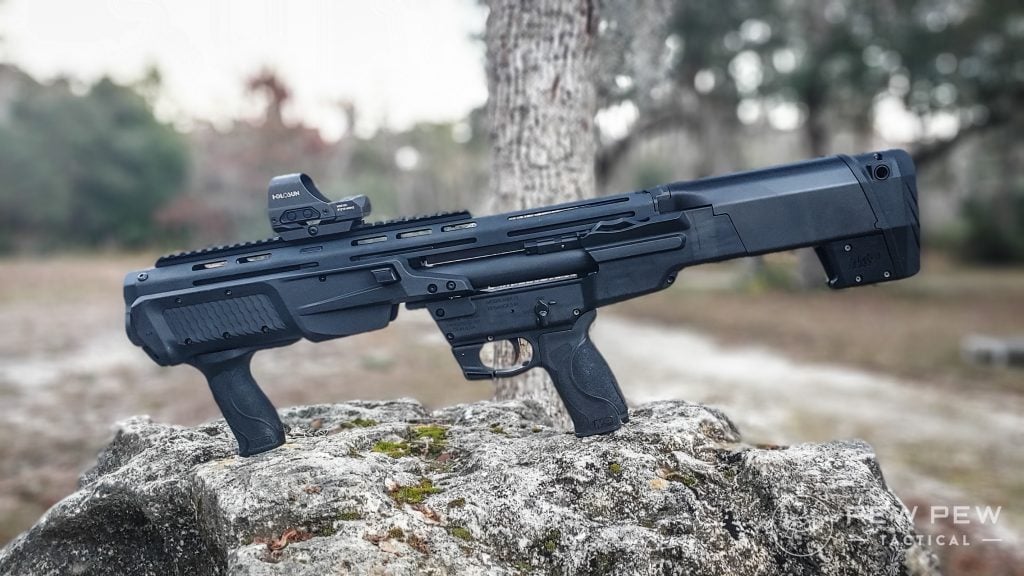 Not only did the company release a shotgun, but they released a dual-tube, pump-action, bullpup rig reminiscent of the KelTec KSG.
We are taking a deep dive into the heart of this beast! So follow along as we talk specs, features, and range performance.
Table of Contents
Loading…
Smith & Wesson M&P 12 Review at a Glance
Pros
Bullpup barrel
High capacity: up to 7 rounds per magazine with two magazine tubes at once
Interchangeable palm swells
Large, ambidextrous controls
Interchangeable, Remington-pattern chokes
Picatinny rail
M-LOK barrel shroud
Manageable recoil
Cons
Long length of pull
Some features aren't totally intuitive, so you really need to read the manual
A bit heavy, especially with both magazine tubes fully loaded, though this does help mitigate recoil
Not a lot of customization yet
The Bottom Line
The S&W M&P 12 offers professional-grade performance in a compact, reliable, and high-capacity bullpup pump-action shotgun. While there are a few flaws in this shotgun, overall, it's a very well-made weapon with tremendous potential.
1099
at Palmetto State Armory
Prices accurate at time of writing
View Details

1099
at Palmetto State Armory

Palmetto State Armory (See Price)
Guns.com (See Price)
Brownells (See Price)
Prices accurate at time of writing
Smith & Wesson M&P 12
$1099 at Palmetto State Armory
1099
at Palmetto State Armory
1099
at Guns.com
1099
at Brownells
Prices accurate at time of writing
Specs & Features
Specs
Caliber: 12 gauge
Width: 3.7″
Length: 27.8″
Barrel Length: 19″
Height: 8.7″
Weight: 132.8 ounces
Capacity: 6 rounds (3" shells), 7 rounds (2-3/4" shells)
Features
Two magazine tubes, each with assist buttons for easier loading and unloading
Push-button magazine selector
Tactile loaded chamber indicator
M&P grip with interchangeable grip inserts
Picatinny rail
M-LOK barrel shroud
Ambi safety selector
Modified and cylinder interchangeable chokes
Source: Smith & Wesson
Background
The S&W M&P 12 uses the traditional pump-action design that's been perfected for over 100 years now. 
Meshed with a bullpup style, the M&P 12 gives off a KelTec KSG vibe with clear design cues taken from the KSG.

But that doesn't mean this isn't a tried-and-true Smith & Wesson gun. Nope, the M&P12 has some features known to run throughout many S&W rifle models — features like M&P pistol grips with interchangeable palm swells, ambi safety controls, and M-LOK slots.
Who Is It For?
The M&P 12 isn't your typical bird hunting, skeet shooting, hunting shotgun designed to be tossed over your shoulder and humped uphill. Instead, it's a tactical shotgun.
This shotgun stands ready for defensive use, especially inside the home.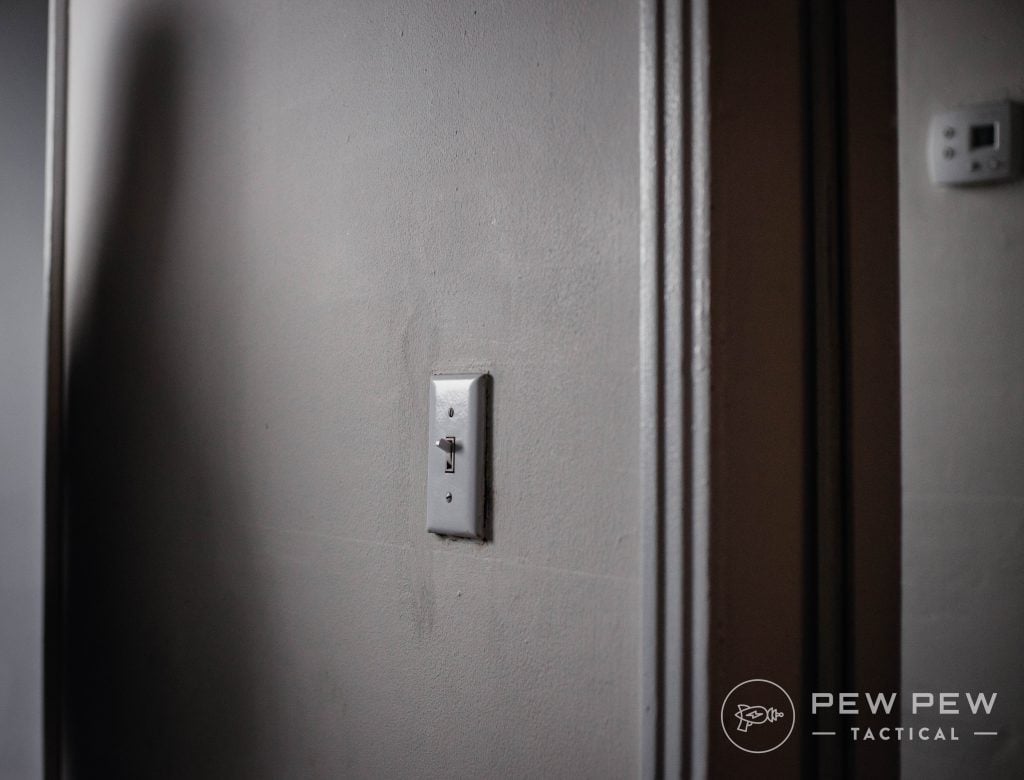 As a bullpup platform, it's plenty short, about 10 inches shorter than your standard configuration shotgun. And short guns work well inside the confines of a home. 
Additionally, the bullpup puts the weight rearward, which makes the gun easier to use with a single hand. That's pretty handy, seeing as this thing weighs close to 10 pounds fully loaded with buckshot.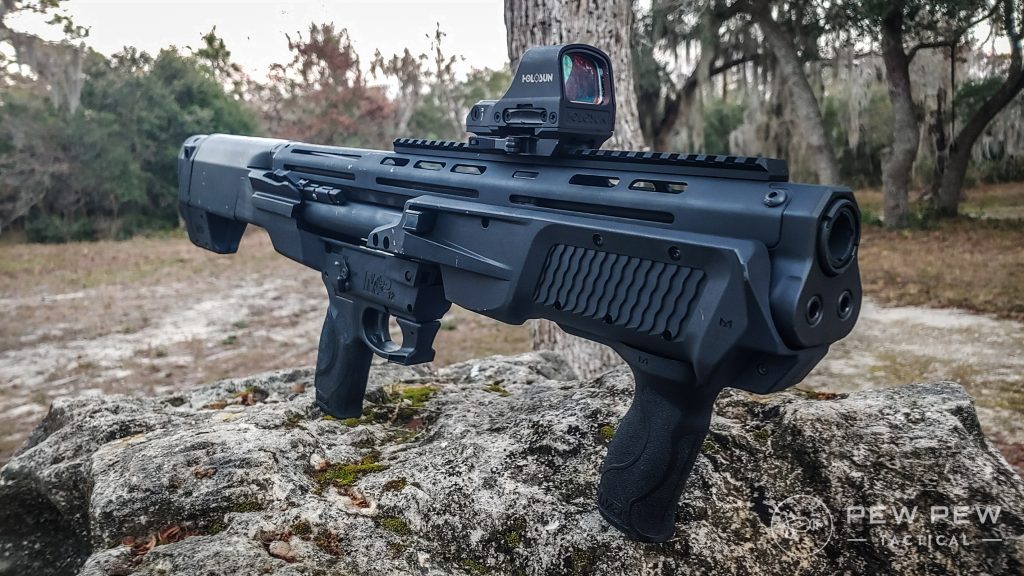 Since it carries 14 rounds of 2.75-inch shells, you are certainly getting into the fight well-armed and loaded for bear. 
All in all, it's an excellent shotgun for those who might not traditionally like shotguns.
The novel layout, easy accessorizing, and 14-round capacity make it out of the typical shotgun realm. It looks more like a gun you'd see in Aliens than a gun you'd see in the hunting blind.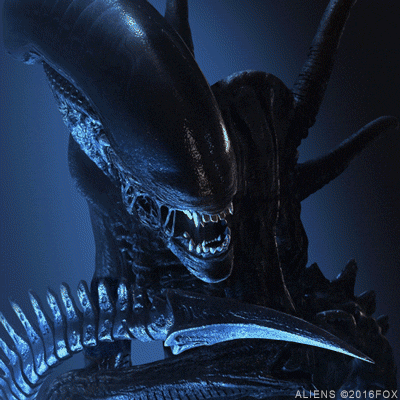 Fit & Feel
The M&P 12's pump comes with an integrated vertical grip that serves an essential purpose. Bullpup designs keep the gun reasonably short, and as such, your hand is much closer to the end of the barrel.
When you start running the pump fast, free, and fun, your hand might slip in front of the barrel, which could result in a rather serious injury.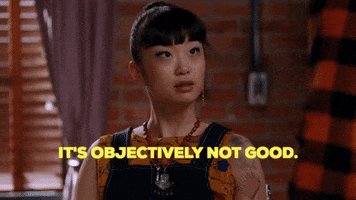 A vertical grip helps prevent this from happening.
The grip isn't integrated into the pump but attached via M-LOK. Oh boy, is it attached. S&W wisely used a beefy attachment point that spans the entire bottom of the pump to ensure it won't slip or break. 
At the rear, we have an AR-15 style grip that incorporates a number of palm swells. You can swap the swells to fit your hand a bit better. I stuck with the medium swell and found it entirely sufficient.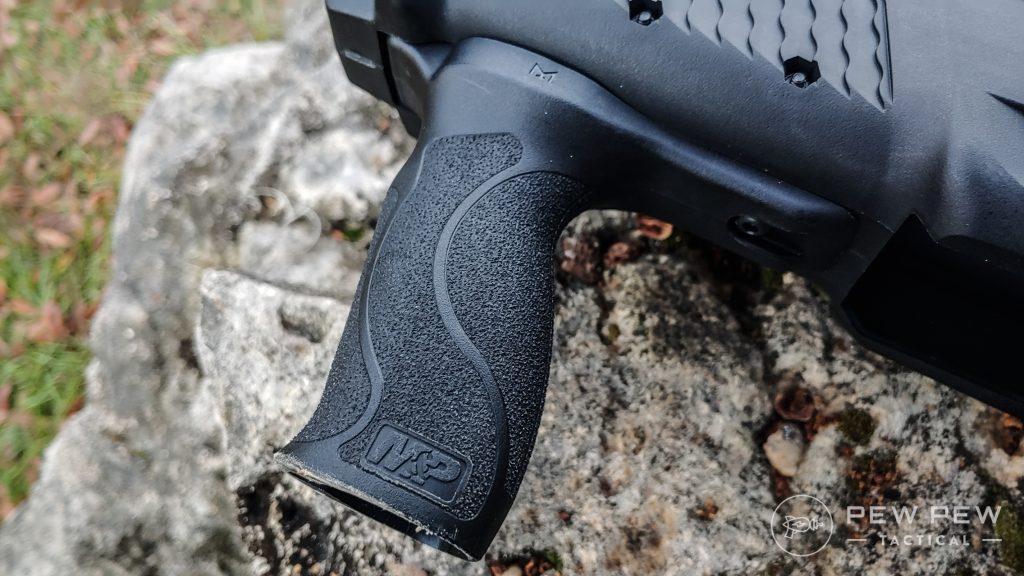 We also get a choke system that uses Remington pattern chokes. The S&W M&P 12 comes with both an improved and cylinder bore choke. Over the barrel sits your optic's rail as well as a set of M-LOK slots for attaching accessories to. 
As you can see, the S&W M&P 12 has a lot going on…
The first time I shouldered it, the length of pull surprised me. It's over 14 inches, which is quite long, especially for a bullpup shotgun. That's a very long length of pull, and smaller shooters need to be aware of it.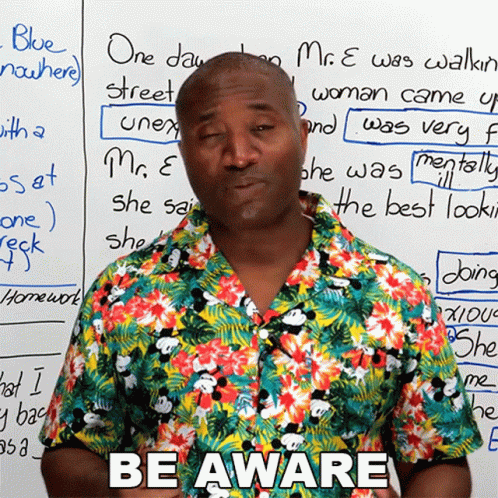 I'm 6 foot 5 inches, and while I can handle it, I even find it to be too long. I like a LOP of about 13 inches, and a lot of folks prefer the 12.5-inch LOPs.
The gun is also hefty…but as a bullpup, its weight is pushed to the rear. Once it's shouldered, the concern disappears.
I can hold it up forever, and it maneuvers well — rotating, pivoting, and transitioning targets easily and controllably.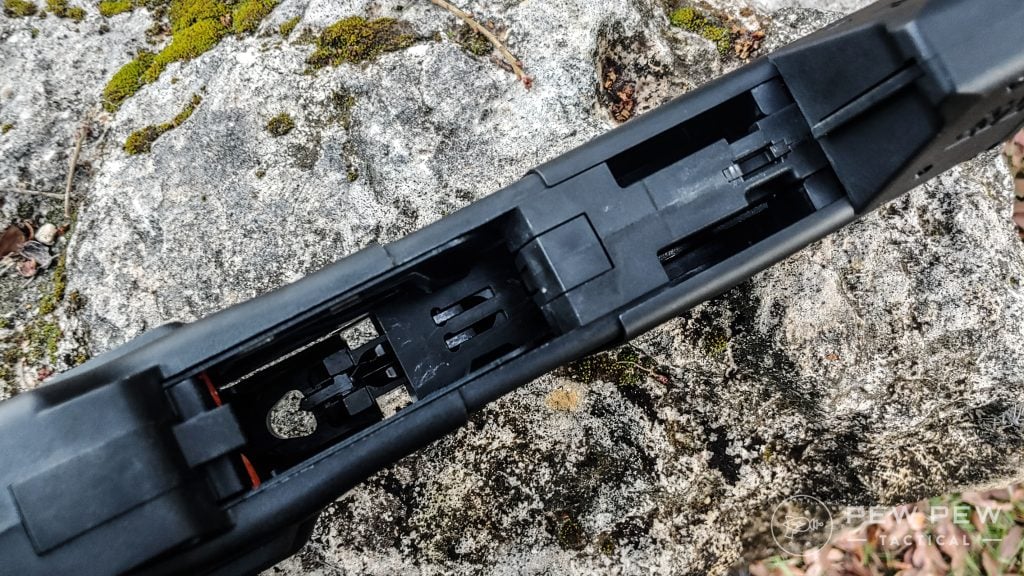 All that weight does a great job of reducing recoil, as does that big pistol grip.
The ergonomics are fantastic, to be honest. The AR-like safety is ambidextrous and easy to engage. In front of the trigger guard sits a pump release that's ambidextrous — pressing downwards to free the pump.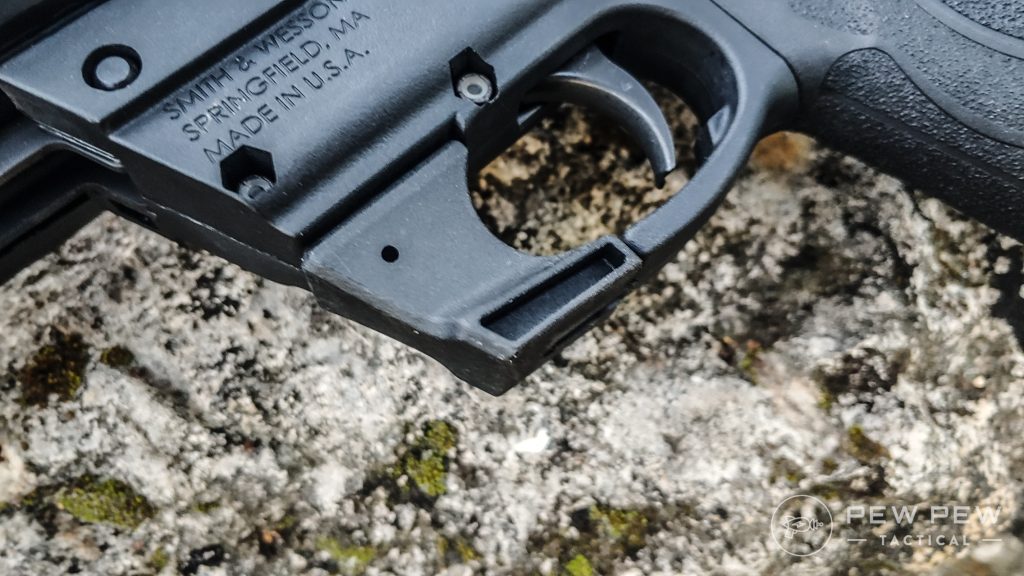 The pump stroke is smooth and easy — not Wingmaster smooth, but not gritty or sloppy. Swapping tubes can be done quickly, and popping the tube switch is very easy. 
Lefties often have a tough time with bullpups, but since the shells eject downwards, they are spared and encouraged to use the M&P 12. 
What does suck is the reloading ergonomics.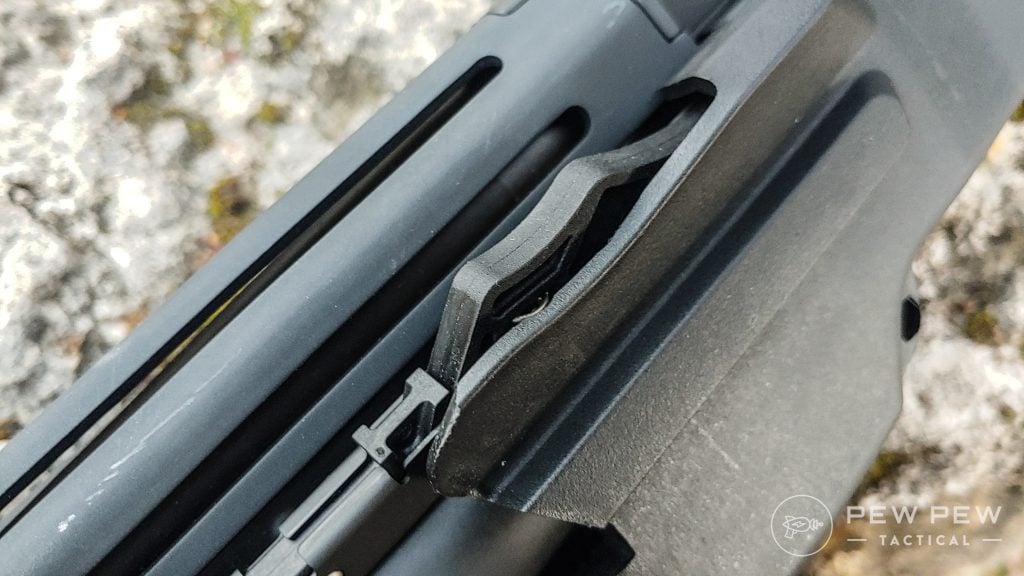 With the loading and ejection port to the rear of the gun, you can't port load or easily reload the gun on the fly. It's best to get your work done within those 15 rounds. 
After a good session with most tactical pump shotguns, you get a nice little red shoulder from the recoil. I didn't get that with the M&P 12, though. In fact, I wanted to keep shooting.
Speaking of shooting…
How Does It Shoot?
This is not a simplistic shotgun.
Most shotguns are pretty easy to figure out in just a few minutes. I'd advise every gun owner to read the manual that comes with any gun, but you need really need to pay attention to the manual of the M&P 12.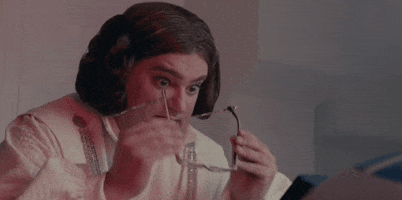 Near the rear of the gun, we have load and unload assist buttons — one on each side for each tube. Press the button downward with a loaded tube, and a round at a time will pop out. When you load the weapon, you can press these buttons to make it a little easier. 
Loading is entirely possible without pressing the button, and it just requires a little more thumb pressure to do so.
At the top of the rear of the gun, we have a loaded chamber indicator that pops up when a round is chambered. 
At the very rear of the gun sits a small button that, when depressed, allows you to extend and open the ejection port area.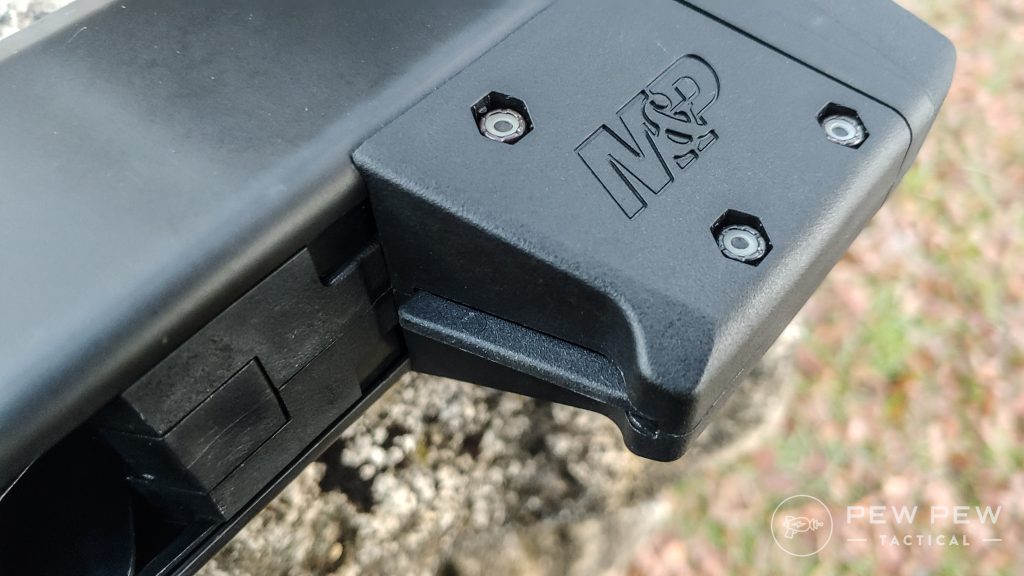 This allows you to clear malfunctions quickly. I used a set of snap caps to simulate a malfunction, and with the port opened, it's admittedly pretty easy to dump the stuck shells and go. 
On each side of the pump, behind the hand, sits some big buttons.
These buttons allow you to swap magazine tubes in a flash. It's the fastest way I've seen to integrate a magazine switch with this style of shotgun.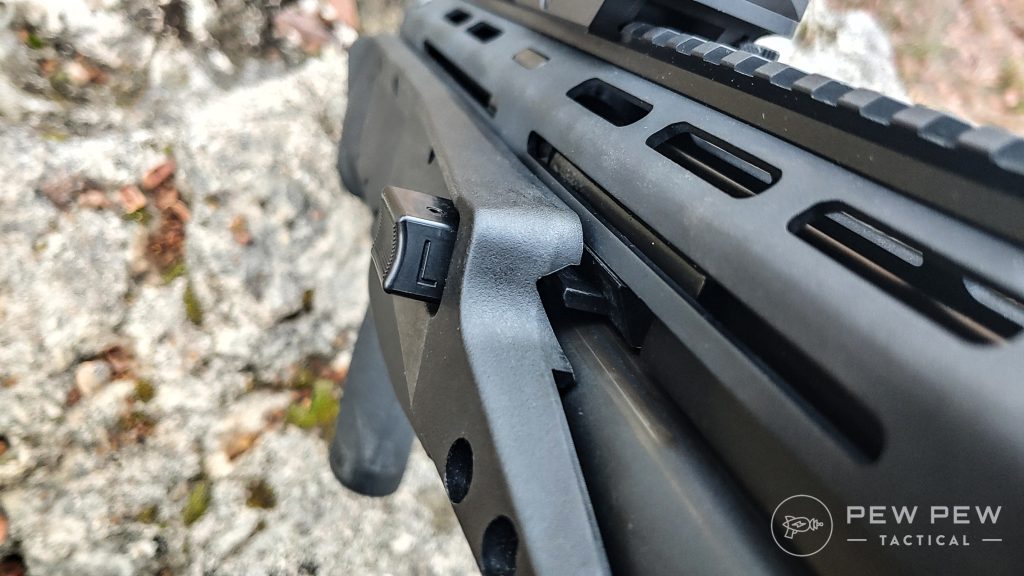 I've fired several hundred rounds through the gun. This includes tons of buckshot, keep in mind most of it being cheapo buckshot.
On top of that, the majority of rounds fired were birdshot. I didn't run into an issue, which is why I had to simulate a malfunction with snap caps to get things settled.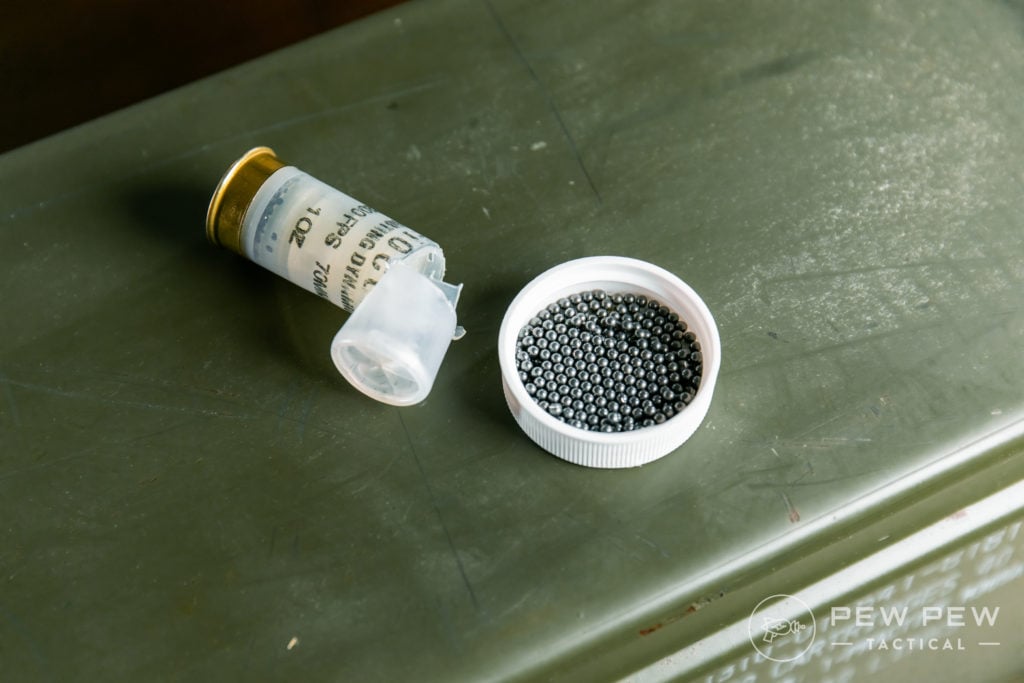 Patterning wise I used the standard cylinder bore choke and a few different rounds.
With some basic buckshot from Federal, the group was a nice 4.5 inches wide at 10 yards. That's decently tight and acceptable for home defense. 
With that fancy Federal Flitecontrol stuff, the group was about the size of a 50-cent piece! That's more than acceptable!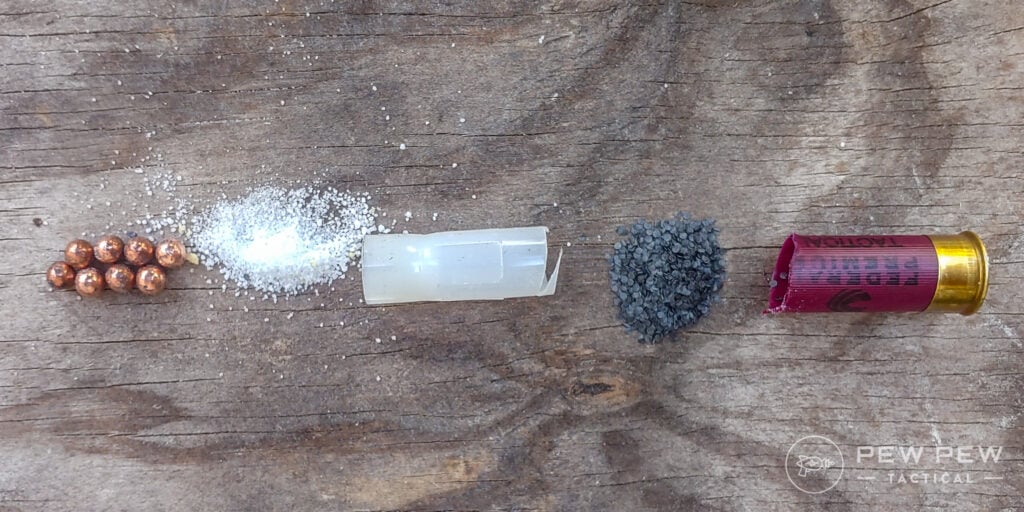 By The Numbers
Ergonomics: 3.5/5 
Ergonomically a lot of the gun is well made and well thought out — a lot of the controls are ambidextrous and very easy to reach and use. The two significant downsides come from the length of pull and how tough it is to reload. 
Reliability: 5/5 
It's a pump shotgun, and it's tough to mess up. The gun cycles exceptionally well and does so with gusto. I couldn't get it to malfunction and had to set one up to get test fixing malfunctions. 
Customization: 2/5
It's a new gun on the market, so customization is scat. We can toss on optics and lights, and that's about it. 
Value: 3/5 
The S&W M&P 12 provides professional-grade quality to the bullpup shotgun from a name brand associated with quality. However, that said, the MSRP is $1,165 with retail prices not much below that. 
Overall: 4/5
It's not perfect, but overall it's a very well-made shotgun with some tremendous potential. 
Final Verdict
The S&W M&P 12 gauge is a powerhouse of a shotgun. It brings the bullpup shotgun from a fantastic concept to a professional-grade firearm — cycling, firing, ejecting, and performs admirably.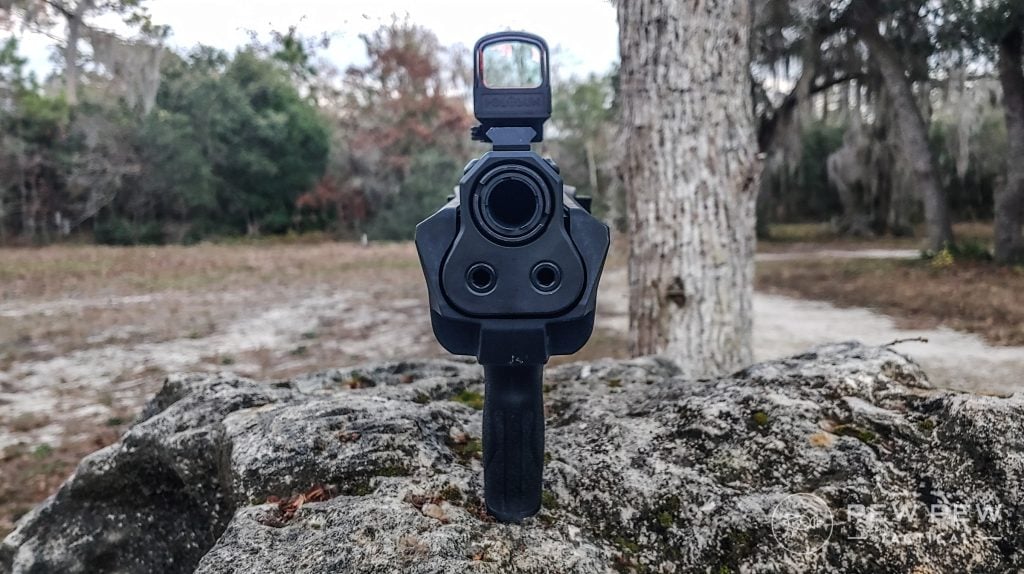 Plus, you get an SBS-sized package without the pesky stamps and low capacity of an SBS. What's not to love? 
What do you think of the Smith & Wesson M&P 12? Let us know in the comments below. For more on shotguns, check out the Best Home Defense Tactical Shotguns.
The post Smith & Wesson M&P 12 Review: Best Bullpup Shotgun? appeared first on Pew Pew Tactical.