The Sig P322 is another entry into the growing category of .22 LR trainers. We recently spent some time with one out at the range to see how it performed.
This is an exciting new category of firearms with applications to a lot of different shooters. In short, the P322 performed very well! But let's not get ahead of ourselves.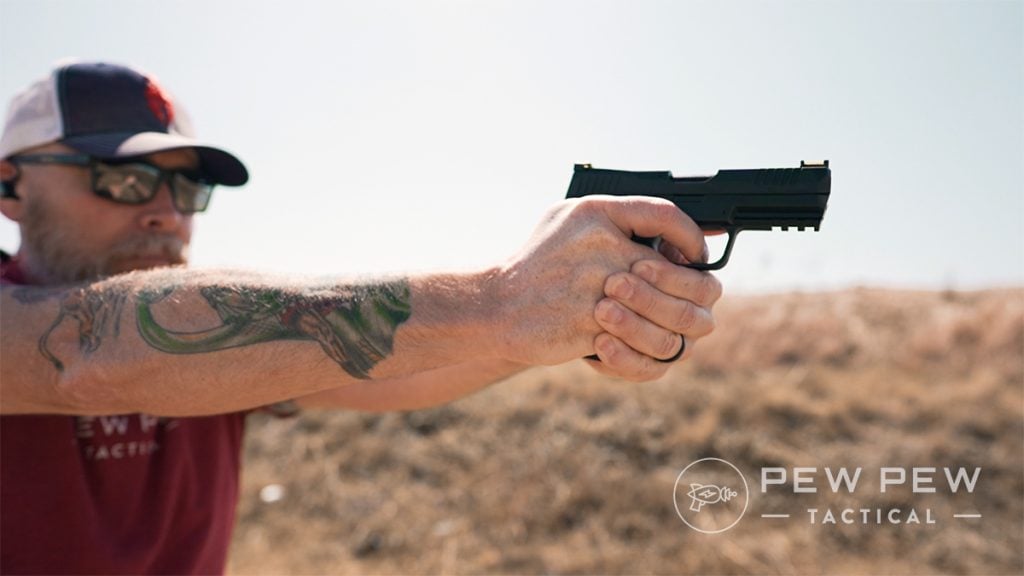 Follow along as I give you the pros, cons, specs, and features as well as my final verdict on this plinker.
So, read on!
Table of Contents
Loading…
Pros & Cons
Pros
•20+1 capacity
•Great trigger
•Optics ready
•Suppressor ready
Cons
• Runs out of ammo quickly
The Bottom Line
Sig has done an outstanding job with the P322. If you've got the cash and the inclination, you can't go wrong in picking up this fun little shooters.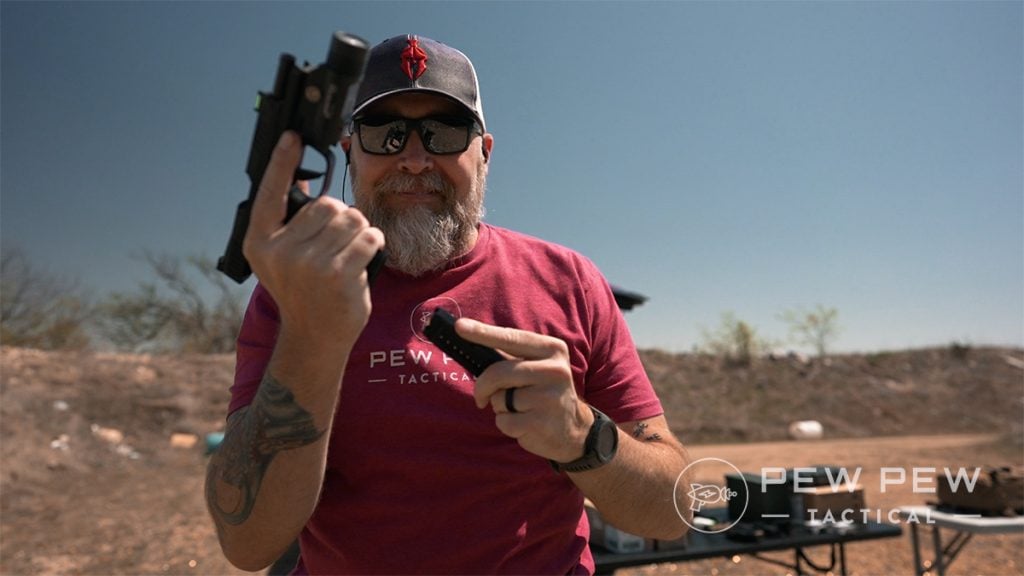 Specs & Features
Specs
Width: 1.4″
Length: 7″
Barrel Length: 4″
Height: 5.5″
Weight: 17.1 ounces
Capacity: 20+1
Features
20 round magazines (2)
Optics ready
Suppressor ready
Source: Sig Sauer
411
at Kentucky Gun Co
Prices accurate at time of writing
View Details

411
at Kentucky Gun Co

Kentucky Gun Co (See Price)
Guns.com (See Price)
Palmetto State Armory (See Price)
Prices accurate at time of writing
Sig Sauer P322
$411 at Kentucky Gun Co
411
at Kentucky Gun Co
411
at Guns.com
411
at Palmetto State Armory
Prices accurate at time of writing
Background
Recently there have been a few entries into what I'd describe as a new category of handgun, the .22 trainer.
This is basically a gun that looks and functions just like a standard 9mm model, but it is chambered in .22 rimfire.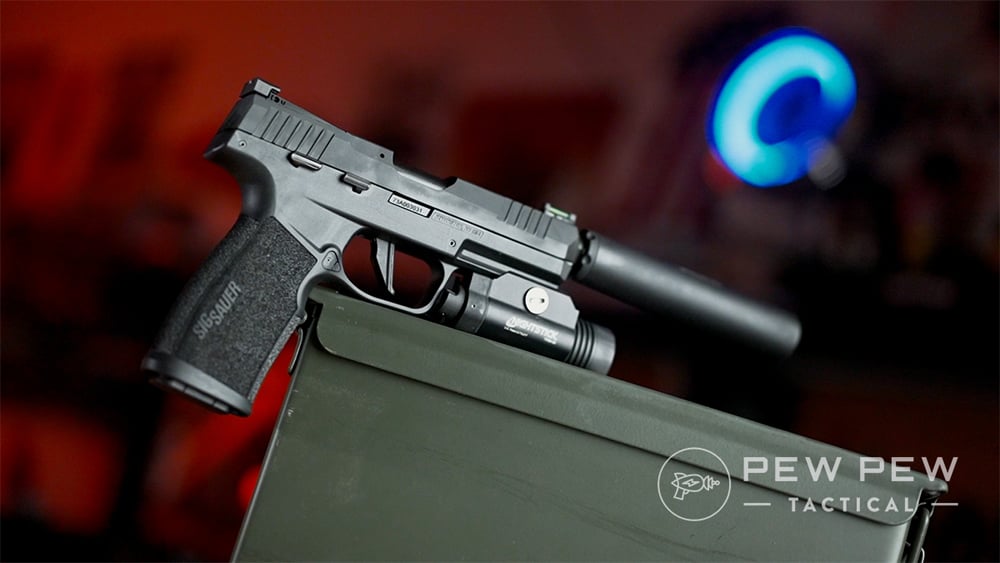 Glock came out with the G44 modeled after the G19. FN offered the 502 Tactical — a plinking copy of the 509.
And now, Sig Sauer has created the P322…a fun-packed, rimfire model very reminiscent of the P320. In essence, it is a slightly smaller version with a 20+1 capacity, threaded barrel, and its optics ready.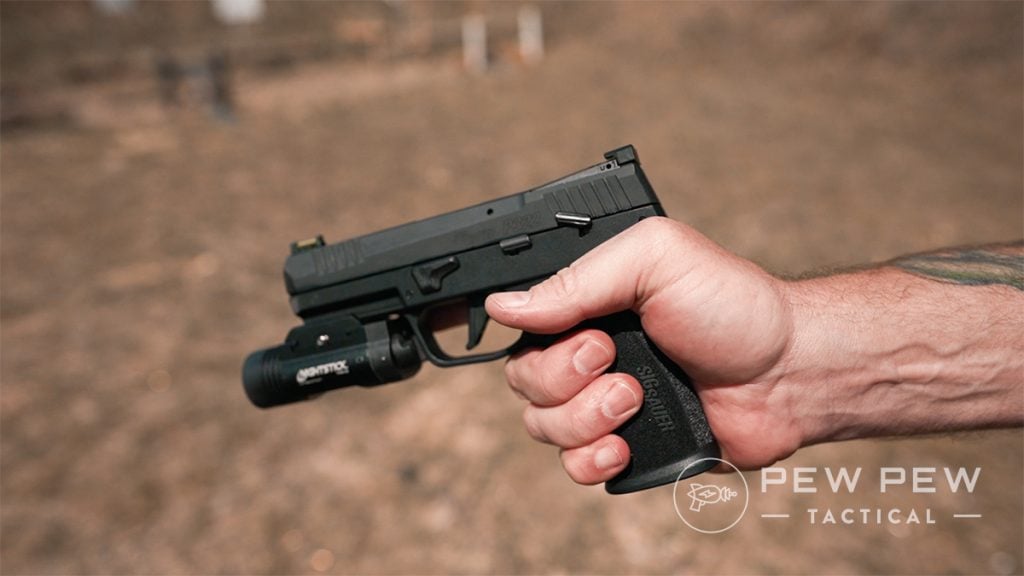 By now I've tried a few of these pinking marvels so I knew what to expect. I grabbed a cross-section of .22 ammo and headed to the range to start testing.
Who Is It For?
The P322 would be an obvious choice for anyone starting out with shooting handguns, particularly if they will be transitioning to the P320 in the future. That's no requirement though, as the gun is just plain fun, and would be a hoot for shooters of all experience levels.
Fit & Feel
Out of the box the P322, like other .22 models, is much lighter than its predecessor.
Other than that, a few things stood out prominently in my mind — the green, fiber optic, sights were pretty amazing in the Texas sun. And its grip texture was aggressively on point.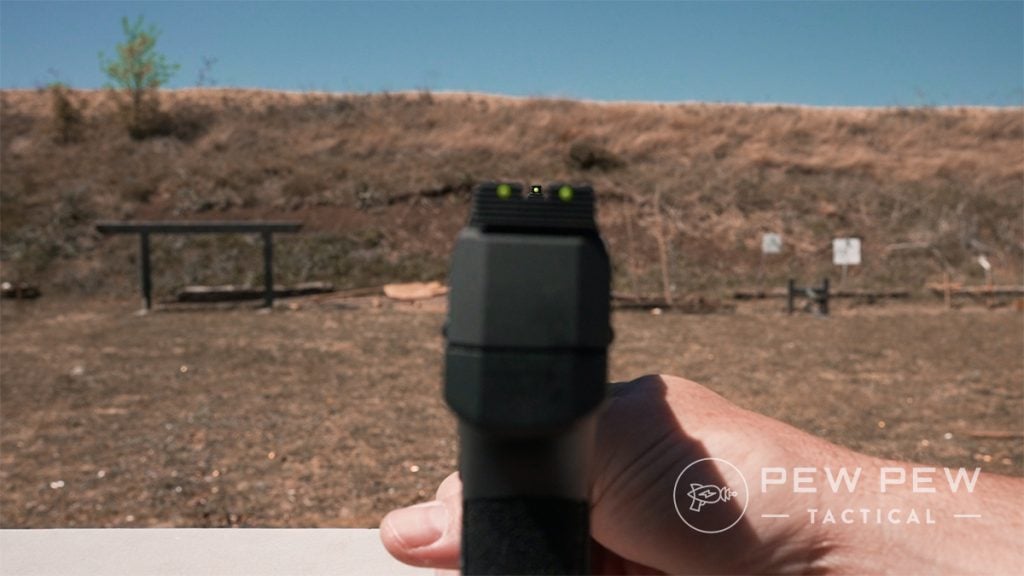 Not to mention, the gun fit in my hand marvelously
How Does It Shoot?
I noticed an external safety, a rail for a weapon light, mount for a red dot, and two 20-round magazines.
Digging through the box a bit, I noticed there was an adapter for a suppressor, as well as a magazine loading assistance tool.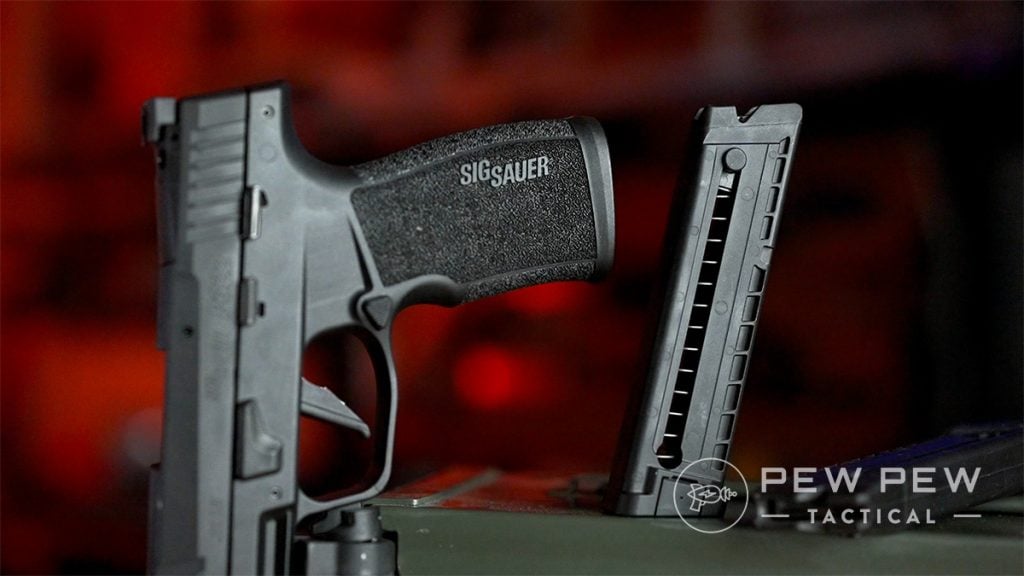 This loading tool is a nice little sleeve that fits over the magazine and helps you apply downward pressure on the two thumb buttons which help you compress the spring under the follower.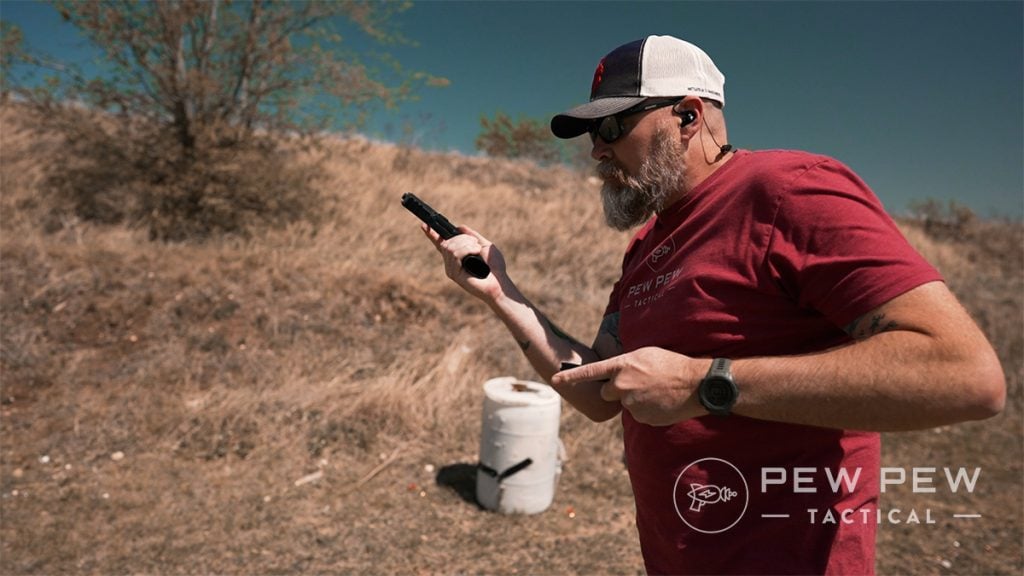 I ran some drills and also tested accuracy but was delighted with the whole experience. It's hard to describe how pleasant it is to shoot this gun.
There's no recoil, your sights stay on target, the trigger is really good and the ergonomics are great!
The only thing that sucks about this gun is you very quickly find yourself having to reload, over and over again.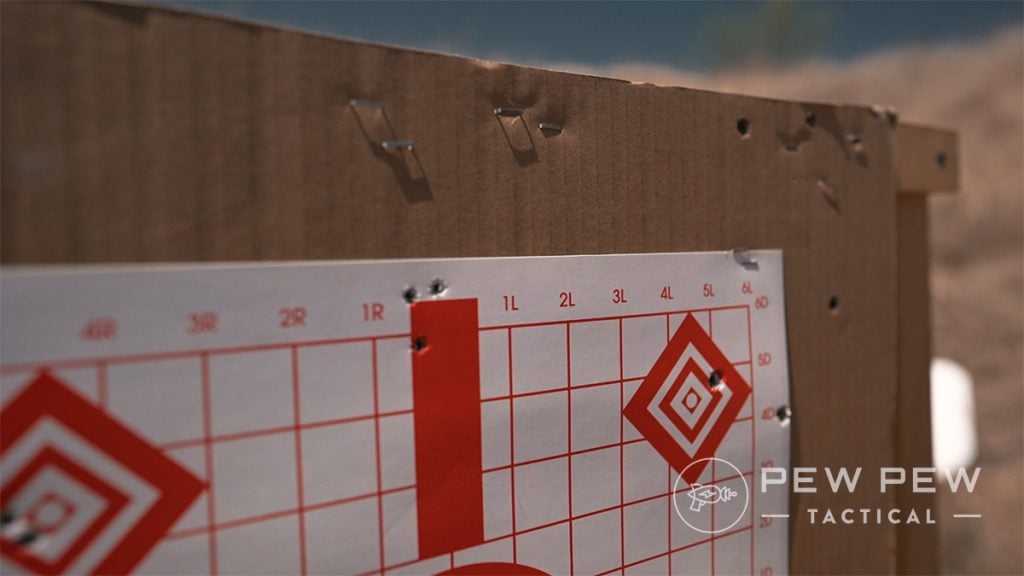 I tested accuracy from 7 yards and was able to put some groups together that were decent.
Running the plate rack, I found it pretty easy to adjust my aim to hit the top of each plate so I could get them to fall.
For reloads, the magazines dropped freely and inserted easily due to the design of the magwell. There's a slight flare on the outside, but the interior has a funnel-like feature that guides the magazines in.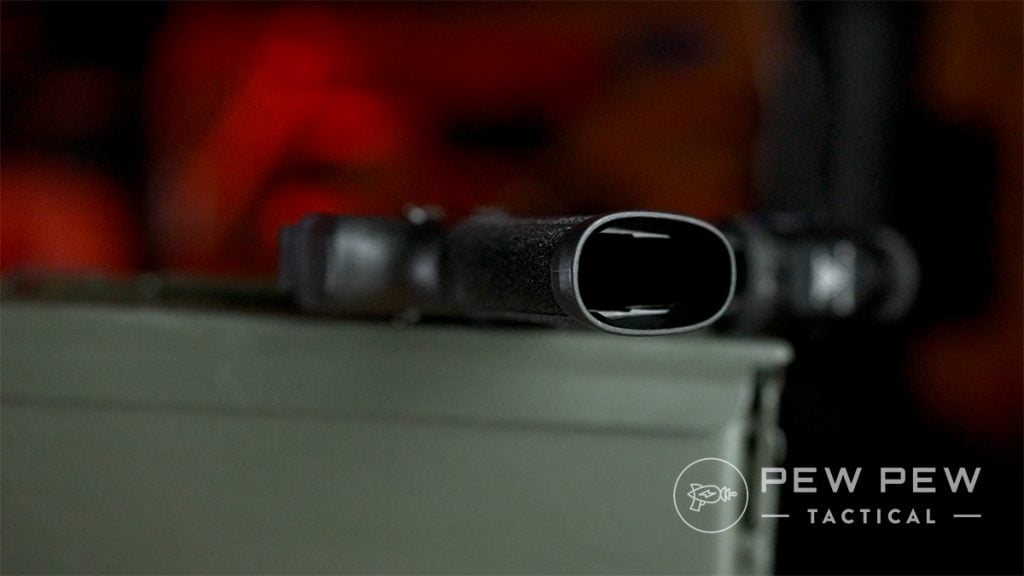 The slide locked back on empty every time with one exception. Likely, that's due to ammo. You can't discount how much .22 ammunition affects the performance of guns like this.
For testing, I ran Aguila Super Extra 40 grains, SK Standard Plus 40 grains, Wolf Match Extra 40 grains, and SK Match 40 grains.
Box after box, the P322 ran with remarkable reliability.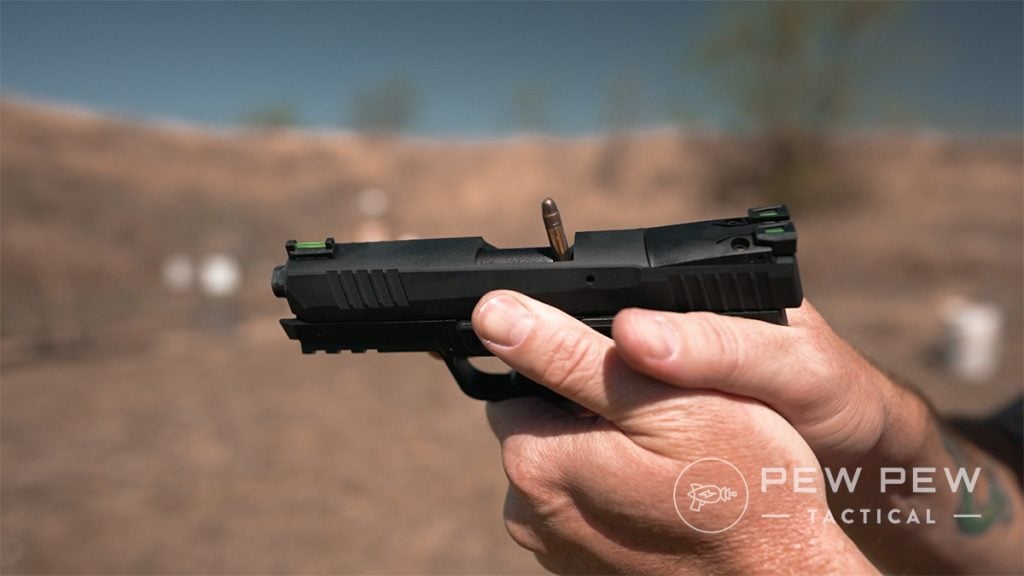 In total, I think I had one stovepipe and one failure to lock back across 500+ rounds during testing.
What Sets it Apart?
Without a doubt, the 20-round magazine capacity sets this gun above its peers in the .22 Trainer category. Otherwise, it is very much a Sig in form and function.
By The Numbers
Reliability: 5/5
I'm used to having a bit of a struggle with .22 trainers…but I didn't have an issue with the Sig. It ran very well with a few different ammo brands.
Ergonomics: 5/5
The grip contours were really nice, and the gun fit my hand extremely well. Though not strictly necessary, the grip texture was a nice touch. The controls were all easy to reach.
Accuracy: 4/5
I shot several different groups from 7 yards and my best was around 1 inch or less. The sights were extremely visible and the trigger break was solid.
Customization: 4/5
Out of the box, this gun is ready to receive Sig's Romeo Zero optic, a light, and a suppressor. It's unclear how the gun will run with an adapter plate and other optics though.
Value: 4/5
The prices I'm seeing at the time of this review are around $400 and I think if you're in the market for this type of gun, it's a great buy.
Overall: 4.5/5
Upgrades for P322
With the rail, you can mount nearly any light you want on the front of the P322. In addition, shooters can mount up Sig's Romeo Zero optic.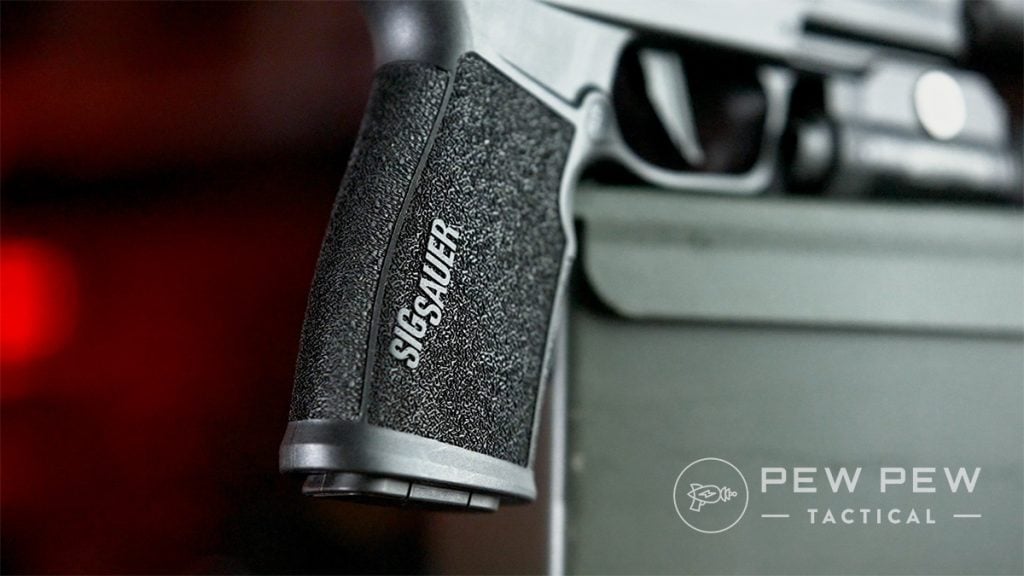 I'm guessing other optics via adapter plates might be a viable option but would want to test how the additional mass may or may not affect cycling.
Also, check out our review of the FN 502 Tactical to see some realities of shooting a red dot on a .22 pistol.
The P322 comes with a thread protector for the barrel, as well as an adapter to 1/2 by 28 for those wanting to shoot suppressed.
Final Verdict
The P322 is a great pistol and I had a lot of fun shooting the gun. Pinging steel repeatedly, at just about any speed you can muster, is a great time.
It's even better when you don't feel like you're putting yourself in the poor house doing it.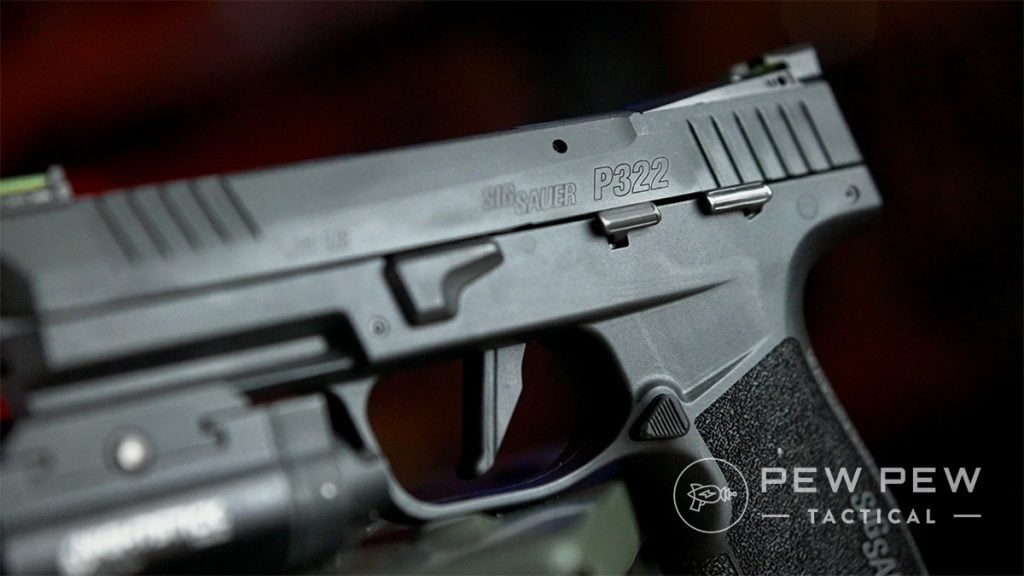 This is a superb shooter that ran reliably with a variety of different ammo and it is a good value at around $400.
Have a P322 and need to know how to break it down? We got you! Check out our field strip video below.
Do you have a use for 22 Trainers like the P322? Let us know in the comments below and check out our 6 Best .22LR Pistols/Handguns for even more options.
The post Sig Sauer P322 [Video+Review]: Worthy .22 LR Trainer? appeared first on Pew Pew Tactical.