Check out our full video review of the Ruger PC Carbine in the video above!
For the uninitiated, the Ruger Pistol Caliber Carbine is a rifle that shoots pistol cartridges — in this case, 9mm.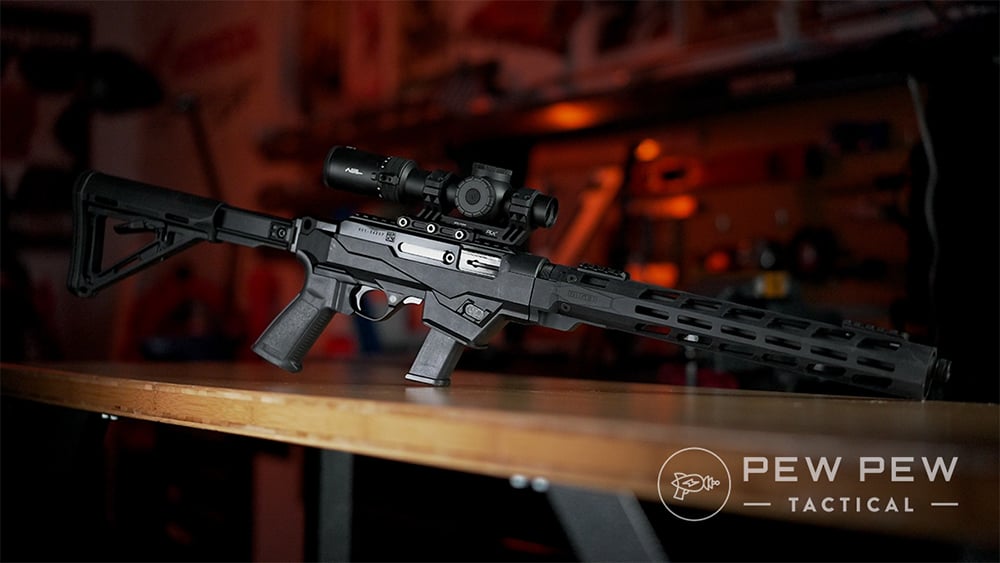 The Ruger Pistol Caliber Carbine has been a hit since it came out and even spawned a few other versions since its initial release.
I tested the 19122 model pretty thoroughly over the last couple of years and will share my thoughts on why I think it's a great option.
So read on!
Table of Contents
Loading…
Ruger PC Carbine Review at a Glance
Pros
+It takes Glock mags!
+Portable (breaks down)
+M-LOK compatible
Cons
-Heavy
-Inconsistent accuracy
-Mixed controls
The Bottom Line
The Ruger PC Carbine is a modernized pistol caliber carbine with tactical features. Shooters will enjoy mounting up accessories such as lights and optics, as well as the ability to break it down and stow or carry the rifle.
Specs & Features
Specs
Caliber: 9mm
Overall Length: 32.25-35.50"
Barrel Length: 16.12"
Weight: 7.3 pounds
Capacity: 17
Features
Interchangeable mag wells for Ruger & Glock mags
Easy takedown for storage/transport
Reversible mag release and charging handle for left- or right-handed shooters
Threaded barrel
See the official Ruger PC Carbine product page.
Background
In 2017 Ruger released a Pistol Caliber Carbine that helped support and drives interest in these guns. The trend really took off between pistol caliber ARs and Ruger's offering, which was a breakdown style.
I liked the idea of another option for a backpacking gun, but I'm a bit slow to adopt gun trends. A lot of times, that hesitancy often works to my advantage!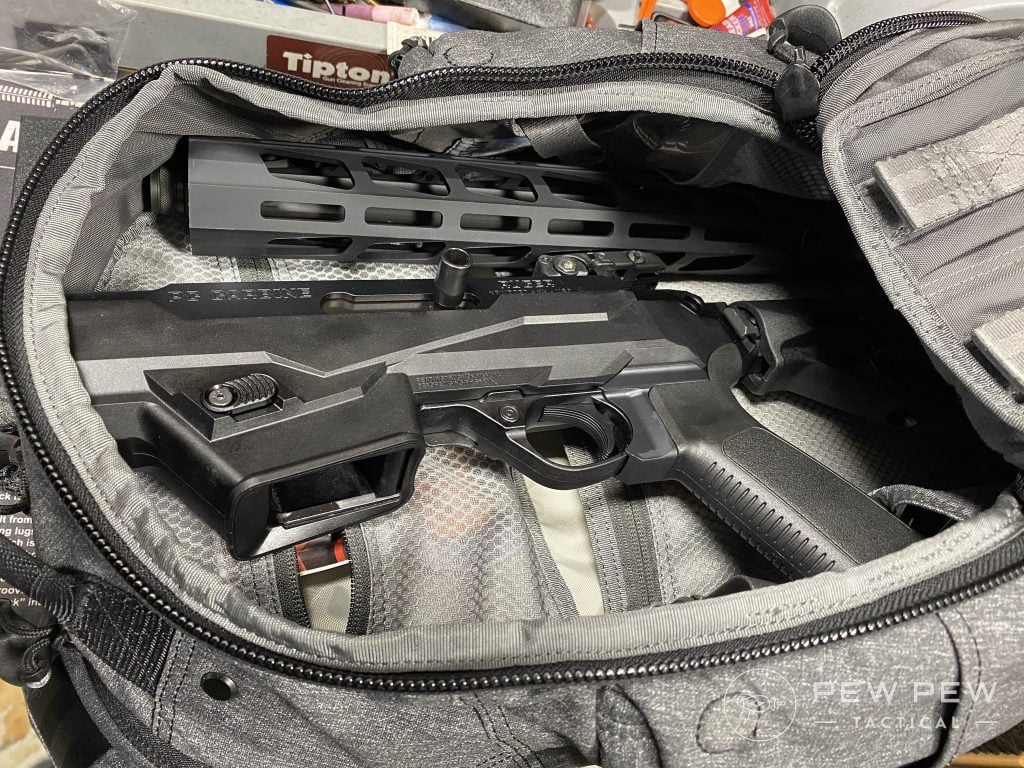 When the first version of the PCC came out, I thought it looked like something I might pull from behind the seat of my farm truck to dispatch a 4-legged chicken thief.
The newer model, however, whispered to me of great possibilities. (I'm sure both iterations are wonderful given Ruger's sterling reputation in my book, but give me M-LOK, or give me death!)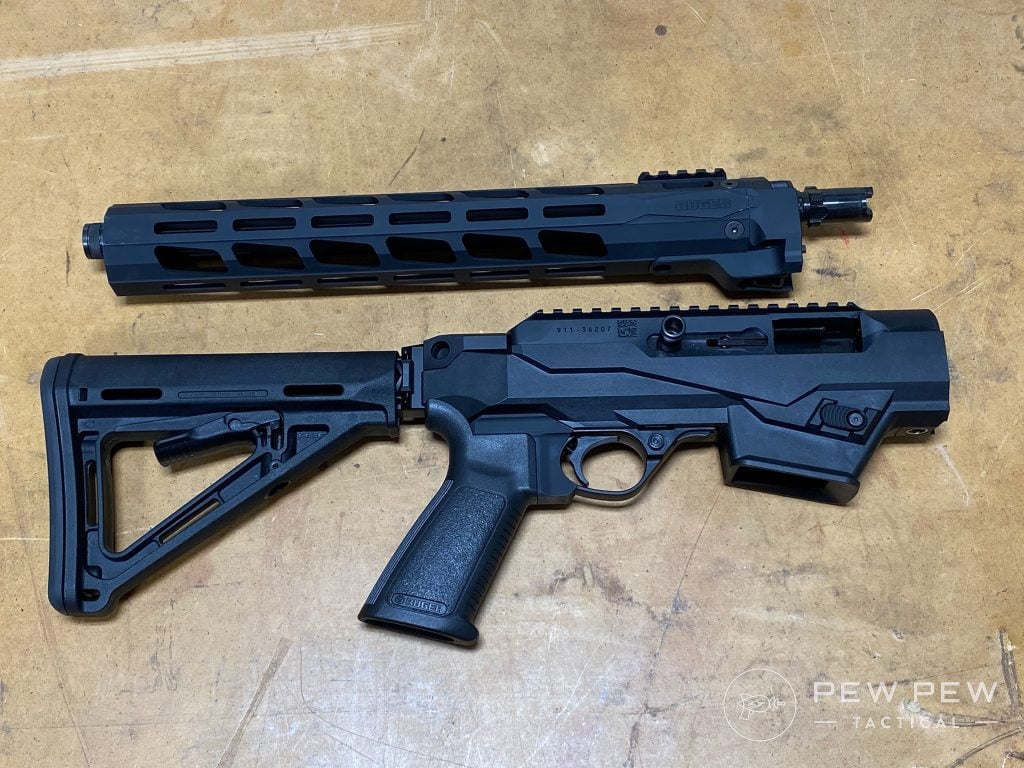 But why a PC Carbine? Why are these things so popular?
First off, the extended barrel length lends itself to better accuracy than a pistol. On top of that, if you are using irons, the greater sight radius will also help accuracy.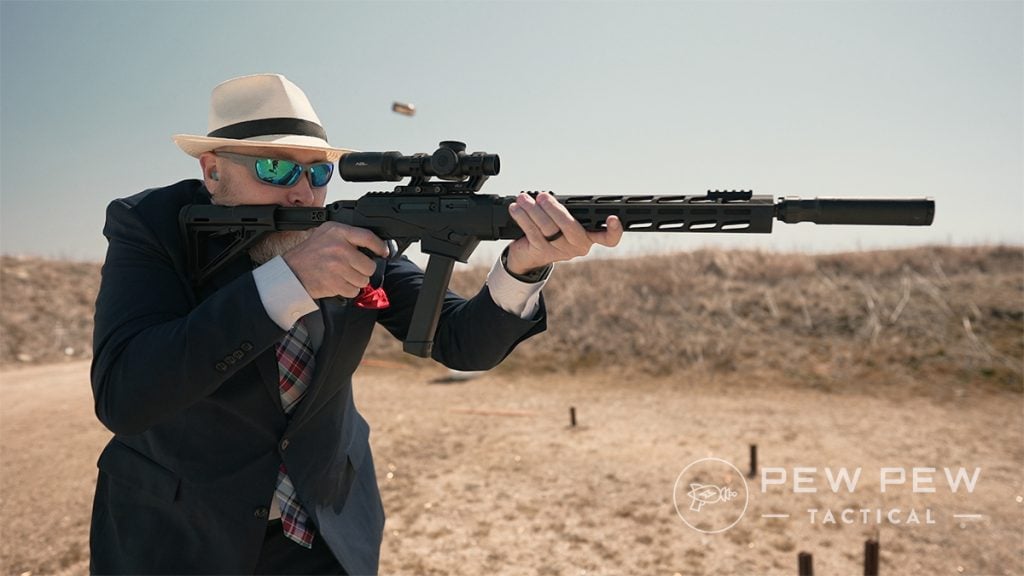 Second, that improved accuracy lends itself to shooting farther.
You get more velocity from the longer barrel, and you can apply that more accurately downrange when compared to a pistol.
Pistol rounds are generally cheaper than rifle rounds. A case of 9mm is sometimes $200 to $300 cheaper than a case of 5.56.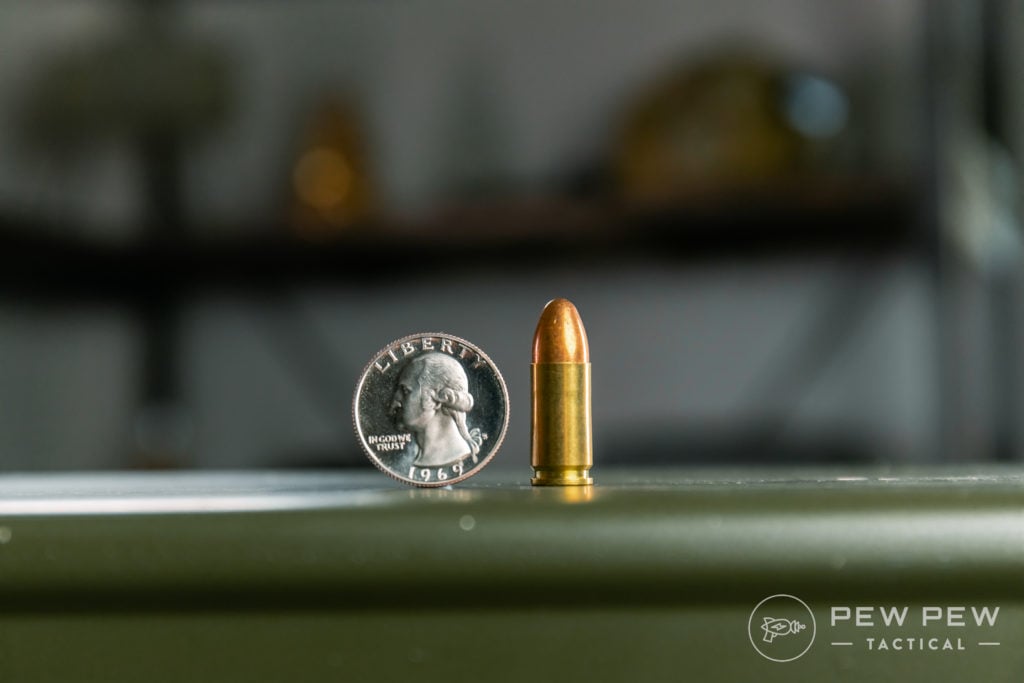 Finally, there's recoil.
In a pistol, it is one thing, but planting a stock in your shoulder and having three points of contact on the gun will help mitigate that tamable force up to .40 caliber versions (which Ruger also offers for those who have not moved on).
This makes follow-up shots quicker to target.
Who Is It For?
When considering the roles the Ruger PC Carbine could fill, I thought of anything from home defense to backpacking gun to varminter.
But realistically, anyone who loves a PCC platform will dig this gun.
Fit & Feel
The PC Carbine is capable of being set up to run controls on either side of the gun. I set mine up with the charging handle and mag release on the left side.
In my mind, this freed up my right hand for trigger operation and dedicated my left hand to the reloading portion. It's nice that it can be customized to suit the shooter's needs.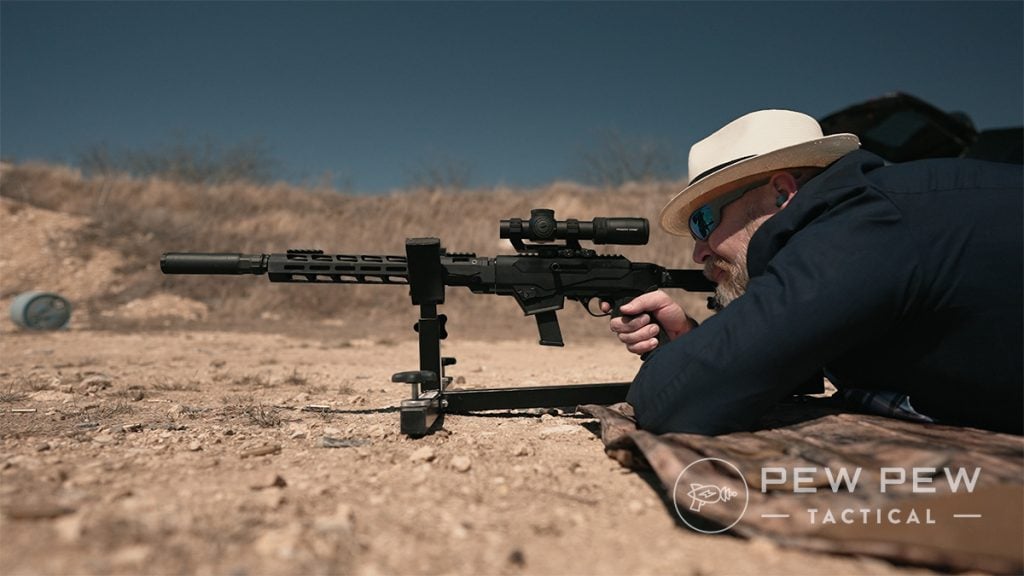 Its controls are reminiscent of a Ruger 10/22. But the grip is comfortable, and the rail is decent diameter-wise.
Not to mention, its stock opts for an adjustable Magpul MOE. This means you have options for different lengths of pull.
Moving around with it, you notice the Pistol Caliber Carbine is beefy, a quality I generally associate with Ruger.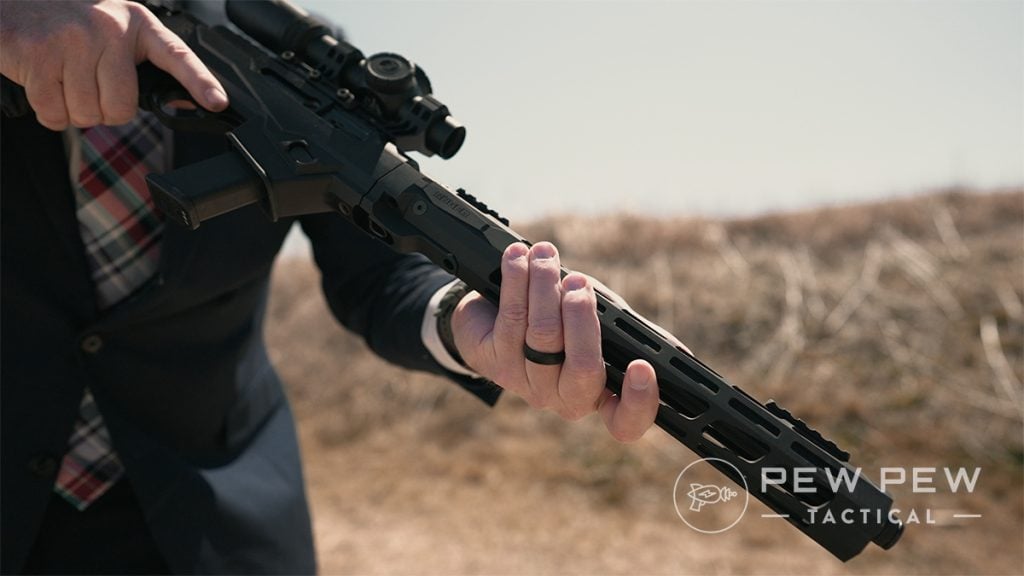 This thing is built to last. It weighed around 8 pounds 13 ounces with an optic.
How Does It Shoot?
After a quick zero, I started trying different Glock magazines to see how they would fare. I found that Gen4 Glock magazines of various capacities worked best.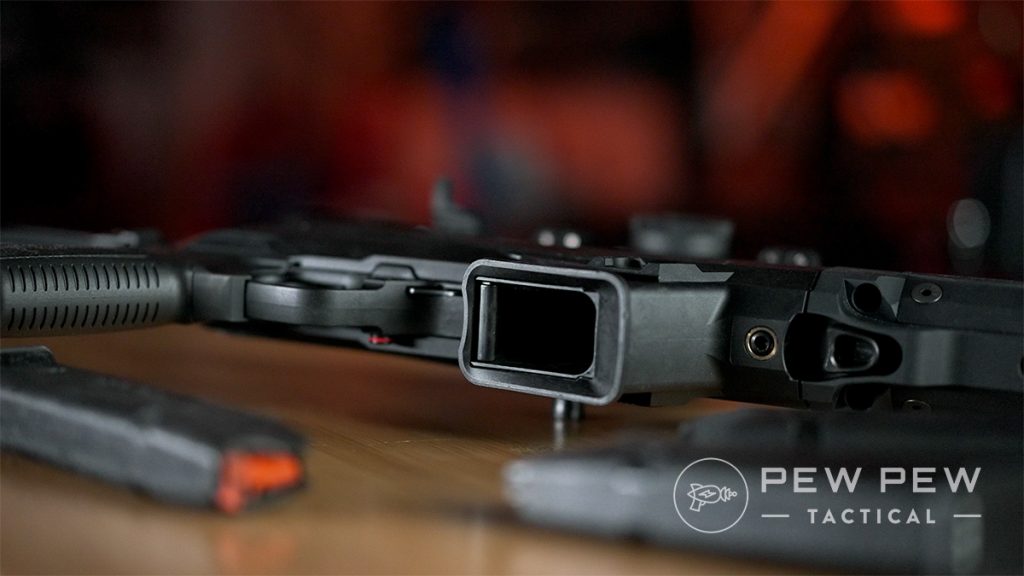 I used 15-round, 17-round, even a couple of 33-round magazines, and they all fed reliably.
The trigger was good. It had the tiniest bit of travel before a defined wall, then a very crisp break.
It broke consistently around 3.5 pounds on my Lyman Digital Gauge. The reset was felt and heard after a couple of millimeters of release.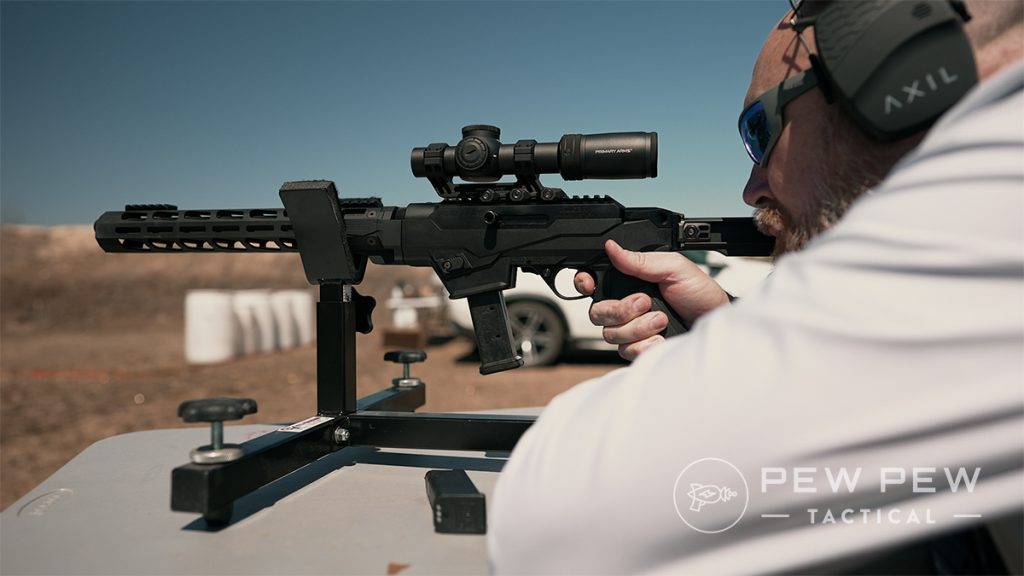 The controls are interesting. There are elements of the 10/22 here with the safety and bolt lock. Plus, you can't reach the mag release with your trigger finger.
When the bolt locks back on the last round, you have to pull it back and release it to put it back in battery. In a lot of ways, the gun feels like a modernized, tactified version of an older rifle.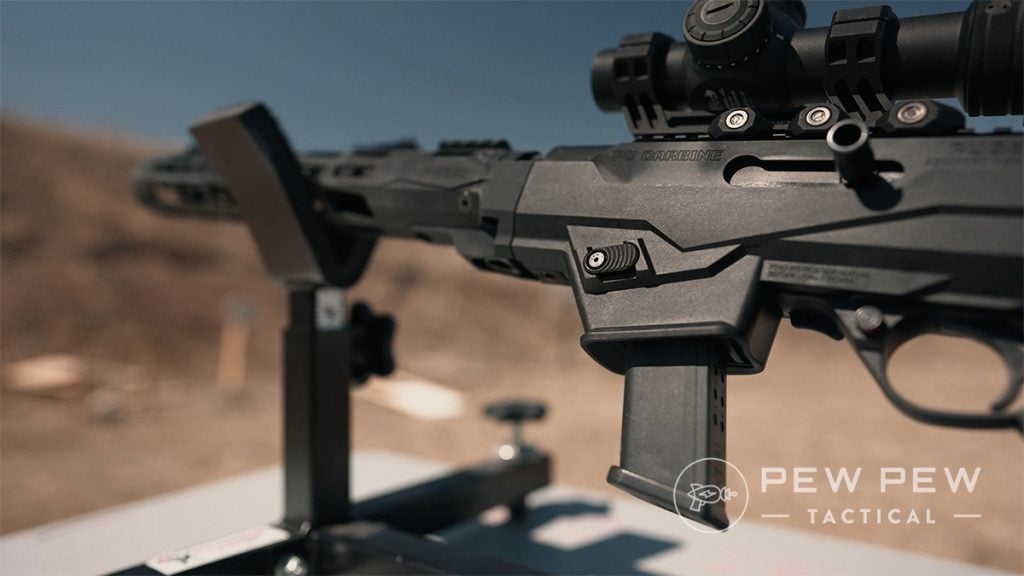 When I settled into the gun rest for accuracy testing, I wasn't sure what to expect. The 25-yard zero was promising, and all rounds were touching in my final 3-shot group.
I did experience some wind but did my best to mitigate this. I found the overall accuracy to be somewhat inconsistent.
Stretching out to 50 yards, my best group was 0.56 inches, but my biggest was 3.54.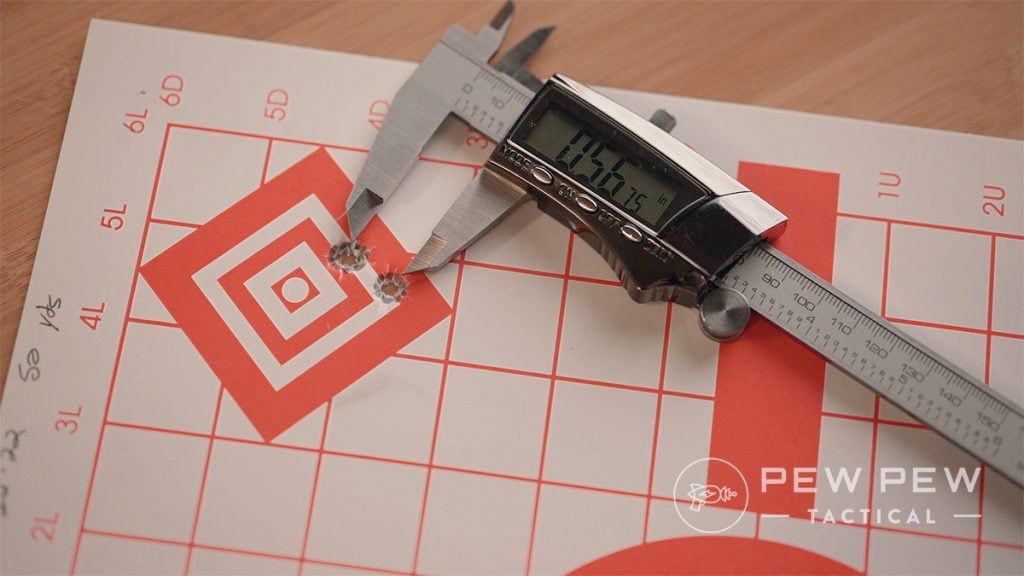 All in, I averaged 2-inch groups at 50 yards. Granted, this is not the Ruger Precision Rifle.
Reliability was solid though I did experience a couple of stovepipes. Cleaning and lubing cleared this up, and it didn't happen again.
What Sets It Apart?
The gun is pretty versatile and can shoot from either Ruger platform magazines such as the SE-Series or Ruger American magazines using interchangeable magazine wells.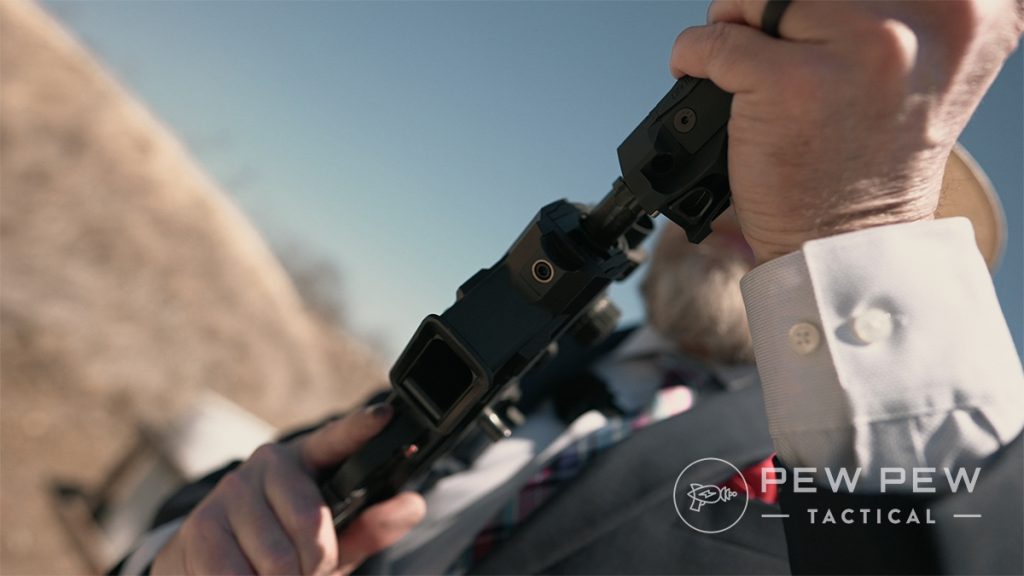 By the Numbers
Reliability: 4.5/5
The PC Carbine did very well in this category, with only a couple of malfunctions during testing.
Ergonomics: 3/5
The controls will remind you of a 10/22 or other older rifles. The grip is comfortable, and the rail is a good diameter. The stock is an adjustable Magpul MOE for different lengths of pull.
Accuracy: 3/5
The accuracy showed moments of brilliance, mixed with average. With more time and a variety of ammo, I could have gotten more consistent performance in this category.
Customization: 5/5
Since this gun hit the market, a healthy aftermarket has sprung up to support shooters who want to deck out their PCC!
Companies like Magpul, Midwest Industries, Tandemkross, and MCarbo now sell a slew of upgrades and custom parts.
Value: 4/5
The MSRP of the model tested is $979 though I've seen them for sale on multiple online retailers in the $600 to $700 range.
Overall: 4/5
Upgrades for Ruger PC Carbine
I mounted the Primary Arms PLx 1-8×34 LPVO on their new PLx Cantilever Mount. Some might call this overkill, but some believe anything worth doing is worth overdoing.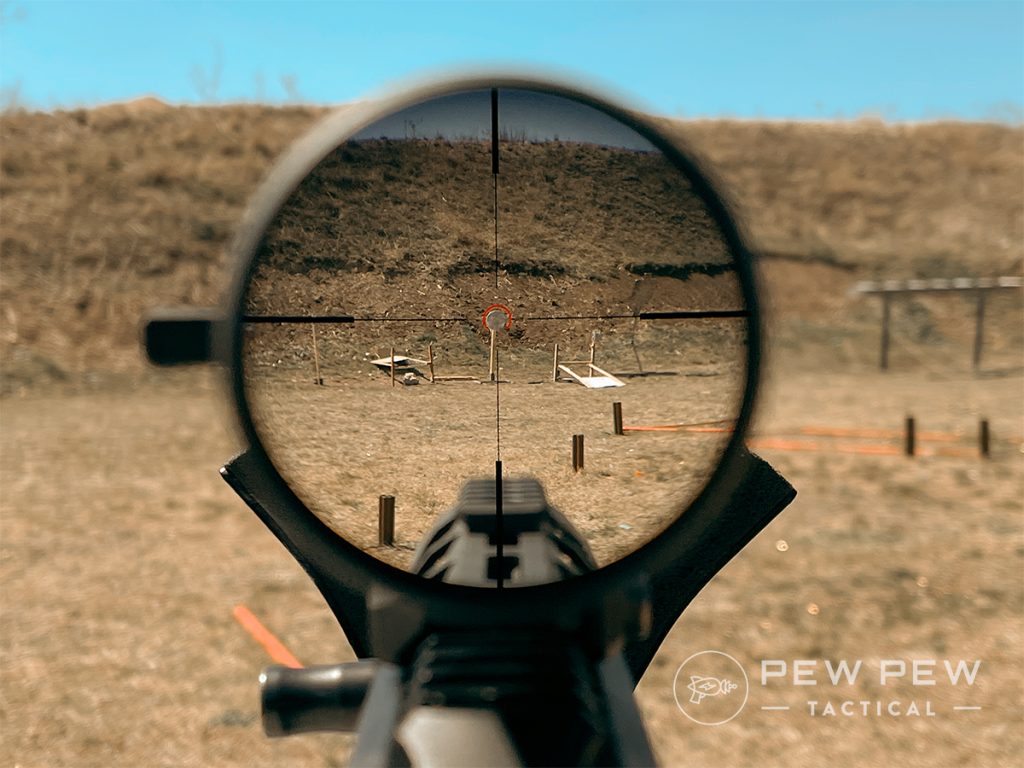 But it's worth mentioning that the PC Carbine comes with a wealth of aftermarket options from places like Magpul, Midwest Industries, Tandemkross, and MCarbo.
Final Verdict
The PC Carbine has a lot going for it. This gun is sturdy, reliable, and sports some decent accuracy.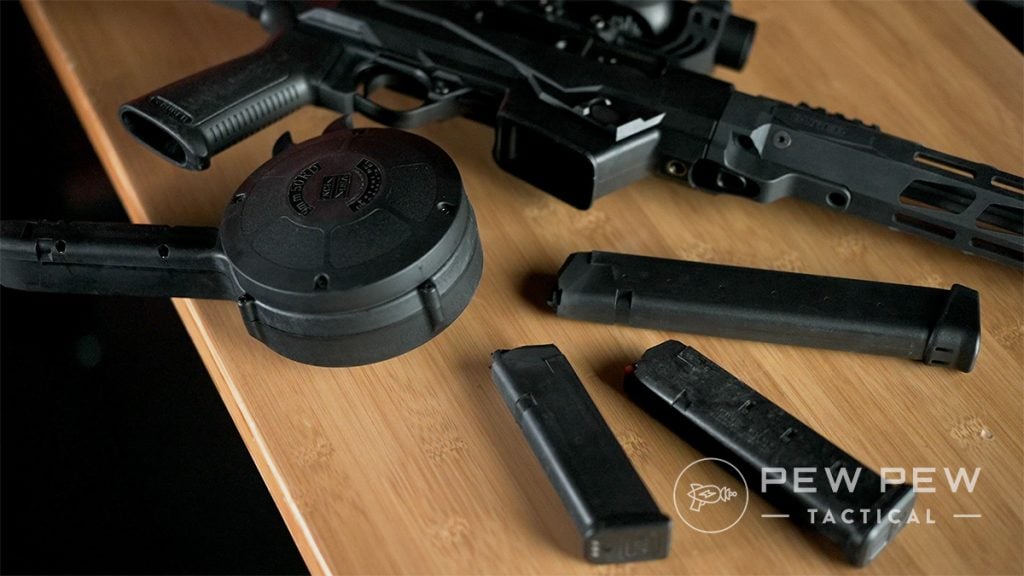 The combination of features like breakdown and interchangeable magwells makes the rifle an extremely versatile option.
What do you think of the Ruger PC Carbine? Let us know in the comments below! Also, check out our roundup of the 9 Best Pistol-Caliber Carbines for other models we recommend.
The post Ruger PC Carbine Review: Old School Meets Tactical [Hands-on+Video] appeared first on Pew Pew Tactical.