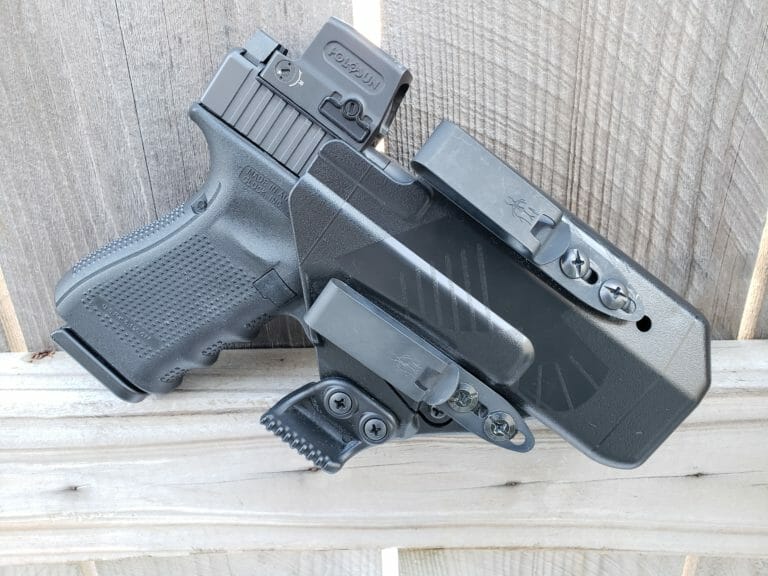 U.S.A. –-(AmmoLand.com)- Raven Concealment is one of the most legendary names in the concealment game. Their Eidolon holster was one of the first mass-produced appendix holsters that were truly considered great. My first experience with Raven Concealment was with their Perun OWB holster. A few years ago one of my local shops had an Eidolon shell on deep discount thanks to a mislabeling on their part. A few months later, I got around to ordering all the necessary hardware and finally strapped it to my belt. How does it compare to other appendix holsters I've carried?
Raven Concealment Eidolon Construction and Design
The Raven Concealment Eidolon is an injection-molded holster designed for appendix carry. Certain belt attachments allow the holster to be worn strong side as well, though mine was worn AIWB throughout the duration of this review. My Eidolon is the Glock 17 version with the semi-closed muzzle. This allows brass and other debris to fall through the holster, avoiding interference with the pistol. Unlike most open-muzzle designs, the Eidolon features a rounded muzzle, which substantially improves comfort, especially after long periods of sitting. Though this does restrict the length of pistol that the holster will accept.
Southpaws are in luck, as the Eidolon is fully ambidextrous, simply requiring a new claw to be carried left-handed. All other hardware is reversible. Since I acquired my Eidolon from the bargain bin without hardware, mine was lacking the parts to convert it to wrong-handedness. Though these are available for purchase direct from Raven Concealment along with a handful of other vendors.
For appendix carry, Raven Concealment includes their own wedge made from rubber which screws into the holster. This is adjustable for height thanks to several mounting holes located up and down the length of the holster. Since the wedge is a little harder compared to a typical foam wedge, it does get uncomfortable after a few hours of continuous wear. However, it has proven to be supremely helpful in improving concealment across several holsters.
The Raven Concealment Eidolon is compatible with many enlarged slide stop levers, such as those found on the Glock 34. With two options for sweat guard lengths, I chose the shorter version, which still protects the slide stop from skin contact. Thanks to this shorter length, my Kagwerks slide stop doesn't interfere significantly with the guard, ensuring compatibility without impacting comfort or durability.
Retention
Retention is excellent with the Eidolon. There is a firm, audible and tactile click when holstering the pistol. At no time have I had any concern that my pistol may eject itself from the holster unintentionally. Even with its substantial level of retention, there are no impediments to my draw stroke. This has been verified on the range, with my split times coming in similarly when using the Eidolon and other holsters with less robust retention.
Mounting Options of the Raven Concealment Eidolon
Standard mounts for the Raven Concealment Eidolon are plastic belt clips. These are flexible and do a marginal job at securing the pistol to the belt, and are not conducive to effective concealment. Raven also offers soft loops on struts, which offer better security for the holster.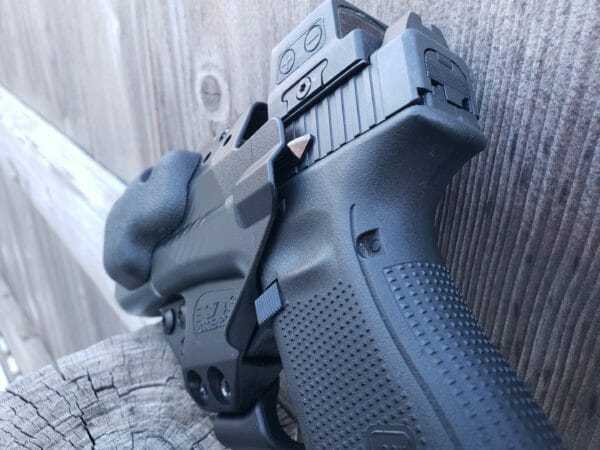 I have replaced the factory mounts with Discreet Carry Concepts clips. These offer significantly better security than the factory clips and are lower profile than the soft loops. These require a little bit of work to mount but are fairly straightforward.
Real World Use
I began intermittently wearing the Raven Concealment Eidolon in 2020. Its first time in training was as a loaner for another student during The Armed Parent/Guardian in 2021, which was followed up by use in the Primary & Secondary Training Summit that same year. I've worn the Eidolon during a 17-hour road trip, along with daily wear with my normal commute. So far, the holster has performed fantastically, with no issues presenting themselves to date.
The rounded muzzle has been extremely helpful in improving comfort, especially during my extended drives. My biggest comfort complaint is the rubber wedge, which starts to get unpleasant after roughly four hours of wear. If you're someone who wears their gun intermittently, this shouldn't be much of a problem. For those wearing it for extended periods, using your own foam wedge may be a better solution.
Final Thoughts on the Raven Concealment Eidolon
While the Raven Concealment Eidolon is no longer the most popular option on the concealed carry market, it still holds its own as a fantastic holster. I was skeptical at first, thanks to it being a somewhat dated design, but I've been incredibly impressed since I first put it on nearly two years ago. There are plenty of newer holsters that could stand to learn a thing or two from the Eidolon, several years after its introduction.
If you're looking for a holster for conceal carry, give the Raven Concealment Eidolon some serious consideration. You can snag yours directly from Raven Concealment.
---
About Dan Reedy
Dan is an Air Force veteran, avid shooter, and dog dad. With a passion for teaching, he holds instructor certifications from Rangemaster, Agile Training & Consulting, and the NRA. He has trained with Darryl Bolke, Mike Pannone, Craig Douglas, among several other instructors, amassing over 400 hours of professional instruction thus far. In his spare time you'll find him teaching handgun, shotgun, and less lethal classes.
Dan's work has been published by Primer Peak, and The Kommando Blog, and he has been featured as a guest on Primary & Secondary.