American shooters all have three things — first, a weird, inherent knowledge of the .30-30 cartridge; second, a desire to over-accessorize their weapons; third, a love of .22 LR plinkers.
The third makes up the subject of today's article. It's from a company that produces nothing but .22 LR plinkers in one form or another.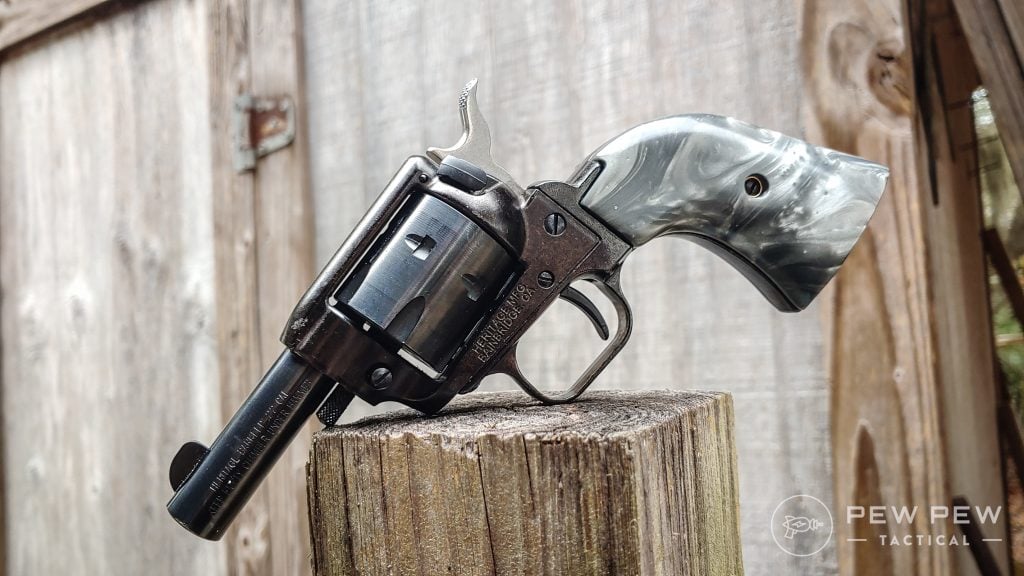 Heritage Manufacturing has a variety of .22 LRs, and they all tend to focus on the Rough Rider revolver. The latest incarnation of the Rough Rider comes in the form of the Barkeep.
And today, we're going to explore the Barkeep and determine if it's worth adding to your range bag. We'll walk through the specs, features, pros, and cons, and then get this revolver out to the range.
So keep reading!
Table of Contents
Loading…
Pros & Cons
Pros
Easy to conceal
Cheaper ammo
Barely recoils
Cons
Lots of smoke when shooting
Slower rate of fire
Odd manual safety
The Bottom Line
If you're looking for an easy-to-shoot plinker that's great for all skill levels, the Barkeep ticks all those boxes. And it does so at an affordable price of around $200.
Specs & Features
Specs
Caliber: .22 LR (interchangeable .22 WMR cylinder option)
Length: 7.95"
Barrel Length: 2.68"
Weight: 26 oz.
Capacity: 6 rounds
Features
Interchangeable cylinder option
Lightweight, compact
Classic western-styling
Multiple grip options
Fixed front sight, notch at rear sight
Source: Heritage Manufacturing
Heritage Manufacturing Barkeep
169
at Palmetto State Armory
Prices accurate at time of writing
View Details

169
at Palmetto State Armory

Palmetto State Armory (See Price)
Sportsman's Warehouse (See Price)
Guns.com (See Price)
Prices accurate at time of writing
Heritage Manufacturing Barkeep
$169 at Palmetto State Armory
169
at Palmetto State Armory
169
at Sportsman's Warehouse
169
at Guns.com
Prices accurate at time of writing
Background
The Barkeep uses the same design as Hertiage's Rough Rider, just with a substantially shorter barrel.
What that means is you get a single-action revolver modeled after the famed Colt Single Action Army. Its name comes from a nickname given to Colt's own super small SAA revolvers. Collectors call them Shopkeeper models.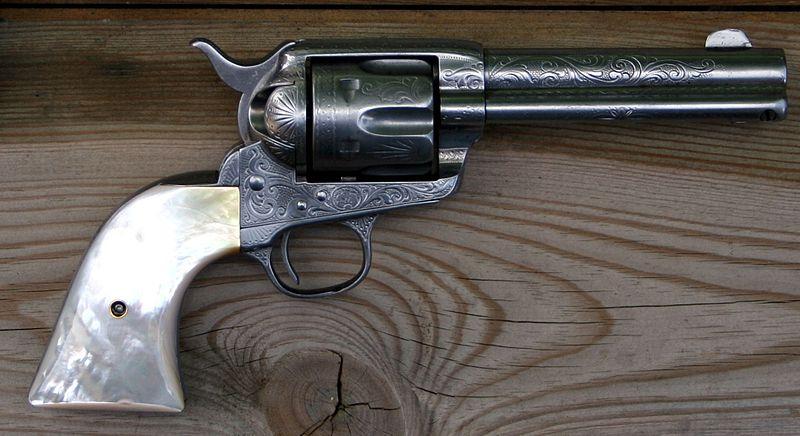 Heritage took the idea of a smaller, light revolver and named it the Barkeep as almost a reference to the classic Colts.
Who Is It For?
Heck, anyone who enjoys shooting needs a Barkeep.
If you can resist thinking that every round fired needs to be some form of training exercise, then you'll have some fun with the Barkeep.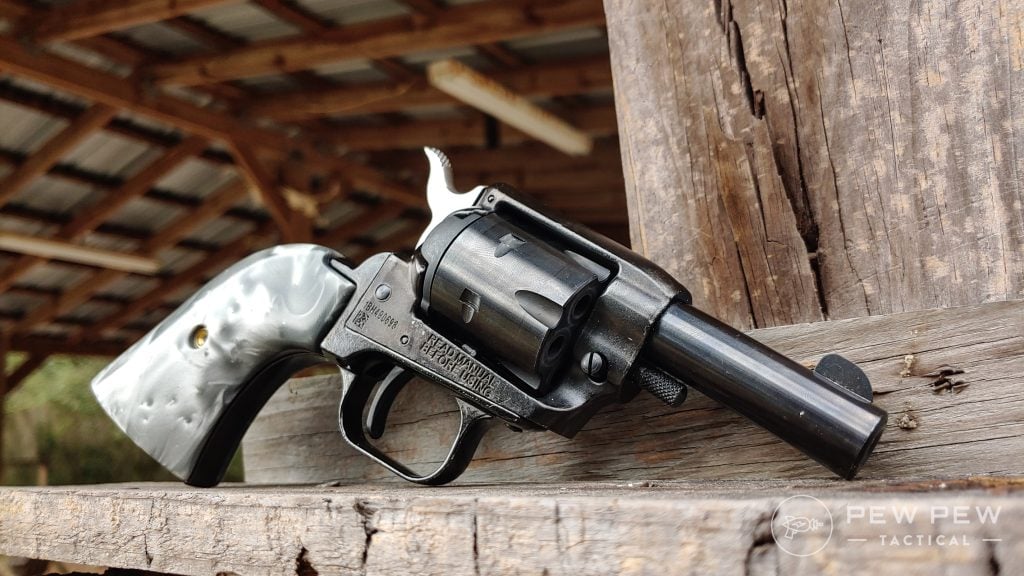 I firmly believe that fun guns should exist, and they should be cheap. The Barkeep certainly checks those boxes.
Heritage Manufacturing does a fantastic job of keeping their firearms extremely affordable, and the Barkeep is no different.
Right now, they seem to be selling for less than $200…but you get more than $200 worth of fun.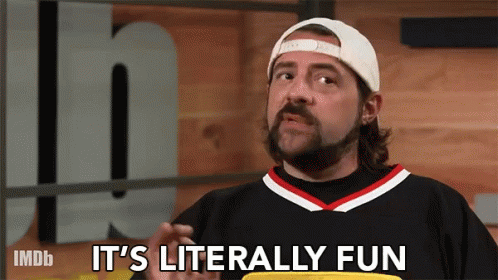 As a .22 LR single-action revolver, the Barkeep is fun for a boy and a girl! It's a great shooter, easy plinker, with shooters of all skill levels able to handle it. (This includes the kiddos, under the watchful eye of adults, of course.)
As far as first guns go, the Barkeep makes a solid first gun for both adults and kids.
Fit & Feel
The Barkeep comes in two models — 2-inch and 3-inch barreled models.
I have the 2-inch version because if I'm going to go small, I'm going super small. In reality, though, the 2-inch model features a 2.68-inch barrel, with .68 of the barrel tucked into the frame.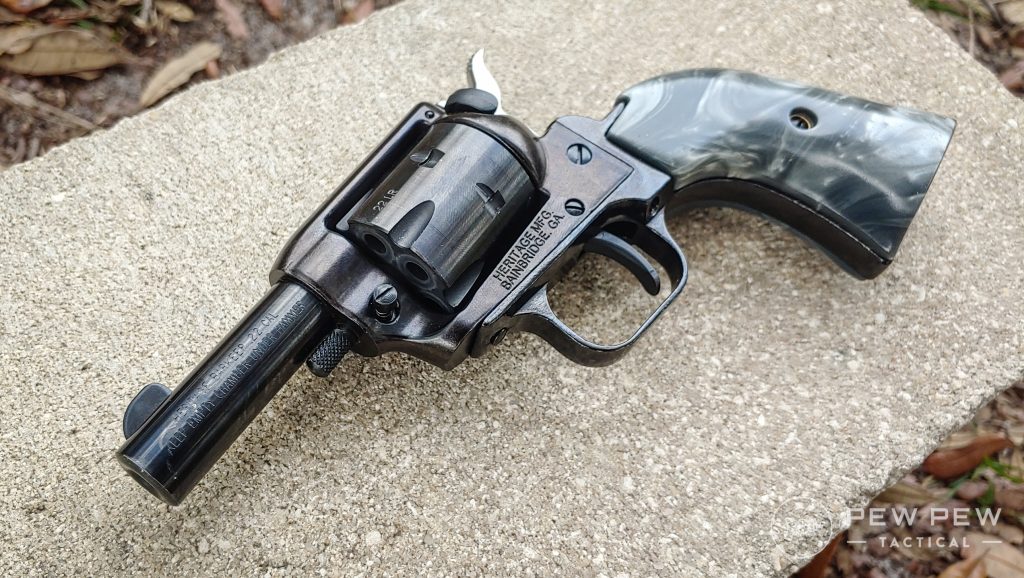 The Barkeep weighs 26 ounces, with an overall length of 7.95 inches. Its sights are fixed and use a rear trench combined with the typically SAA front sight.
While the barrel might be short, the rest of the gun is still a full-sized Rough Rider. This gun sports excellent oversized grips that come in a wide variety of materials, from wood to fake pearl.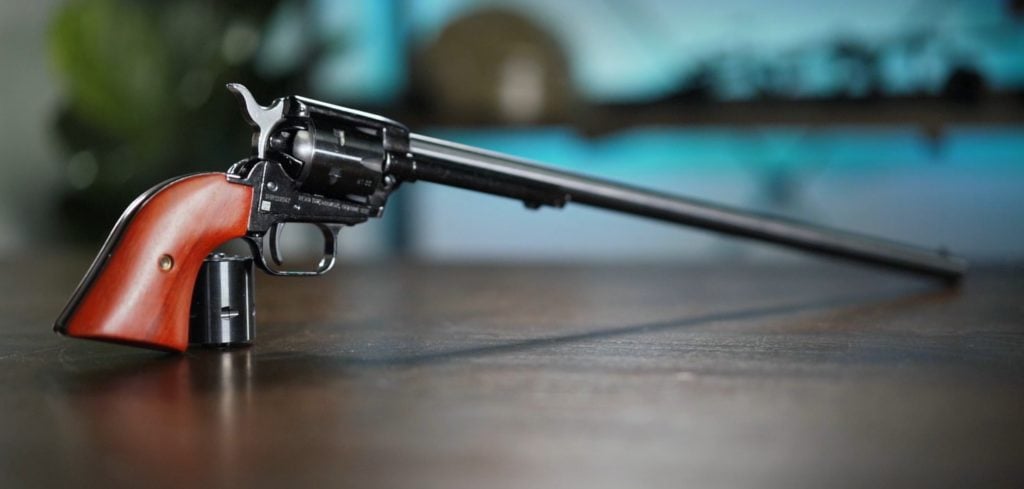 Additionally, the frame finish can be all black or case hardened. While the gun comes in .22 LR from the factory, you can get a .22 Magnum cylinder should you want a little more oomph.
The Rough Rider and basically all Heritage Revolvers make use of a manual safety placed to the left of the cylinder.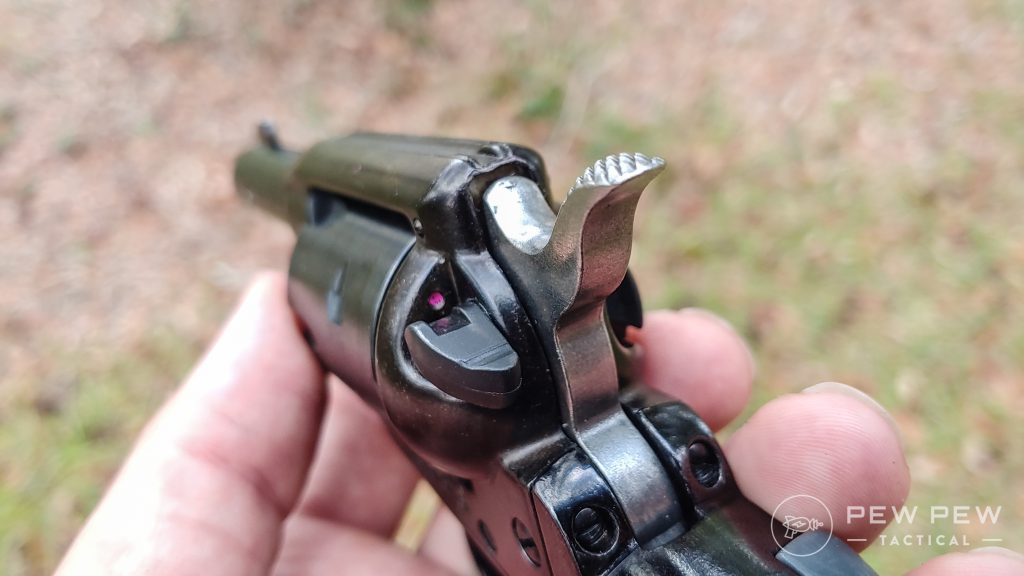 Safeties on single-action revolvers are odd. If a shooter doesn't want to shoot the gun, they can simply not cock the hammer.
Heritage seems to cling to this safety, and with the popularity of Heritage revolvers with kids, I guess I can see the purpose.
It's not intrusive, though, and working the safety isn't that difficult. I don't use it, to be honest, but if I did, it's easy enough to use.
The big SAA style grip has always been an ergonomic option, at least for the classic shooting style involving one hand.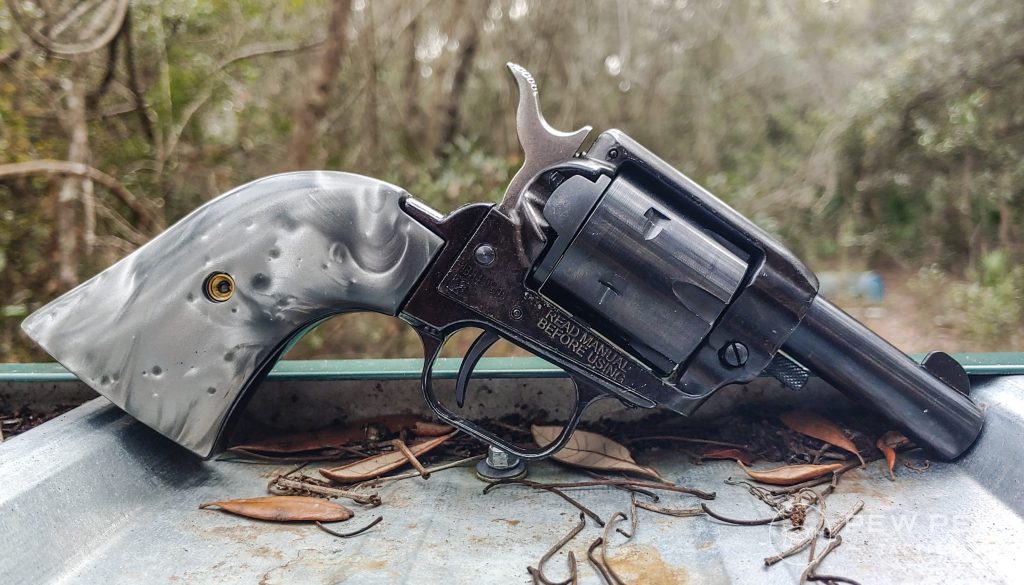 The swept-back grip encourages that one-handed shooting style, and I'm all about it. It's smart marketing because now I want a second Barkeep to fill my other hand for some cowboy akimbo action.
Shooting the Barkeep with a single hand proved remarkably easy. Reaching the hammer to cock the weapon isn't an issue.
How Does It Shoot?
I brought a box of the cheapest .22 LR ammo I had to the range — an old bucket of bullets from Remington – and some CCI rounds for accuracy testing.
Let's start with a bit of accuracy testing…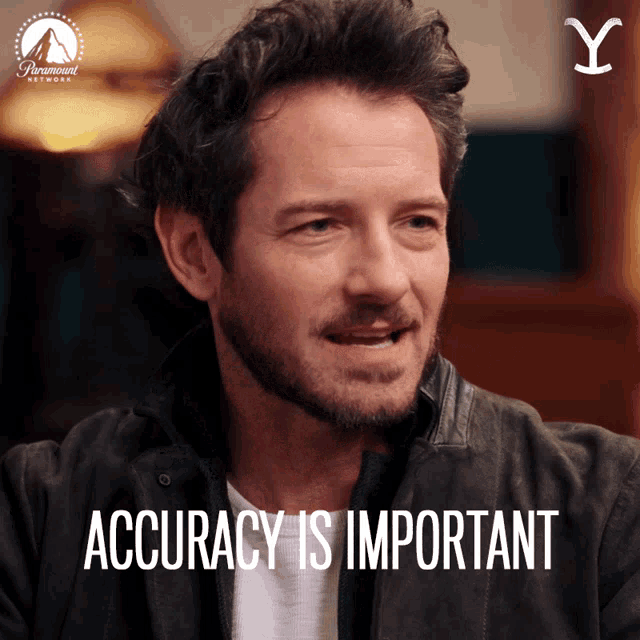 The short barrel doesn't grant much sight radius. So, don't expect a ton of accuracy from the weapon.
Trigger-wise, it offers an excellent crisp single-action design. It's impressive for such a cheap gun. The trigger is very light, with a remarkably short pull.
At 10 yards, I can produce 2-inch groups with good CCI ammo. That's not great, but it's good enough for plinking.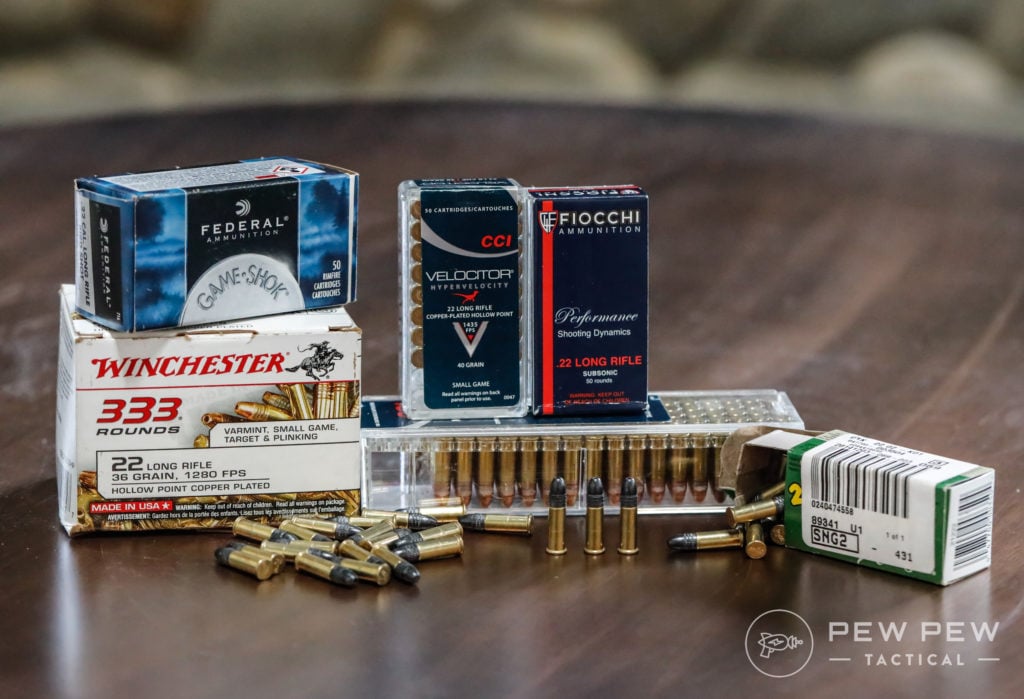 Challenge can be fun, and the Barkeep provides a little challenge, especially when the target's small or far away.
I can drill a 4-inch gong at 25 yards all day with my red dot-equipped uber tactical P320, but can I do the same with the Barkeep's rudimentary iron sights?
Well, sometimes I can. Not always, but when I can, it's extremely satisfying.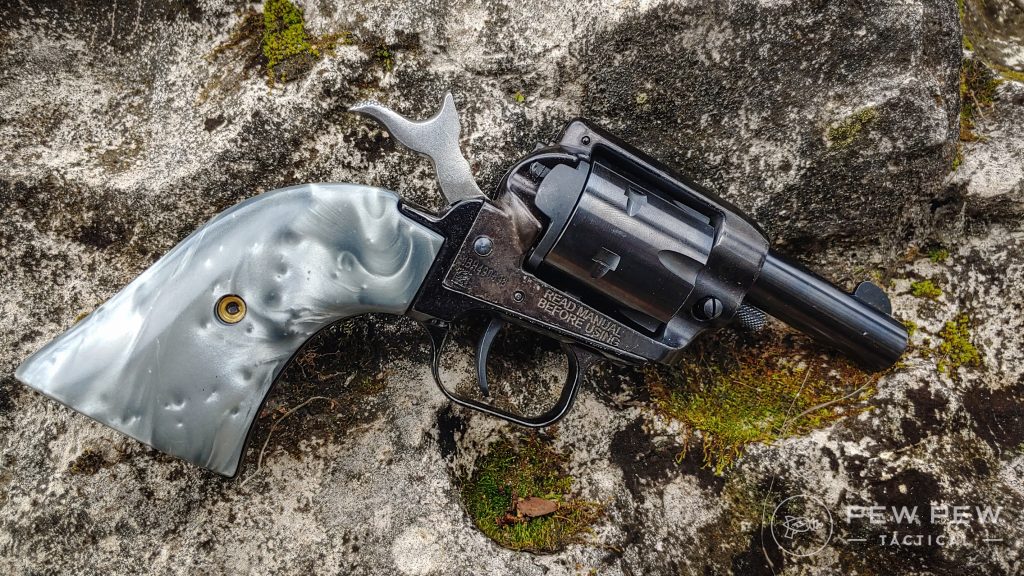 My two kiddos took an interest in the Barkeep, and with soda cans, clay pigeons, and a polymer reactive gopher, they hit the range with glee.
On the recoil front, it's a giggle gun. Sure, the Barkeep might be small, but it also weighs more than 26 ounces. So, a .22 LR round doesn't exactly create a lot of recoil or muzzle rise.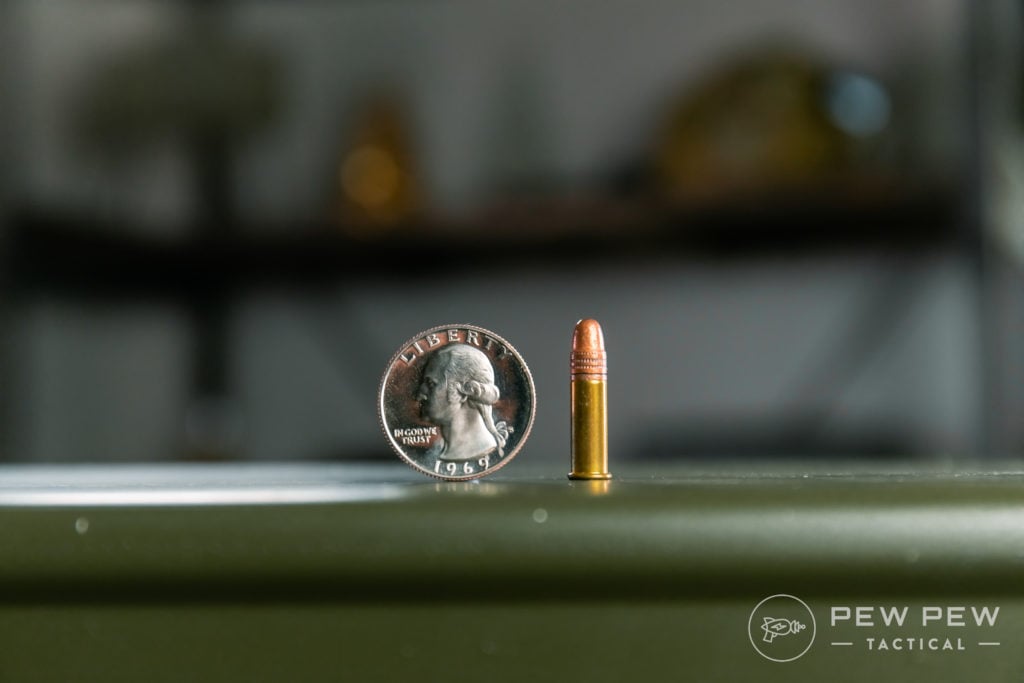 It's just a fun, easy-to-handle little gun. Even my 7-year-old handled it without issue and loved shooting it.
The Rough Rider makes a great first gun, and the advantage of the Barkeep is that it's a good bit lighter due to the shorter barrel.
That short little barrel does emit a fair amount of smoke with the cheap Remington ammo. The big smoke cloud almost makes it seem like a bigger gun. But it's no deal-breaker.
As a single-action revolver, the shooter can't mag dump, and the slower rate of fire tends to make shooters focus more on accuracy than pure volume of fire.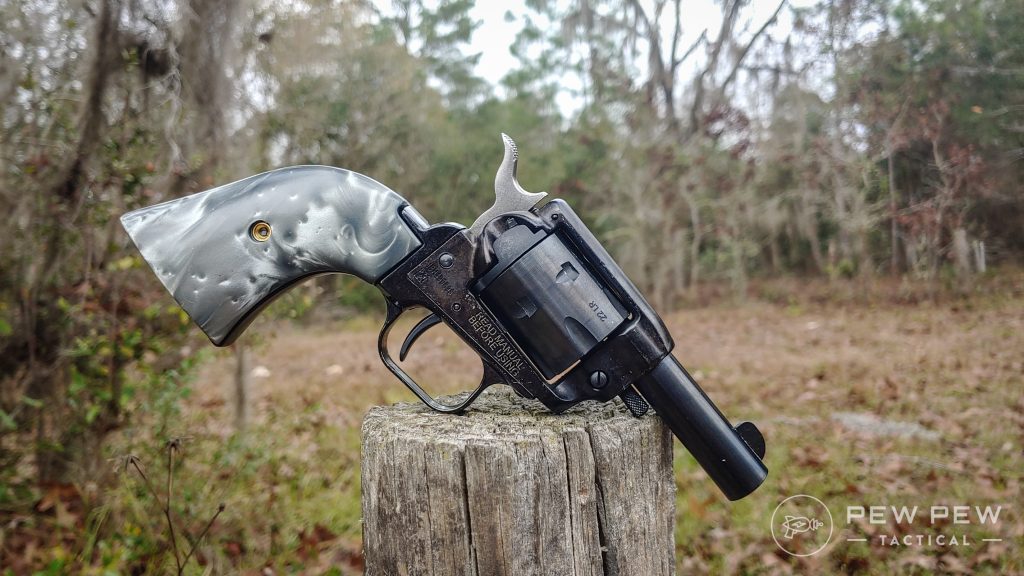 You might have also noticed that the ole Barkeep lacks an ejection rod. The barrel is too short to support it. So how does one eject empty casings and reload?
Well, there are numerous ways. Heritage tosses in a little hand ejector that's nothing more than metal attached to a wood handle. This pokes out the empty casings with ease.
In my shooting, I also found it easy to pry them out with my thumb or with the blade of a pocketknife.
What Sets it Apart?
This is an easy-to-use, fun little plinker that is a great gun for beginners or kids.
Its ease of use and minimal recoil definitely set it apart from other revolver models. Not to mention, an affordable price point makes this wheelgun stand out from the pack.
By The Numbers
Accuracy: 3/5
It's no sharpshooter's pistol, but it's accurate enough for its purpose as a plinking handgun. It won't impress anyone, and I wouldn't enter any contests with the gun, but for turning cans into Swiss cheese, it's perfect.
Economics: 4/5
I don't have any significant issues with the Barkeep's ergonomics. I like the grip, and it's easy to control and well balanced due to the short barrel. My main complaint is that reloading is very slow…slower than any other SAA style revolver due to the missing ejection rod.
Reliability: 5/5
Not a single issue here. The gun goes bang every time the trigger is pulled. After hundreds of rounds, the gun still functions without issue.
Customization: 2.5/5
The Barkeep doesn't offer you a ton of options in terms of customization. You can swap the cylinder and grips, and that's it. This isn't a knock by any means, and it's just a reality of a western-style revolver.
Value: 5/5
I love that Heritage offers its firearms at a very affordable price point. Their guns make it easy to get into firearms culture. The Barkeep is no different. It's not just a cheap gun, but an affordable one that works as promised.
Overall: 4/5
The Barkeep makes shooting fun and keeps it cheap. Ammo is expensive, and it can be tough to justify blasting away even a hundred rounds of 5.56 or 9mm. However, it's pretty easy to justify blasting through .22 LR, and it's a ton of fun with the Barkeep.
Upgrades for the Barkeep
The Barkeep doesn't come with a ton of accessories, but there are a few owners can opt for.
Grips can be swapped out for a more customized look. Don't want .22 LR? Change the cylinder to the .22 WMR option.
Holster-wise, Heritage offers a leather, right-hand only belt holster for the 2-inch model.
Final Verdict
Heritage makes fun little guns, and the Barkeep maintains their legacy. This little fella is a blast to shoot and provides a good deal of fun for a small amount of money.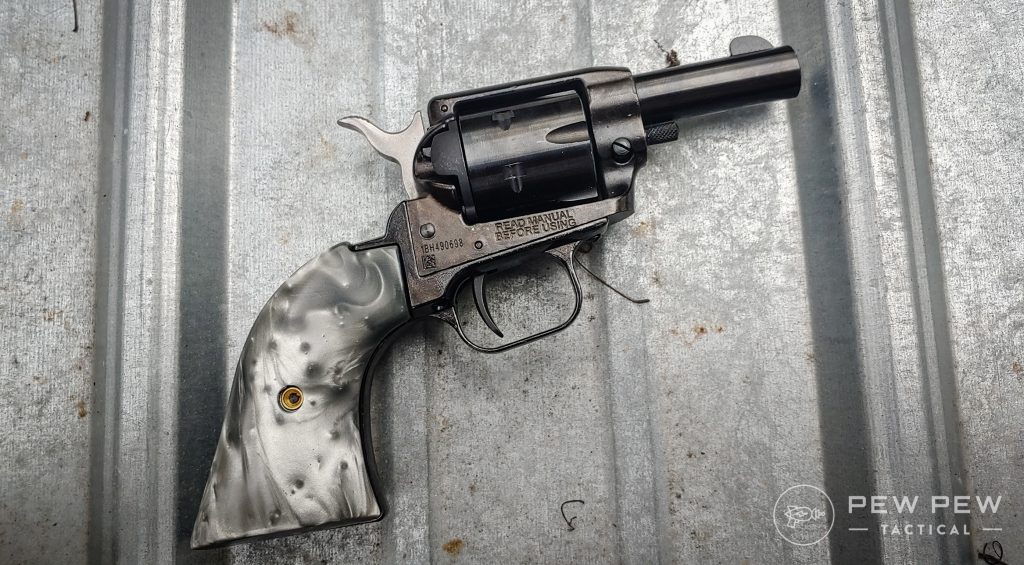 It goes bang consistently and paints a smile across my face every time I empty the cylinder.
Does the little Barkeep appeal to you? Have you ever played cowboy with a Heritage product? Let us know what you think in the comments below. Want more revolvers? Check out our suggestions for the Best Beginner Revolvers.
The post Heritage Barkeep Review: Best Plinking .22 LR Revolver? appeared first on Pew Pew Tactical.