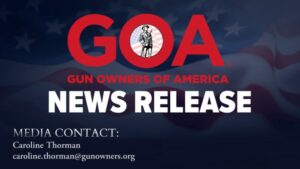 FOR IMMEDIATE RELEASE
April 12, 2022
Washington, D.C. – Gun Owners of America (GOA) slams New York City Mayor Eric Adams' failed "tough-on-crime" policies amid today's NYC subway shooting and the skyrocketing crime that increased 14.5 percent from 2021.
This past November, the Supreme Court heard the case NYSRPA v. Bruen which questioned whether the state of New York's denial of petitioners' applications for concealed-carry licenses for self-defense violated the Second Amendment. The Supreme Court is expected to issue a ruling on this case sometime before the end of June.
New York State Police told the Supreme Court that citizens do not need to carry guns on the subway since there are transit police. Mayor Adams also recently increased police presence on the subway to no avail.
Aidan Johnston, GOA's Director of Federal Affairs, commented:
"Increased police presence cannot stop every tragedy. Once again, NYC's gun control demonstrated that it has no impact.
"You are your own first responder. We need to empower individuals to defend themselves and exercise their right to bear arms—especially in public places.
"Only by taking up arms and shooting back can Americans restore public safety and take control out of the hands of violent criminals."
GOA spokesmen are available for interviews. Gun Owners of America, and its sister organization Gun Owners Foundation, are nonprofits dedicated to protecting the right to keep and bear arms without compromise. For more information, visit GOA's Press Center.
-GOA-