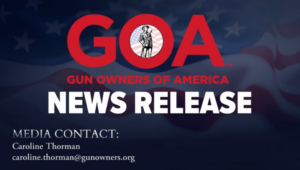 FOR IMMEDIATE RELEASE
April 10, 2022
Washington, D.C. – The Biden administration plans to issue a final rule based on proposed rule ATF 2021R-05 as soon as Monday, which would allow the Bureau of Alcohol, Tobacco, Firearms and Explosives (ATF) to expand its nearly billion-record gun registry and regulate gun parts as firearms, allowing ATF to end the online sale of gun parts at-will.
While the text of the final rule has yet to be published, Gun Owners of America (GOA) announced its plans to fight back immediately.
Aidan Johnston, GOA's Director of Federal Affairs, commented,
"Biden's proposal to create a comprehensive national gun registry and end the online sale of gun parts without the passage of a new law exemplifies his disregard for the Second Amendment.
"Congress must provide oversight by striking down ATF's illegal gun registration rule using the Congressional Review Act and passing Rep. Michael Cloud's No REGISTRY Rights Act to eliminate ATF's billion-record gun registry.
"Just as we opposed the Trump Administration's arbitrary ban on bump stocks, GOA will also sue Biden's ATF to halt the implementation of this rule, whose promulgation violates the Second Amendment, Firearm Owners Protection Act, Gun Control Act of 1968, and Administrative Procedures Act."
GOA commented against the proposed rule on June 7, 2021.
GOA spokesmen are available for interviews. Gun Owners of America, and its sister organization Gun Owners Foundation, are nonprofits dedicated to protecting the right to keep and bear arms without compromise. For more information, visit GOA's Press Center.
-GOA-