Glock, Glock, Glock, it's all about Glock. I'll be the first to admit that Glocks are fantastic firearms that are simple, accurate, easy to use, and all in all, great guns.
What I don't understand is the cult of Glock.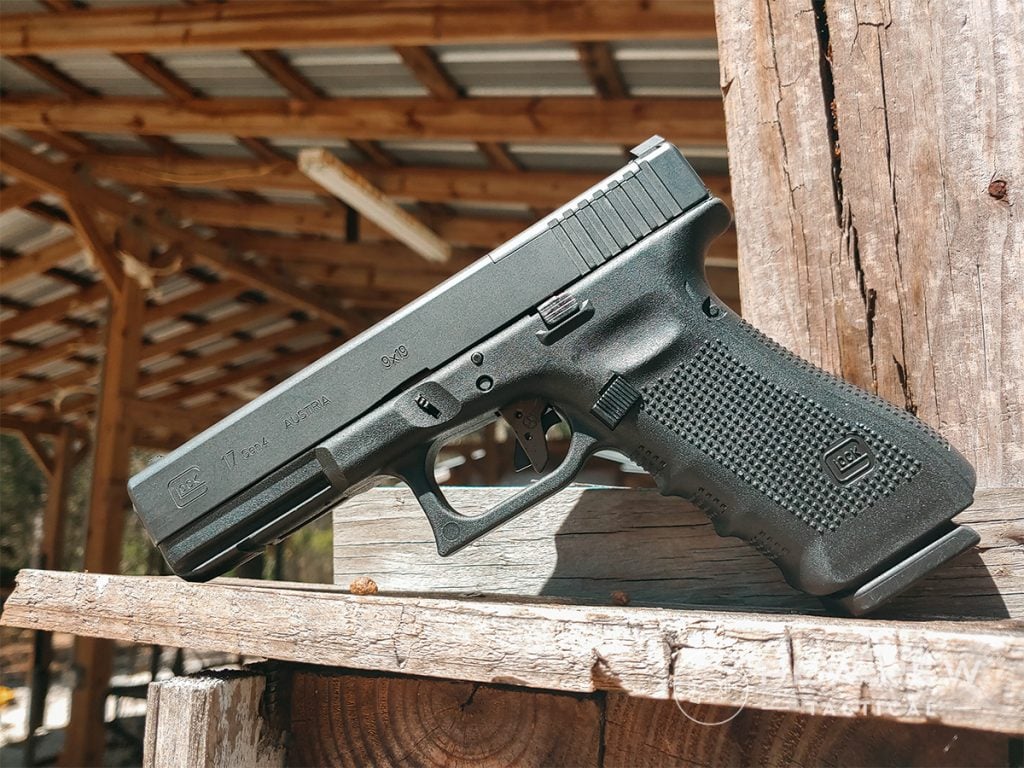 They lack the charm and character of guns like the CZ-75, Hi-Power, and 1911. Yet here we are with a Glock G17 in our hands, and it's a predictably lovely gun.
Let's explore the what, the why, and where the Glock excels.
Table of Contents
Loading…
Glock 17: Review at a Glance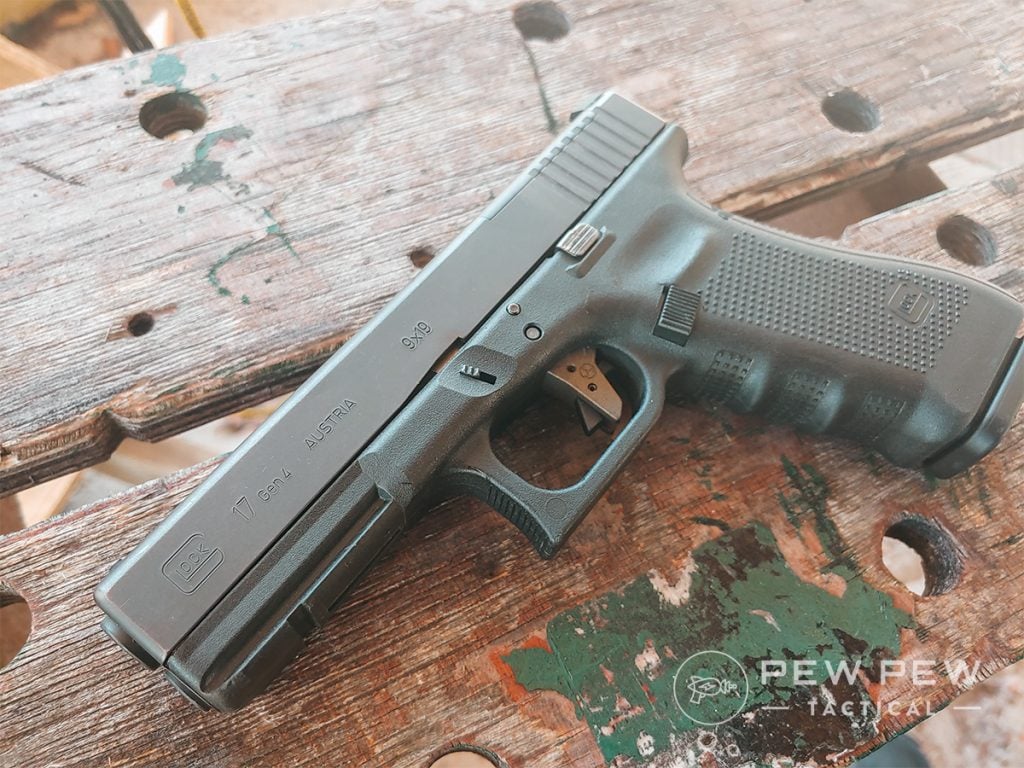 Pros
Accommodates virtually all mini-red dots
Modular grip
Highly reliable

Tons of aftermarket support
Cons
Slide bite is a real risk
Small slide lock
The Bottom Line
The Glock G17 delivers a reliable, fairly ergonomic full-sized 9mm pistol in a very affordable package. Plus, the wide range of aftermarket parts and accessories available allow you to customize your G17 to exactly what you want.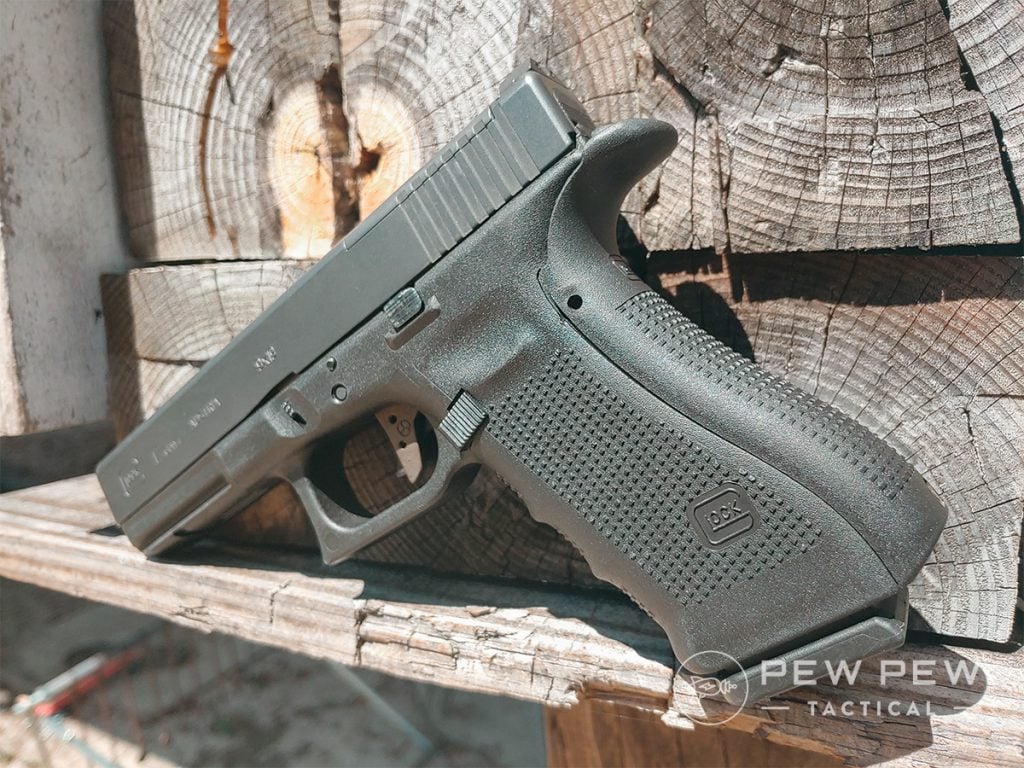 Specs and Features 
Specifications 
Caliber: 9mm
Width: 1.26″
Length: 7.95″
Barrel Length: 4.49″
Height: 5.47″
Weight: 22.05 oz
Capacity: 17
Features
Plate system for optics that accommodates nearly all mini red dots
Dual recoil assembly is designed to reduce recoil and increase the life of the gun
Comes with a reversible magazine release
Modular backstrap system
Comes with three 17-round magazines, a handy little magazine loader, and a little tool to attach the plates and optics
Source: Glock
399
at Guns.com
Prices accurate at time of writing
View Details

399
at Guns.com

Guns.com (See Price)
Palmetto State Armory (See Price)
Brownells (See Price)

Prices accurate at time of writing
Available Coupons
25% off all OAKLEY products

– OAKLEY25


Copied!
Visit Merchant
Background
When Gaston Glock decided to produce a handgun, he assembled a crew of engineers, firearms designers, and professional shooters to design the next big firearm. That firearm became the Glock G17.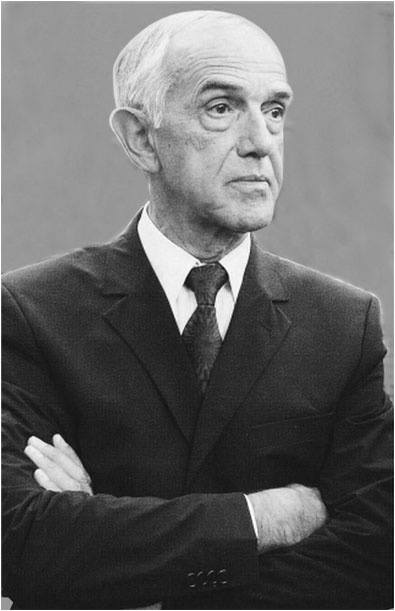 The 17 came from the fact it was Gaston Glock's 17th patent. Glock produced the gun for the Austrian army, and it won the contract.
Gaston's Glock G17 went on to keep winning military contracts and serves with numerous militaries and police forces, including SOCOM.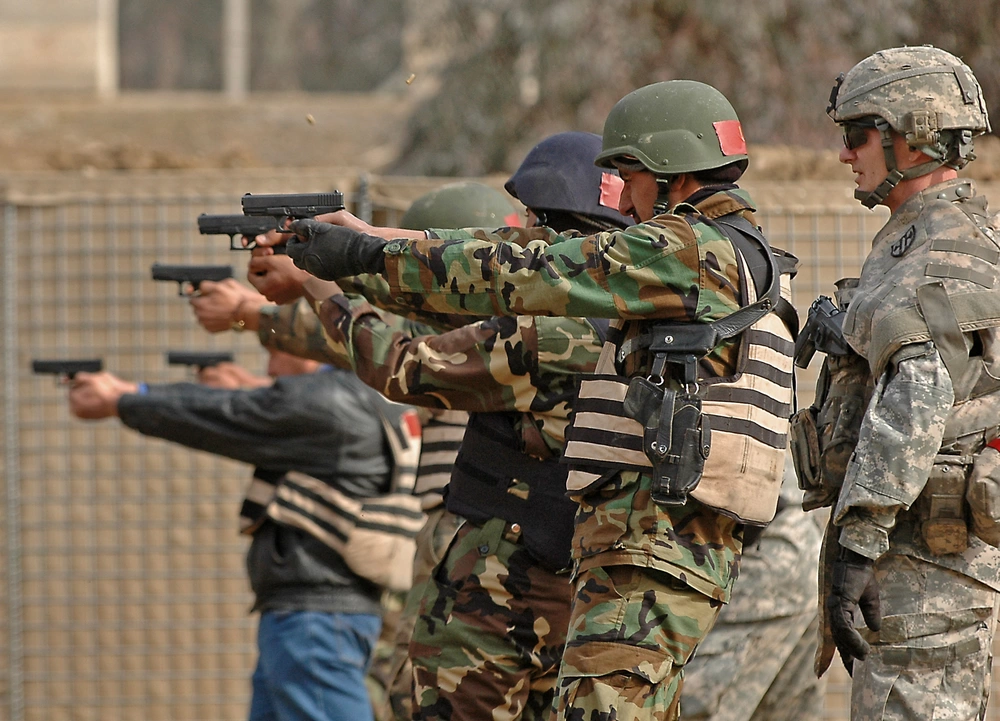 The Glock G17 is a full-sized 9mm model. It's also a Gen 4 model with the dual captured recoil spring, rail, and finger groove-equipped grip. 
Oh, and let's not forget you also have the option of a MOS model. MOS stands for Modular Optic System, and the gun can accommodate more than a dozen different red dot optics.
There are two types of MOS systems, the standard which we have here and the MOS3. The MOS3 utilizes optic-specific platforms and only accommodates one footprint.
620
at Brownells
Prices accurate at time of writing
View Details

620
at Brownells


Brownells (See Price)

Primary Arms (See Price)
Sportsman's Warehouse (See Price)
Prices accurate at time of writing
Available Coupons
25% off all OAKLEY products

– OAKLEY25


Copied!
Visit Merchant
Who Is It For?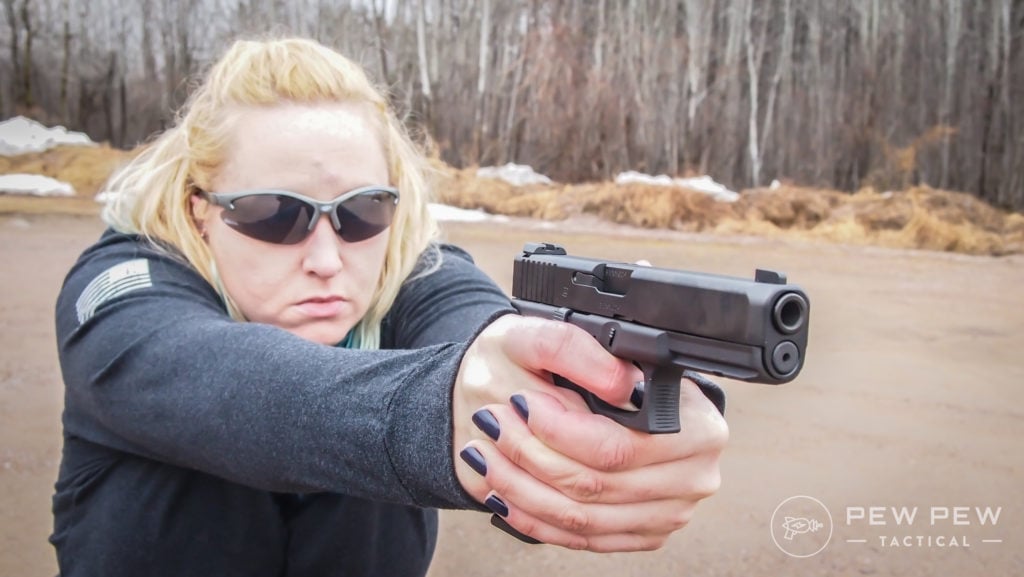 The full-sized Glock G17 makes for an excellent duty weapon with police and military forces. It's also a solid handgun for home defense.
The ability to use 33-round magazines, toss a light on it, and equip the weapon with an optic makes it an excellent home defense firearm. 
Most would feel the Glock G17 is too large for concealed carry. It's a duty-sized firearm, but don't tell that to the hardcore concealed carriers. Quite a few fellas and gals carry full-sized firearms concealed.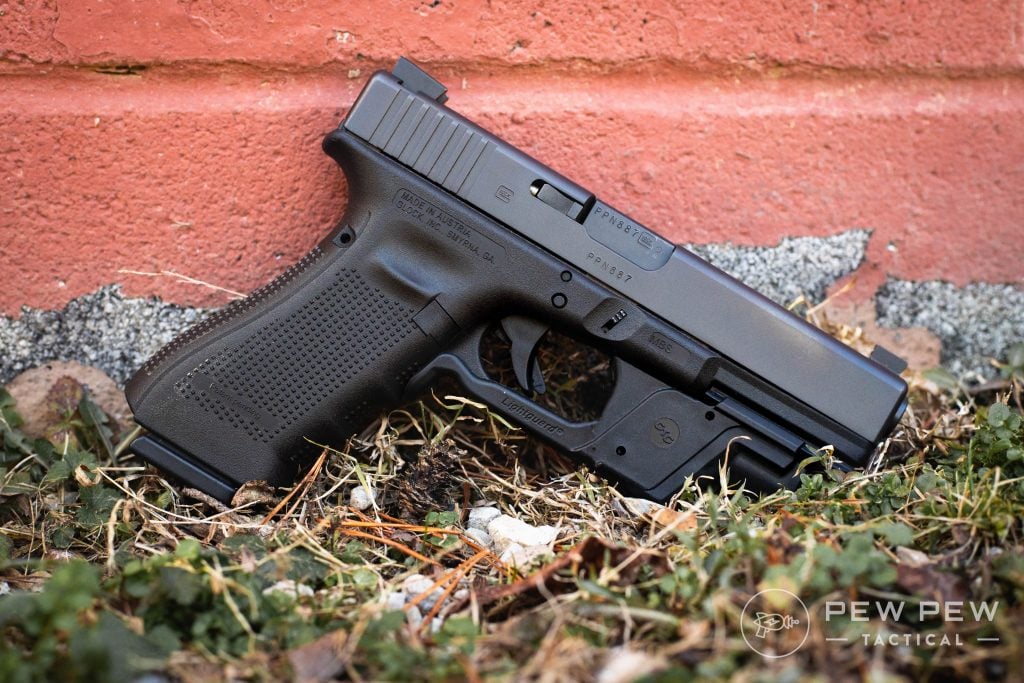 It's not that hard to do with a good holster and a good belt. 
Glock pistols are also perfect for those who like to tinker. A Glock is a lot like an AR. You can turn it into anything, or well, almost anything. 
The Glock G17 can be transformed into a race gun for competition shooting, and it can be made into a subgun-like platform with dozens of different brace options.
Heck, you can turn it into a rifle if you so choose. Even a bullpup rifle if you want.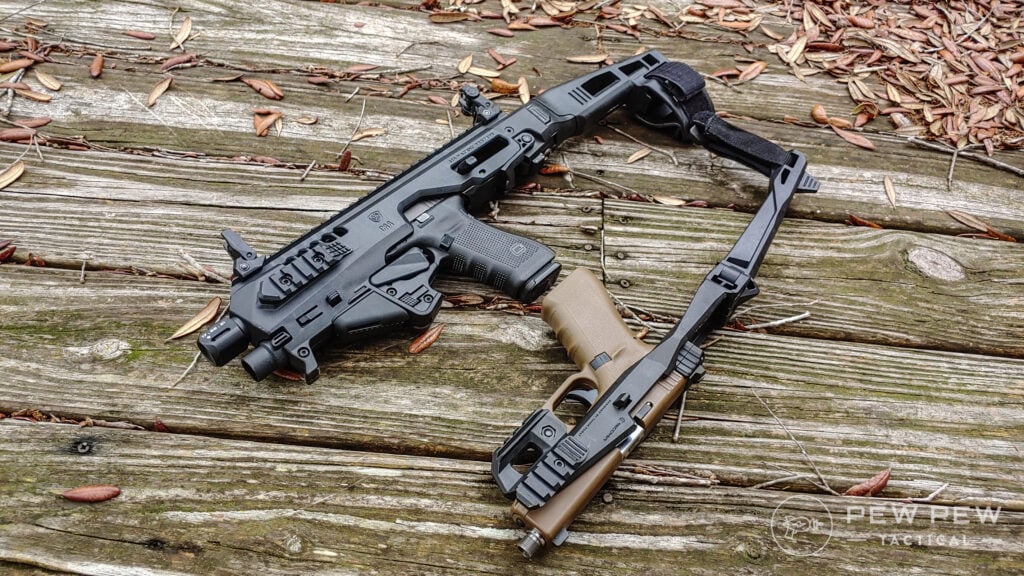 Fit & Feel
The large nature of the Glock G17 fits most hands rather well. If it doesn't, you can add a backstrap to increase the grip size. I've got huge hands, and the Glock fits just perfect. I think the backstraps make the gun too clunky.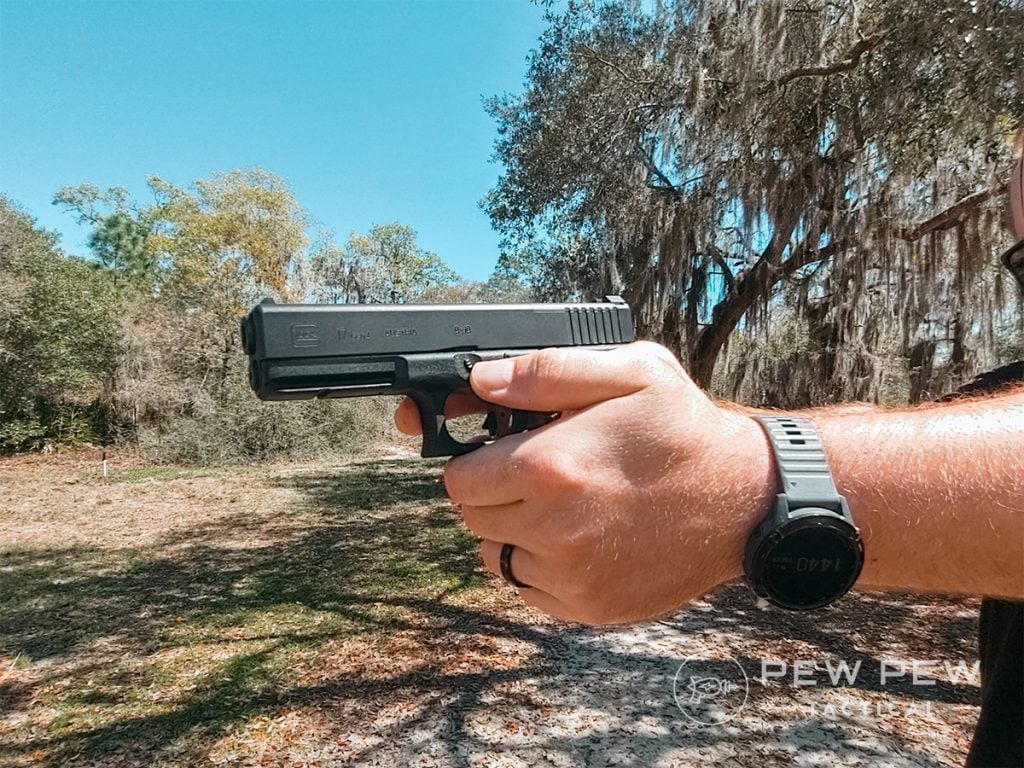 Big grips mean the gun's relatively easy to handle. Full-sized 9mms eat recoil without issue, and so does the Glock G17. However, the gun has some flaws. 
For one, without the rather large beavertail extensions, the gun offers some terrible slide bite to my big hands. A long day of shooting draws a little blood and gives me a nice callous. Luckily they fixed this with the Gen 5.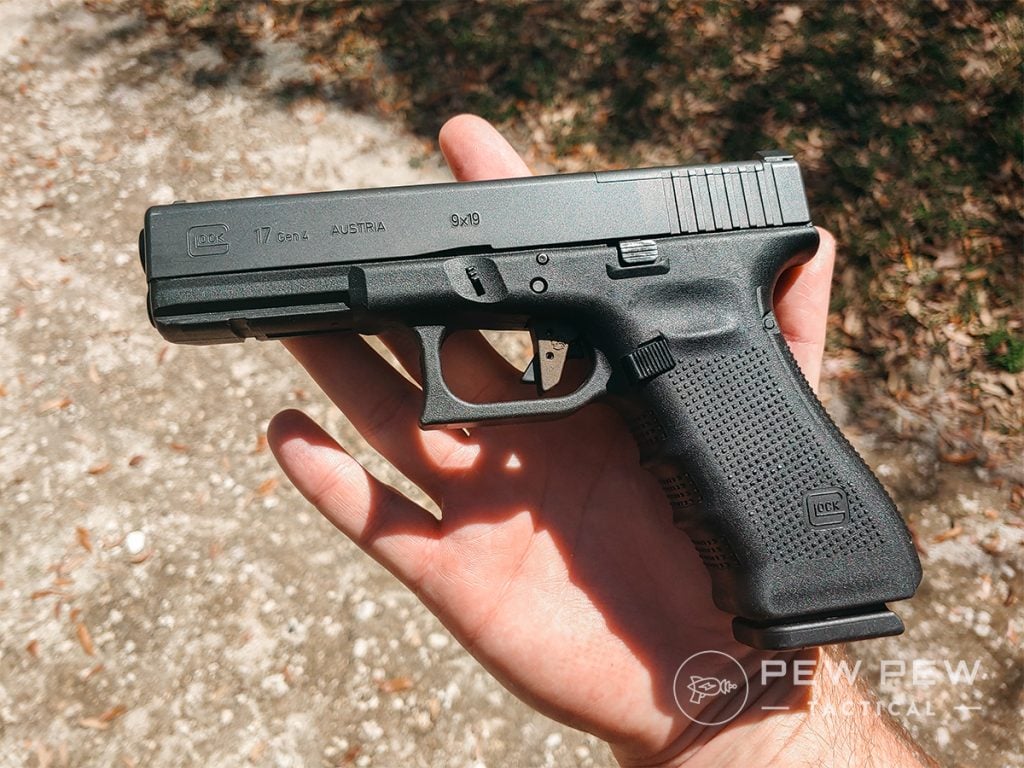 Call me soft, but the trigger also tends to rub and be irritating after shooting a few hundred rounds. I replaced the trigger shoe with a flat metal model to avoid such discomfort.
I'm a fan of the Gen 5's smooth grip versus the grip humps, but I think that's more my preference than a flaw on Glock's part. 
The Glock's slide release placement is also an issue for me.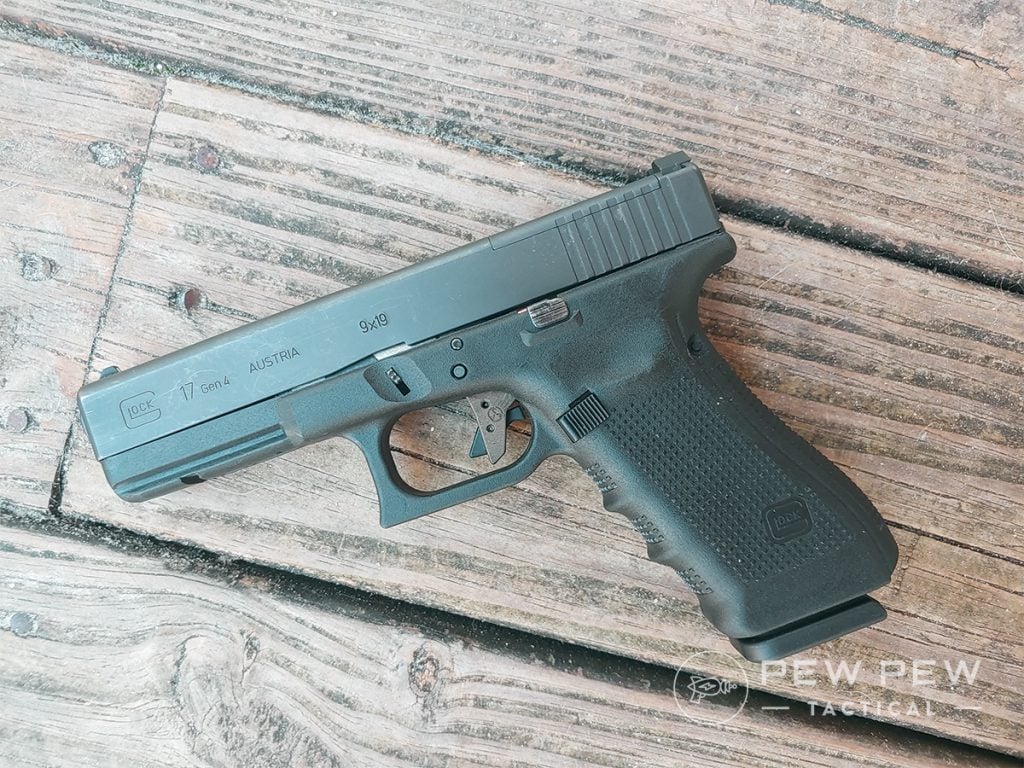 My thumbs press it down with a thumbs forward grip and render it mostly useless when the magazine is empty. The slide fails to lock rearward, and a click lets me know I'm empty. 
The magazine release is easily reversible for left-handed shooters. It's relatively nice, easy to engage, and better than the Gen 3 models. 
How Does It Shoot?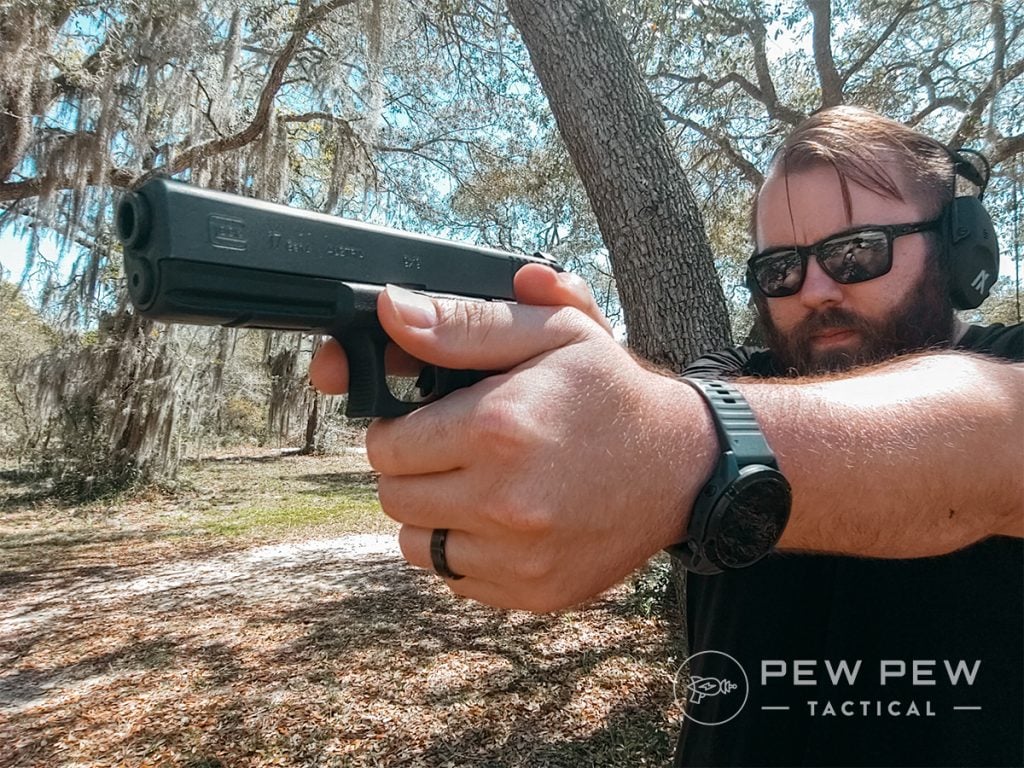 With 6.69 inches of sight radius, the Glock G17 is a straight shooter. The plastic sights leave a lot to be desired, but they are entirely competent for accurate fire. At 25 yards, I can ring the tiny 4-inch gong if I take my time. 
Fast headshots are easy to accomplish at this range, and hitting anything remotely large is easy. With an IPSC steel target, I went as far back as 50 yards and landed shot after shot on the big target.
While I replaced the trigger shoe, everything else is the same as a stock Glock trigger.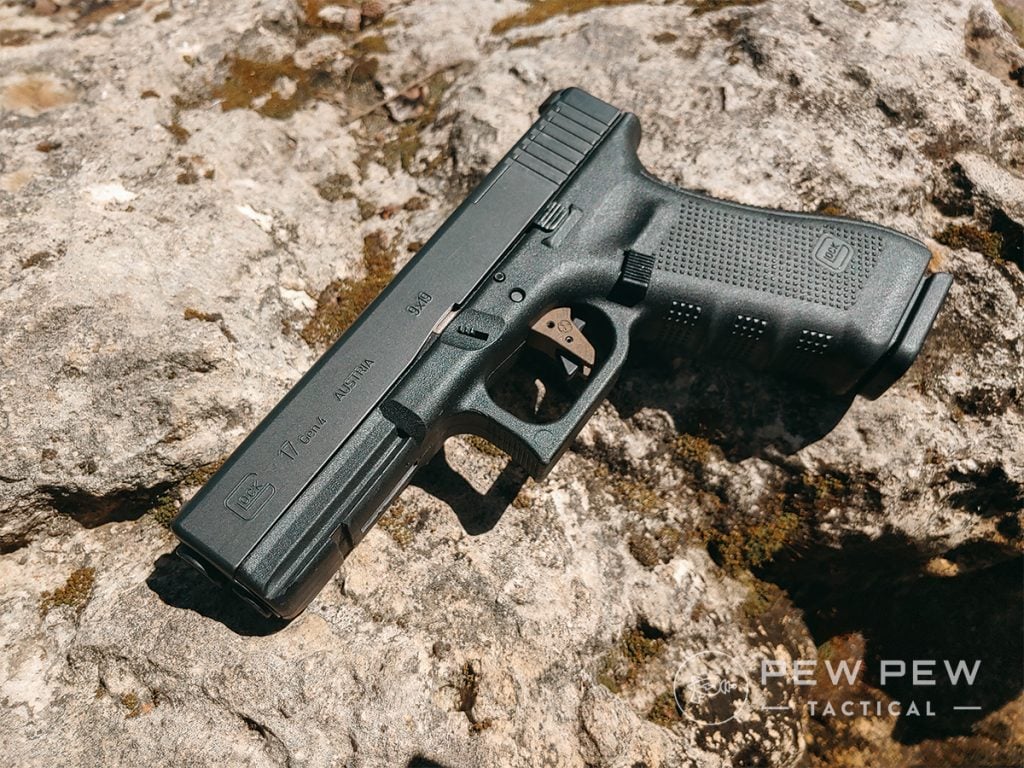 It's relatively smooth with a fair bit of takeup. Once we get to the wall, it's stiff but short and doesn't disrupt your sights. The reset is rock solid and both tactile and audible. 
Slow fire is fine, but what about fast and accurate? Well, the combination of a good trigger, a controllable platform, and big white sights make it fairly easy to get on target and put holes in that target. 
I fired several basic drills like failure to stop, box drills, and 10-10-10 drills with the Glock G17. The result was passing scores across the board. At first, the 10-10-10 was a little challenging but cleared up with a few practice runs.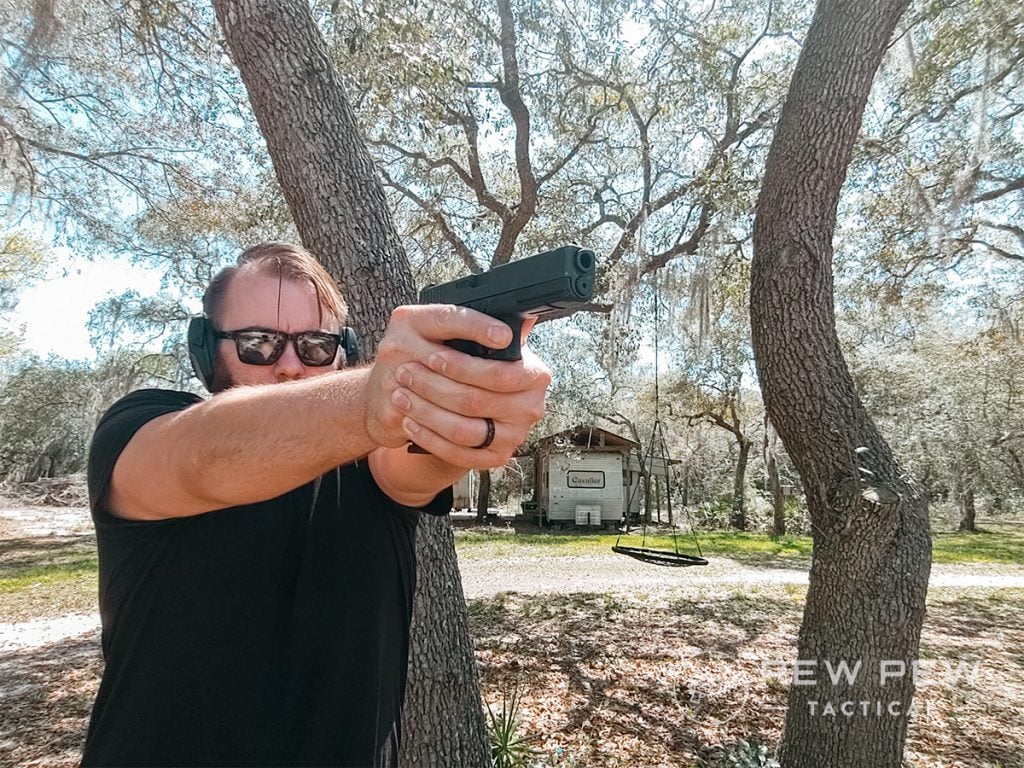 Box drills don't have tight requirements time-wise, so I used the film Collateral as my example. I beat Tom Cruise's time with the Glock G17 and Bravo Concealment holster with a bit of practice. 
If I was to take advantage of the MOS system, I could toss an optic on and increase my accuracy even more.
The small red dot reticle makes it very easy to see your target and the dot removes the need to align sights. That leads to faster and more precise shots on target.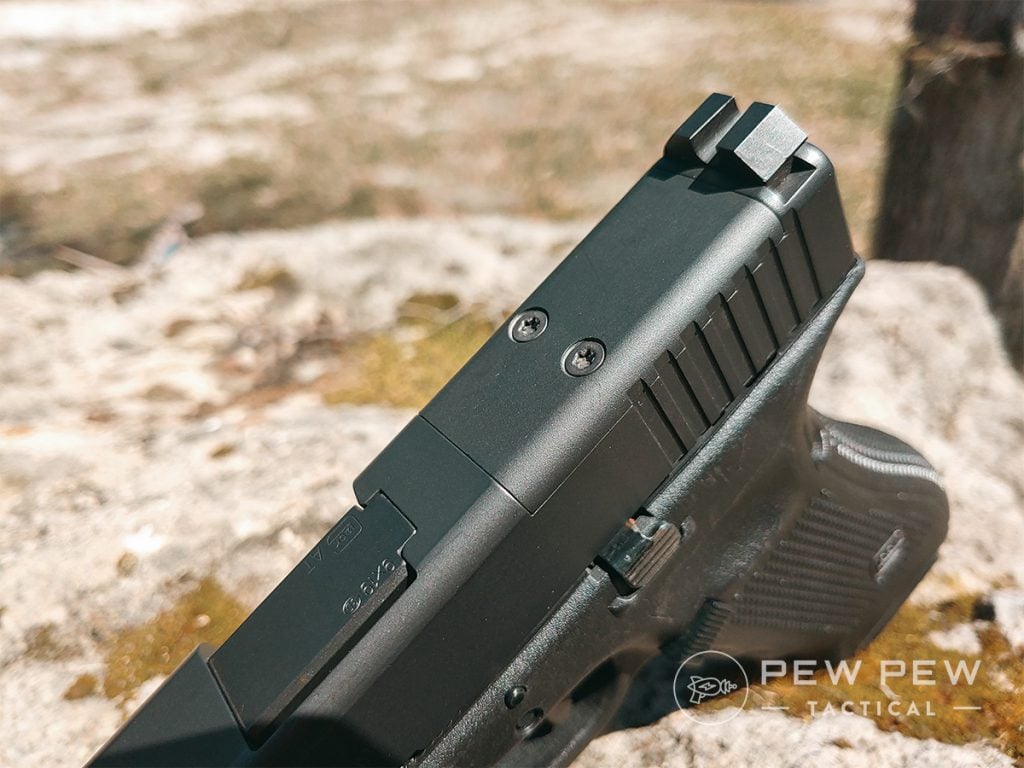 Finally, the Glock G17 is so reliable it's almost boring. It just goes bang with FMJs, with JHPs, steel-cased ammo, aluminum-cased ammo, and so on.
The Glock G17 doesn't seem to care much about what kind of ammo it eats. 
What Sets It Apart?
These days, the Glock G17 has one main thing going for it over other pistols. Not so long ago, I would have said "reliability," but most modern pistols made by quality manufacturers are going to be just as reliable.
These days, what really sets the Glock G17 apart is how incredibly widespread it is in the market. It's the number one law enforcement sidearm, and almost certainly the most popular modern handgun in the world.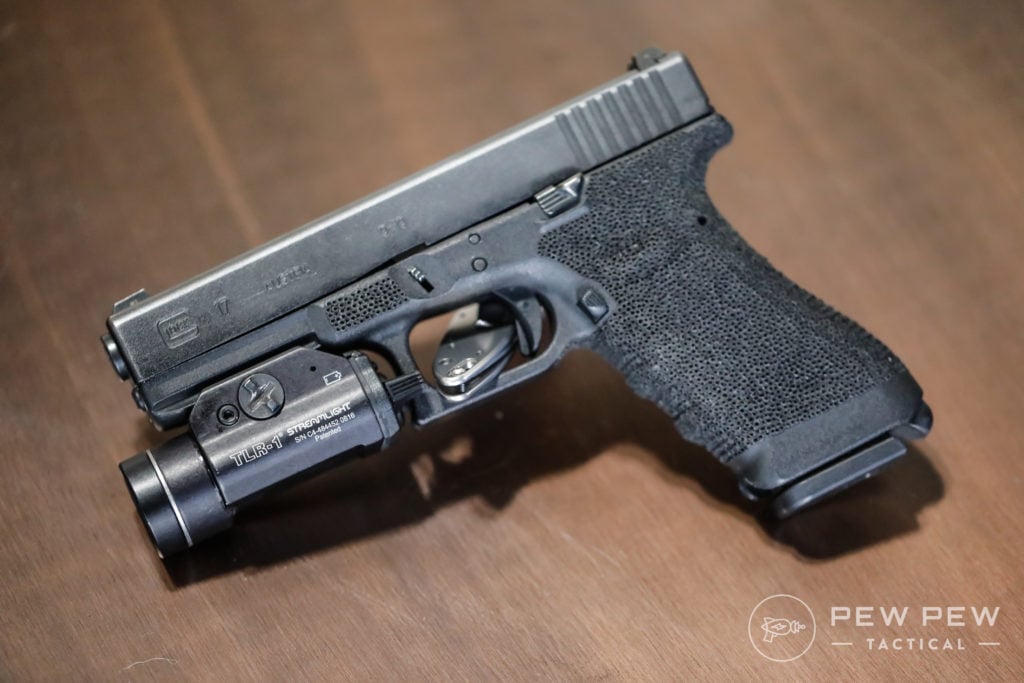 That makes it easy to find parts and upgrades, and it means that there are more upgrades available for it than any other pistol in the world. 
Beyond all that, it's still the same simple, reliable, and rugged Glock that we've had for the last several decades, albeit with some tweaks and improvements here and there. It's the industry standard for a reason, after all.
By the Numbers 
Reliability: 5/5
The Glock G17 doesn't fail. It doesn't give up and will eat whatever you put through it. There's a big reason why the Glock dominates in the police and military armories of almost 50 countries, and it's not because the gun looks good. 
Ergonomics: 3/5
The slide bite, the small slide lock, and the blade-like trigger are downsides of a solid gun. The Glock G17 features soft recoil, is easy to control, and has an excellent wide grip that fills the hand nicely. Plus, the magazine release is a significant improvement from other Glocks. 
Accuracy: 4.5/5
Handgun accuracy can be tricky to judge. The Glock G17 is about as accurate for a stock-duty-style firearm. It won't shoot like a Czechmate but shoots pretty dang straight. 
Customization: 5/5
It's the AR-15 of handguns. You can toss on whatever accessories you want and customize the optic from the ground up. Glock G17 owners can swap so many parts and pieces that the firearm becomes less of a Glock and more of a whatever. 
Value: 4/5
The Glock G17 might be the most affordable, optic-ready firearm made by a dependable manufacturer out there. The price is fair and keeps it well within most budgets. 
Overall: 4/5
The G17 is a rock-solid pistol. The weapon is accurate and reliable, and while it faces some challenges ergonomically, the Glock G17 is an excellent weapon. Plus, it's reasonably priced and easy to shoot. 
399
at Guns.com
Prices accurate at time of writing
View Details

399
at Guns.com

Guns.com (See Price)
Palmetto State Armory (See Price)
Brownells (See Price)

Prices accurate at time of writing
Available Coupons
25% off all OAKLEY products

– OAKLEY25


Copied!
Visit Merchant
Upgrades for the Glock G17
Like other Glocks, there's a ton of aftermarket support for the Glock G17. And because of the modular design of Glocks, most G17 upgrades are also compatible with other Glocks as well. 
Forget holsters and aftermarket sights, that's nothing. You can replace everything down to the pins with custom parts, till you have a "Glock" made from entirely non-Glock parts.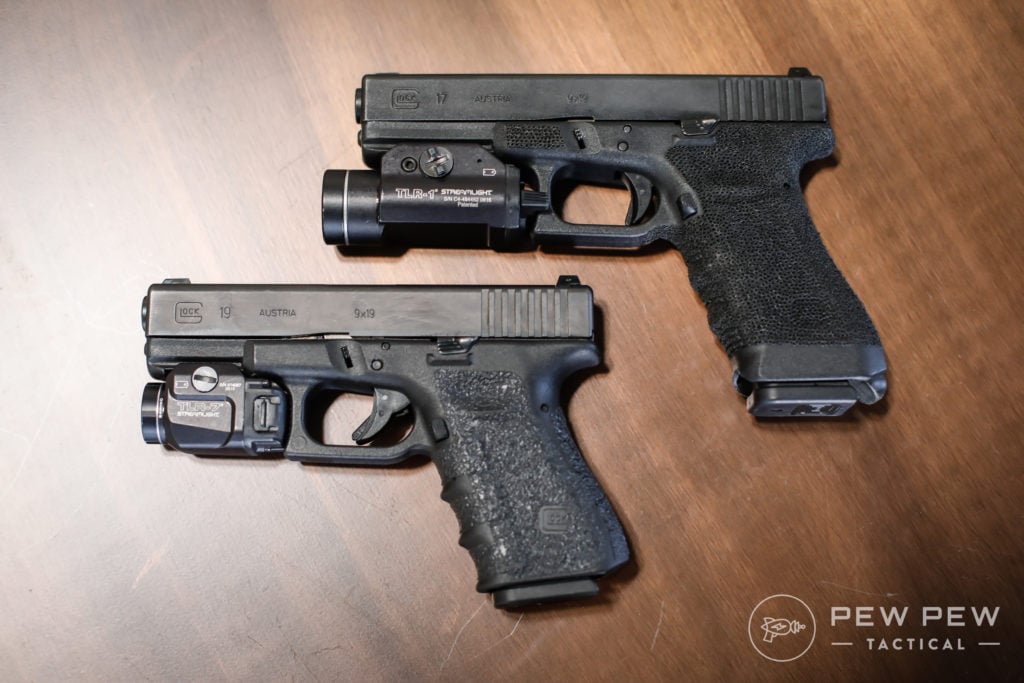 That means you can get something that's truly custom, truly yours. And that's always going to be something special. 
For some specific recommendations, check out our guide to the Best Glock Upgrades.
Final Verdict
I think it's safe to say that Glock's fandom prefers reliability and function over character and charm. I get it. Well, I understand it at the very least.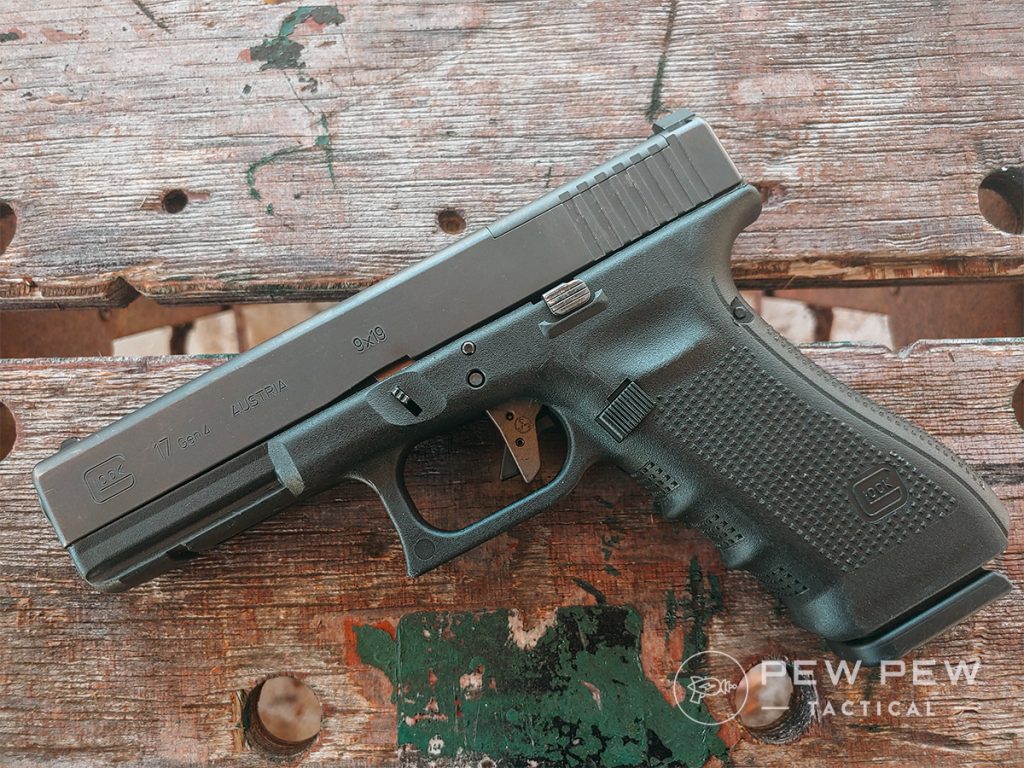 Glock pistols perform, and that's what a weapon should do at the end of the day. 
The G17 is a classic, and it's a classic that keeps evolving. You really can't go wrong with a Glock. 
Have you used a Glock G17 before? What do you think? Have suggestions for upgrades or accessories? Let me know in the comments. For more Glocks check out our round-up of the Best Glocks.
The post Glock 17 Review: Best Full-Size 9mm? appeared first on Pew Pew Tactical.