There's so much involved with reloading your own ammo.
But deciding to be your own ammo manufacturer is only the beginning.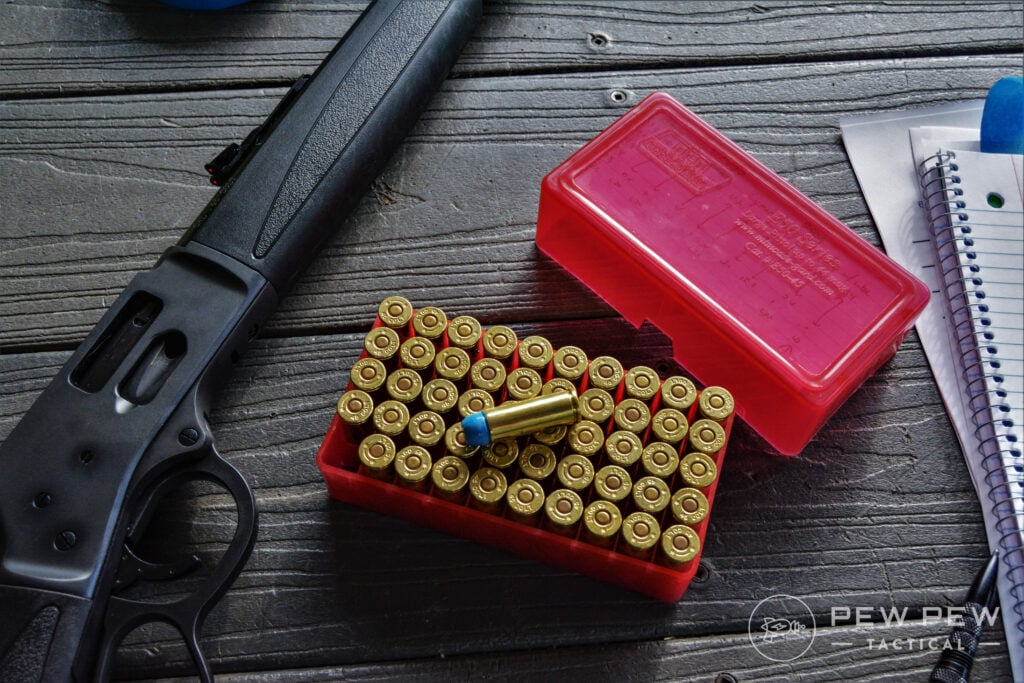 Once you've figured out what caliber, you'll need to buy components and equipment. And one part of that process is deciding on a press.
I've spent the last few years pulling the hair out of my already receding scalp, trying to figure out which press to use.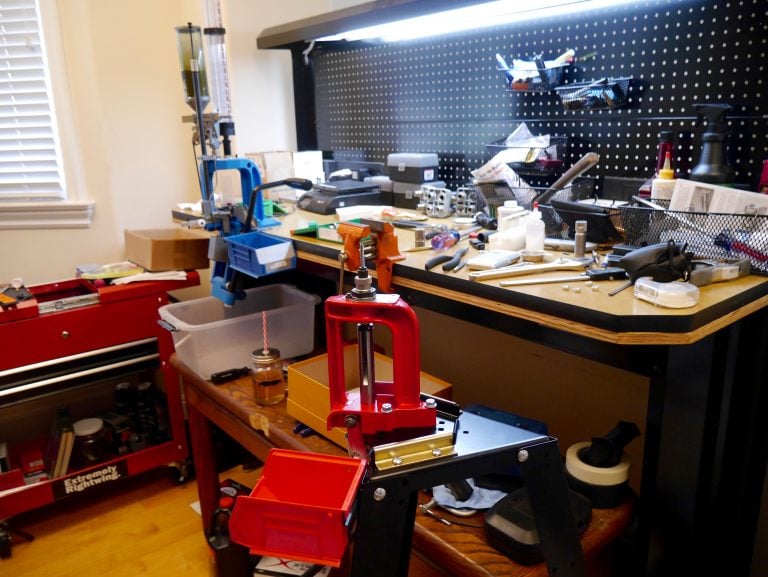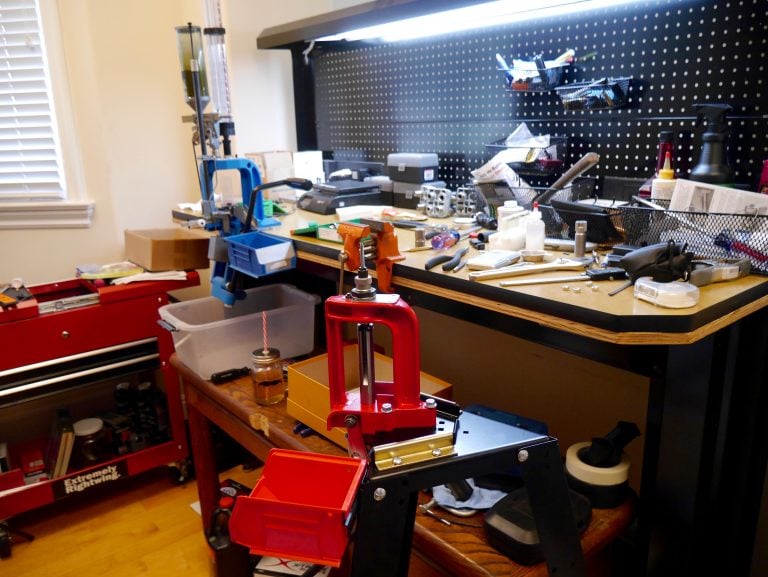 But don't worry, I'm here to drop my knowledge onto you. I'll walk through the best presses, the types you can buy, and a basic understanding of how they work.
So, keep reading!
Summary of Our Top Picks
Best Bench Mounted Press

Frankford Arsenal M Press

Can use a variety of calibers

$179 at Amazon
Jump to Details

Best Turret Press

Lee Precision Classic Turret Press

Easy to move, slow in use

$160 at Amazon
Jump to Details

Editor's Pick

Dillon Precision RL550 Manually Indexed Progressive Press

A favorite of reloaders, aftermarket options

$794 at Amazon
Jump to Details

Most Adaptable

Lee Precision Automatic Progressive Press (APP)

New, innovative, auto progressive style

$114 at Brownells
Jump to Details
Table of Contents
Loading…
Best Reloading Presses
1. Frankford Arsenal M
The Frankford Arsenal M removes a lot of the guesswork and accessories from the equation.
The removable die blocks mean that the dies only need to be set once and are incredibly easy to swap out.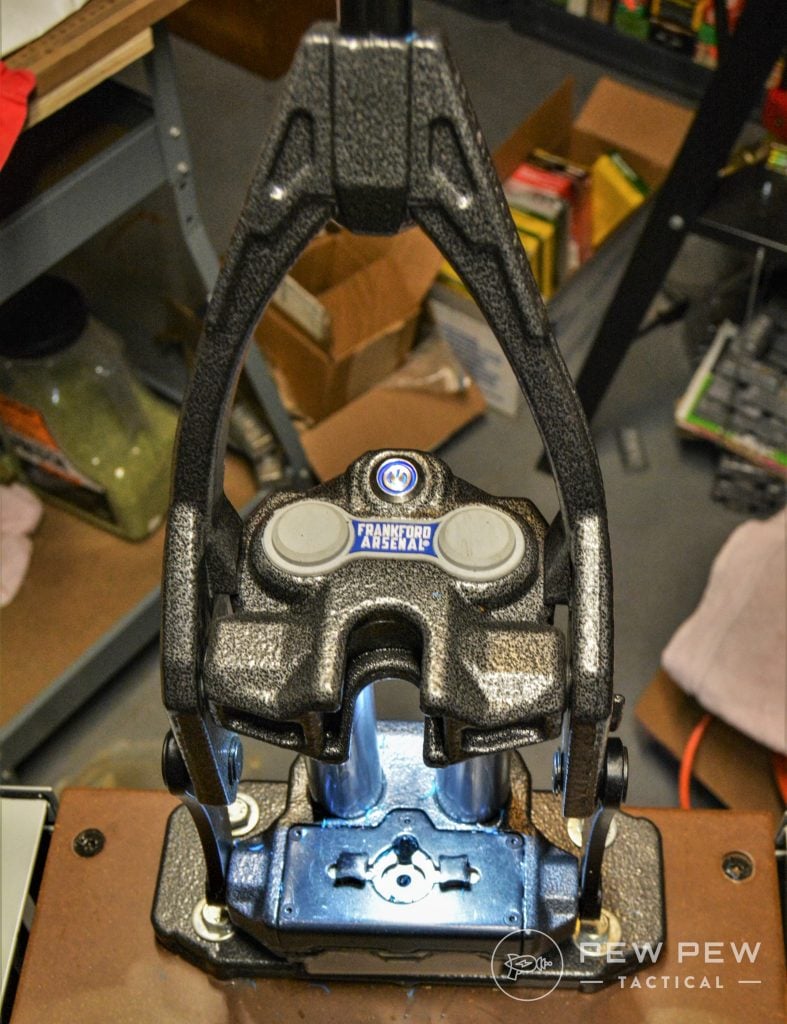 Each case is set into place with a proprietary universal shell holder and does not require an individualized piece. That means it will work for a wide array of case diameters as well as rimmed and rimless cases.
From 9mm to 45/70, this press can handle it.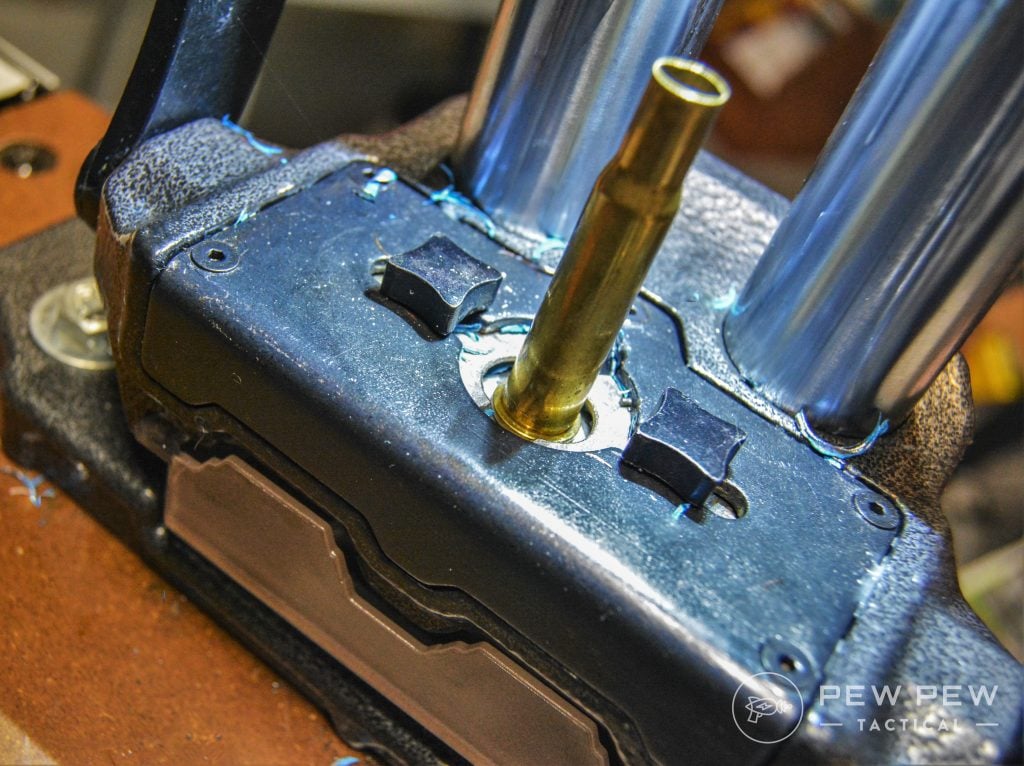 Frankford has its own bushing system that is fairly cost-effective and easy to adjust. Mixed with the integrated LED system, you can watch every movement with ease.
In terms of cost, the M-Press is prohibitive compared to options from other manufacturers. At $270, it's much more than the $75 from Lee Precision.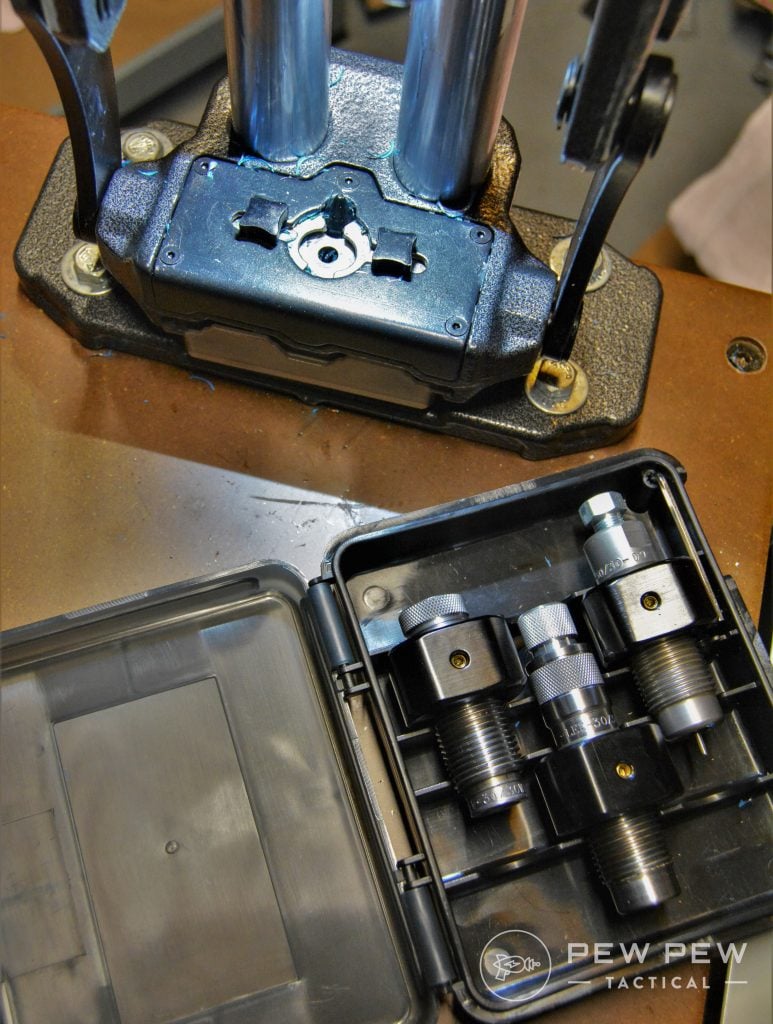 The universal shell holder is also a weak spot as it's only held in with four very small machine screws. This is one of the few failing points fs the case is improperly lubed before sizing.
Best Bench Mounted Press
Frankford Arsenal M Press
179
at Amazon
Prices accurate at time of writing
View Details

179
at Amazon

Amazon (See Price)
Brownells (See Price)
Prices accurate at time of writing
Best Bench Mounted Press
Frankford Arsenal M Press
179
 at Amazon

179
 at Brownells
Prices accurate at time of writing
2. Lee Precision Classic Turret Press
The Lee Precision Classic Turret Press is a unique turret-style option.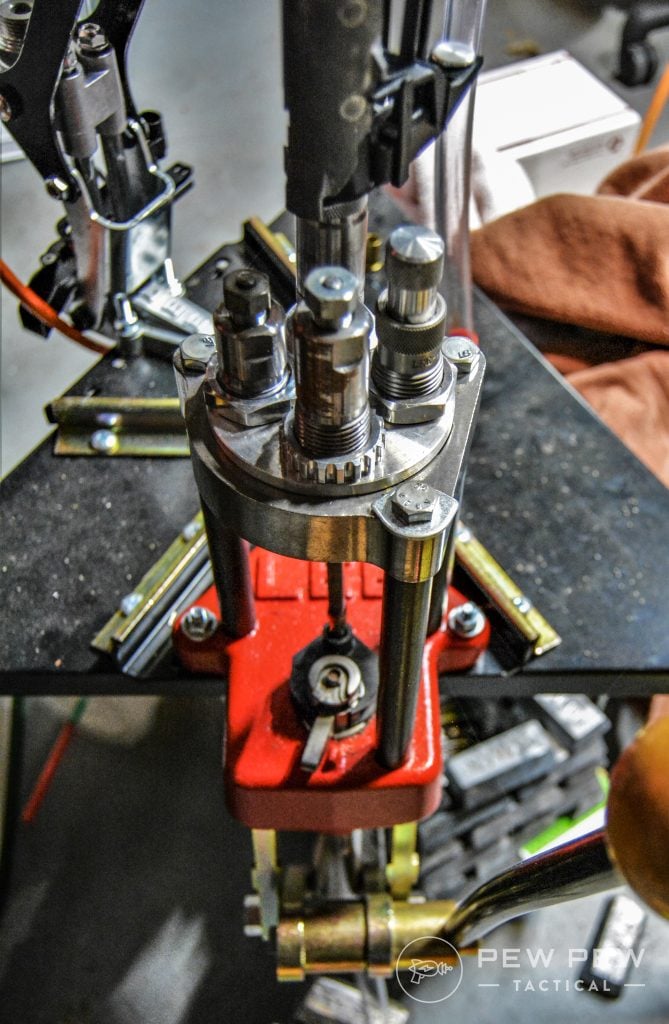 The actual die holder – tool head – rotates with the pull of the handle. In traditional styles, like the Lyman T-Mag II (my second favorite), the tool head must be rotated manually.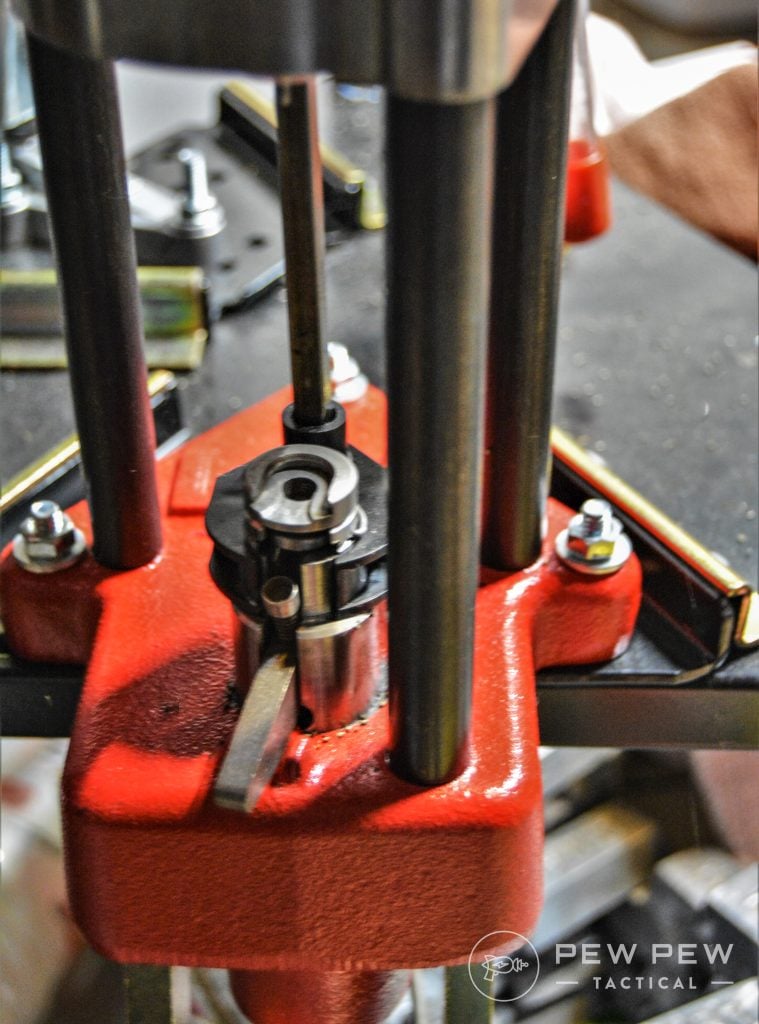 It's easy to move too quickly on a turret press and overlook a step. While this is faster than a single-stage, it's not THAT much faster.
Turrets are also prone to breaking at the center post. Lee doesn't have that problem since there isn't a center post, but it is made of aluminum which is much weaker than cast materials.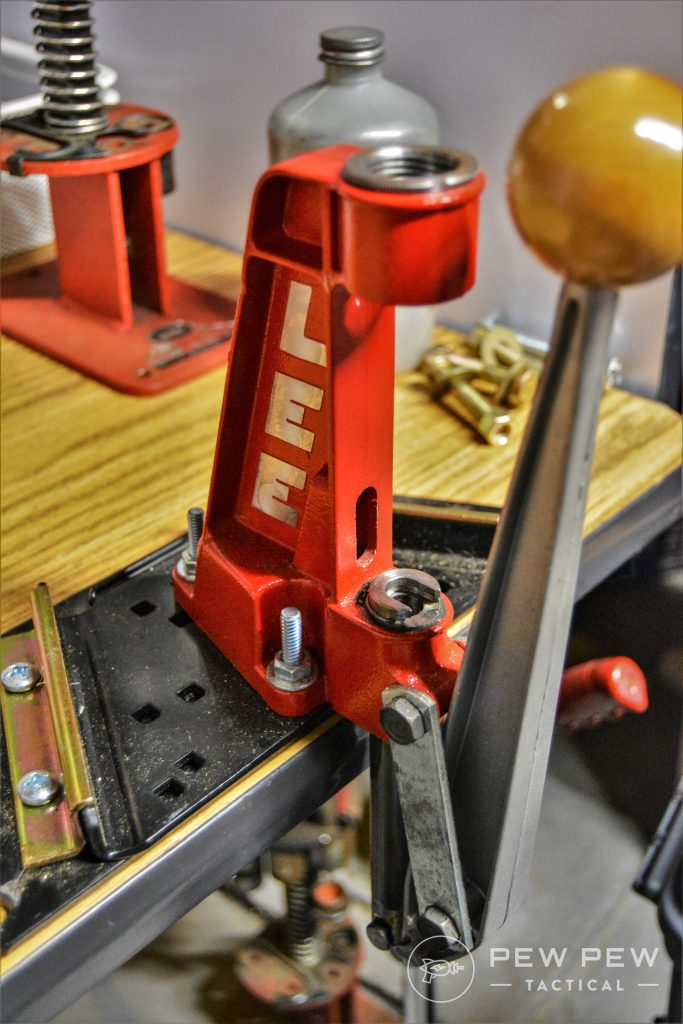 The Lee also has more moving parts, which means higher failure rates and more maintenance.
On top of all that, it's difficult but not impossible to mount a powder drop.
Best Turret Press
Lee Precision Classic Turret Press
160
at Amazon
Prices accurate at time of writing
View Details

160
at Amazon

Amazon (See Price)
Brownells (See Price)
Prices accurate at time of writing
Best Turret Press
Lee Precision Classic Turret Press
160
 at Amazon

160
 at Brownells
Prices accurate at time of writing
3. Dillon Precision RL550
A favorite press of many reloaders, the 550 doesn't have as many bells and whistles as the newer XL750 or RL1100 but still has everything a progressive press requires.
It will solve all pistol and rifle reloading needs.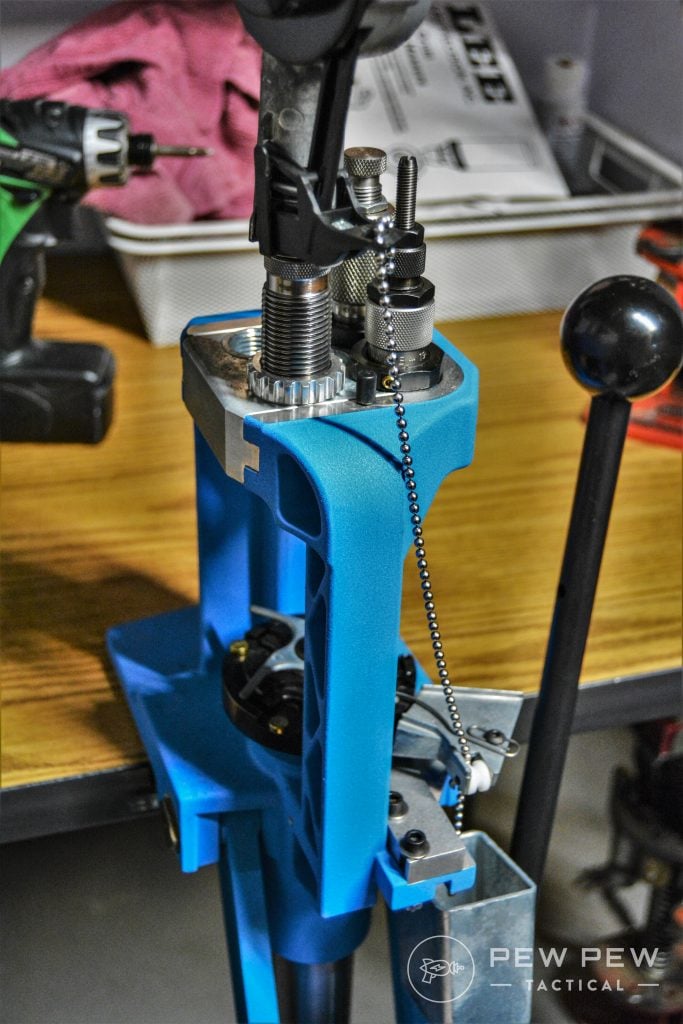 One controversial benefit is the ability to use other manufacturers' tools like powder drops, die sets, and even bullet feeders. There are tons of aftermarket parts on the market made specifically to adapt to the competition's lower-priced solutions.
This is a great introductory press from a company that has an outstanding build quality and warranty.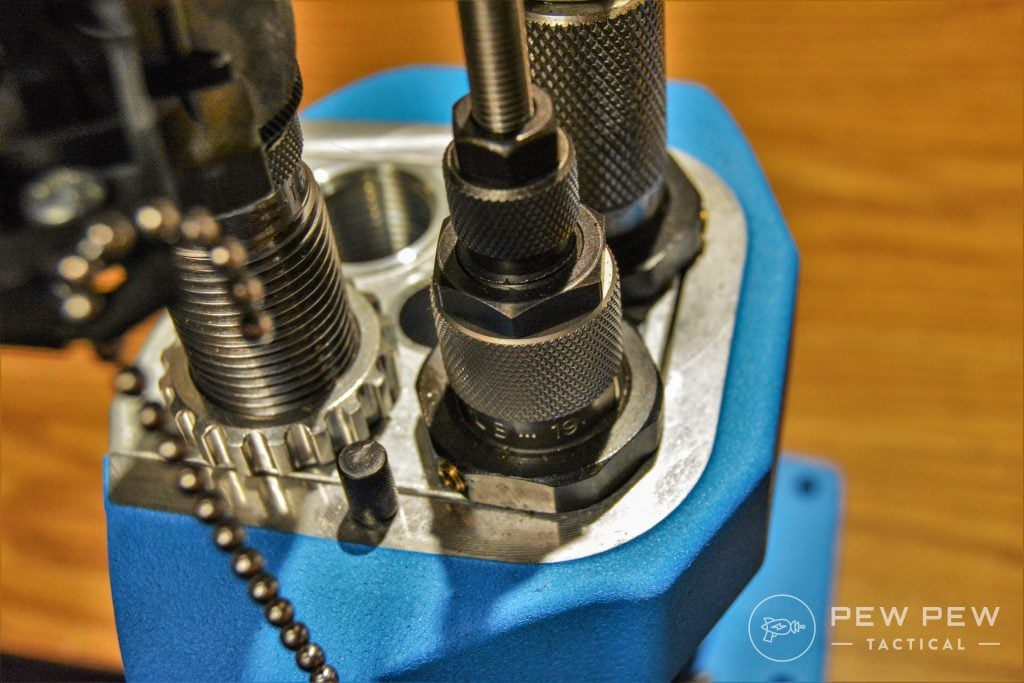 In addition, it is possible to use this as a single-stage or even run one case through start-to-finish like a turret press.
Quick change tool heads also make it relatively easy to swap out for a different caliber.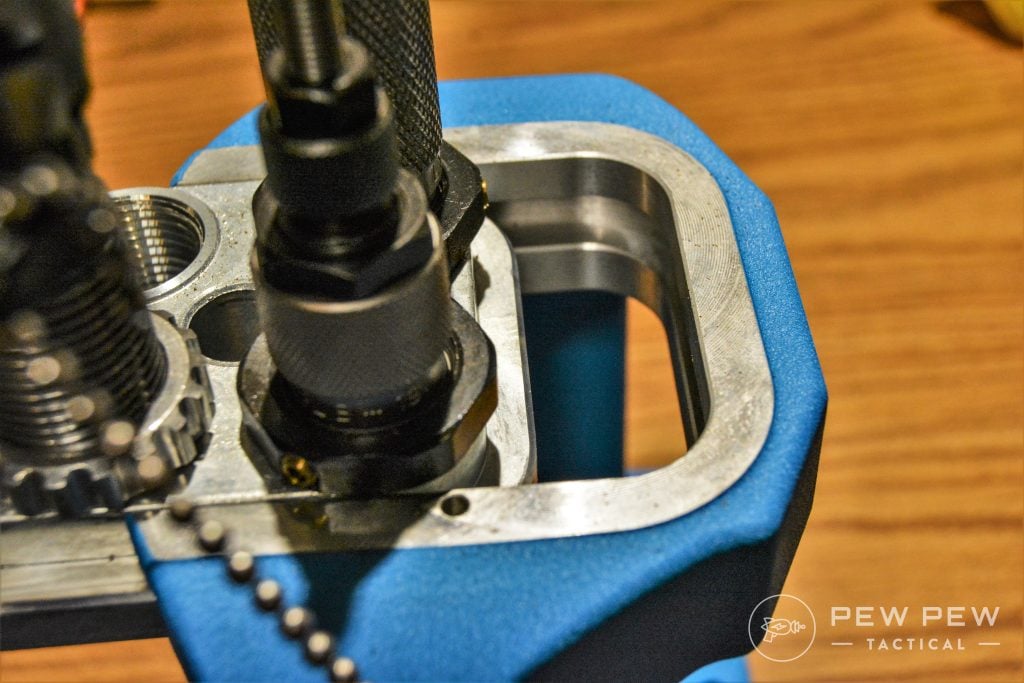 Downsides? Well, the RL550 also does not have an auto-indexing shell holder, but that isn't that big of a deal.
If you're looking for all the bells and whistles, the XL750 or RL1100 might be a better option. But for a 'do it all' progressive press, the 550 more than meets the requirements without needing electricity. 
Dillon Precision RL550 Manually Indexed Progressive Press
794
at Amazon
Prices accurate at time of writing
View Details

794
at Amazon

Prices accurate at time of writing
Dillon Precision RL550 Manually Indexed Progressive Press
View Details

794
at Amazon

Prices accurate at time of writing
4. Lee APP Press
The Lee Automatic Progressive Press is a new and innovative press.
It's made for a variety of tasks and not just for reloading.
Most Adaptable
Lee Precision Automatic Progressive Press (APP)
114
at Brownells
Prices accurate at time of writing
View Details

114
at Brownells

Prices accurate at time of writing
Most Adaptable
Lee Precision Automatic Progressive Press (APP)
View Details

114
at Brownells

Prices accurate at time of writing
The entire system can be adapted for sizing cast bullets, case prep, or single-stage reloading.
It is highly limited because it can really only handle cases up to .223/5.56. So, only pistol ammunition is for the single-stage process.
5. Lee Ideal Tool – Best for Survivalists
While not a winner on our overall list for its limitations, if you can find one in your preferred caliber, the Ideal Tool is a great option.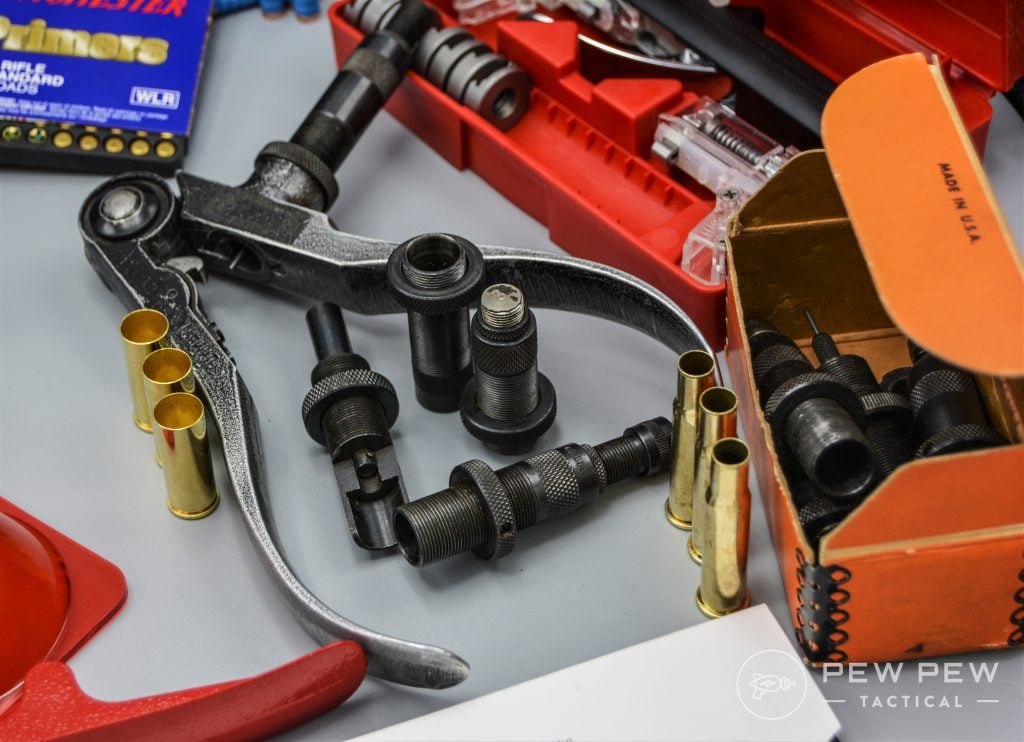 Lightweight and in a small package, the ideal tools can easily reload cases with minimal effort.
Throwing it into a bugout kit will add some weight, but not as much as any other press option.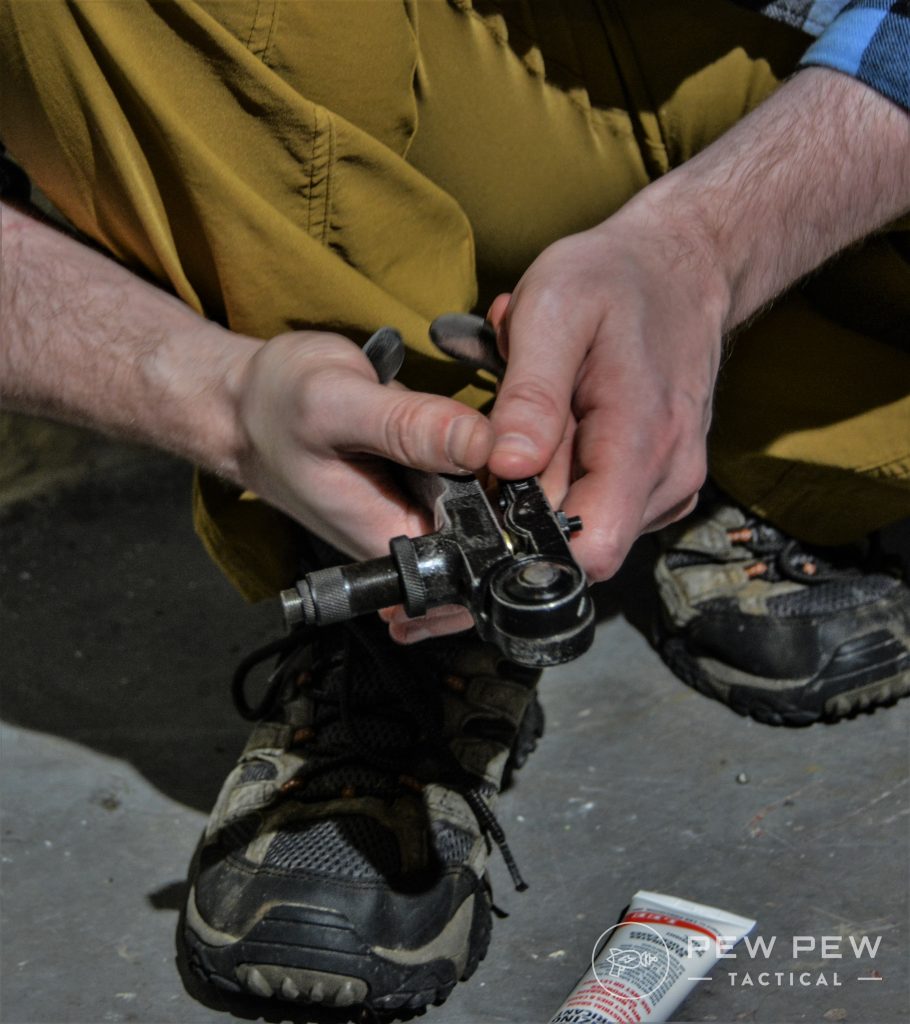 In addition, it doesn't require any extra tools as a Lee Loader does. Paired with a bullet mold, a user could even cast and load their own ammunition in the field.
Types of Presses
Now that we've laid out our favorites let's dive deeper into the types of presses and their pros/cons.
Single Stage Press: Bench Mounted, Handheld & Specialty
| | |
| --- | --- |
| BENEFITS | DISADVANTAGES |
| Inexpensive | Slow |
| Lightweight | Requires A Lot of Die Changes |
| Smaller | Difficult to Set-Up |
| More Precise | More Loose Pieces |
| Focuses on Every Step Individually | Requires Constant Case Insertion and Removal |
One cartridge at a time with one die.
Like the heading says, this press only has one particular stage. There are a bunch of different variations of this press, and it appears to be the first type that was ever mass-produced.
That last part is purely speculation, but it would make sense. There is often a progression (See what I did there?) of design alterations and advancement.
These fall into three categories — specialty, hand-held, and bench-mounted. Each has a benefit, but they all have some significant drawbacks as well.
Bench Mounted: The easiest press to use. This bolts to the bench and can handle nearly all cases from .22 Hornet all the way to .50 BMG. They can be made from aluminum, steel, or cast iron. The most common is cast iron, but others are gaining in popularity.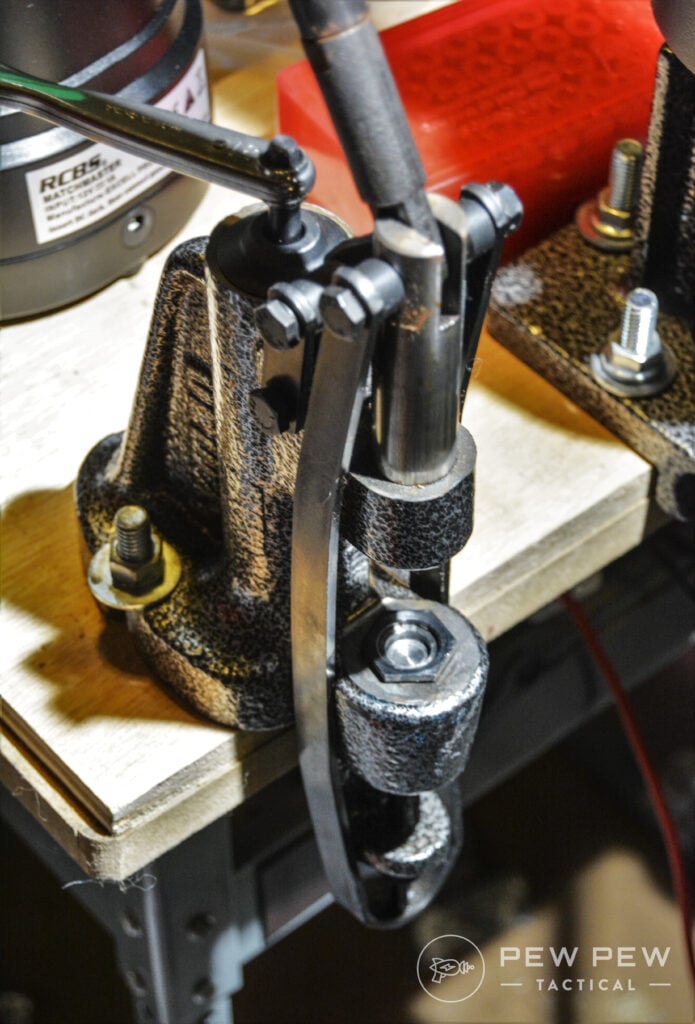 Handheld Presses: These are some of the oldest styles. Some are still used, called the Lyman 310 Tool. It's a nutcracker-style press.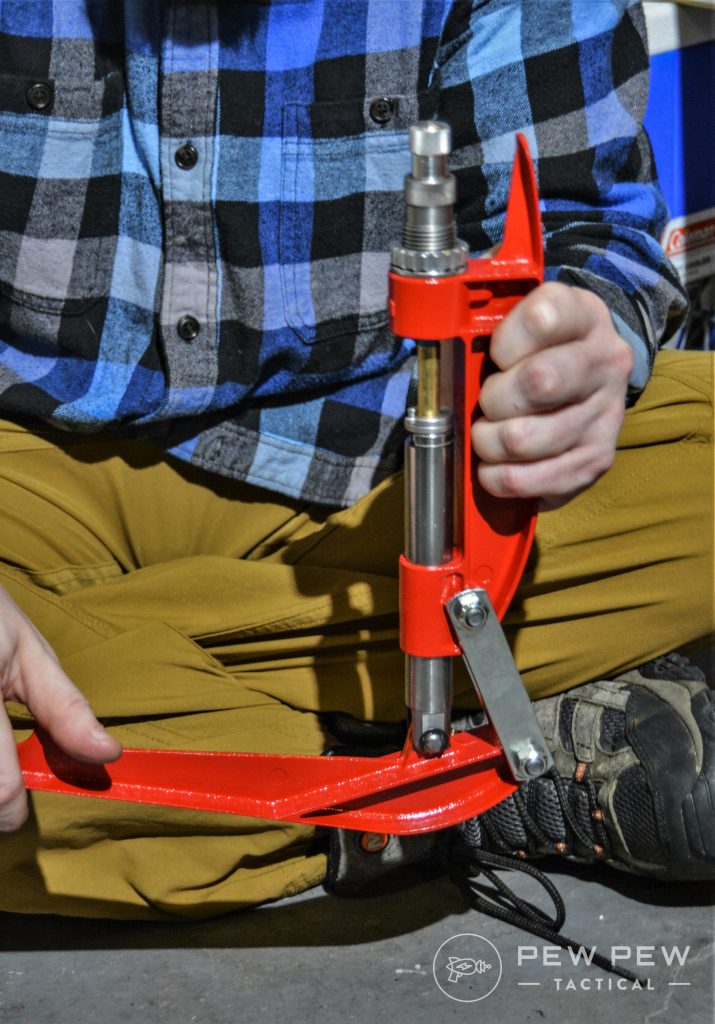 Specialty Presses: Fall more in line with a Lee Loader or something similar. They take extra tools but can be packed incredibly small. Not great for precision rounds but adequate.
Where all these systems are the "same-same but different" is only having one location to attach a tooling die.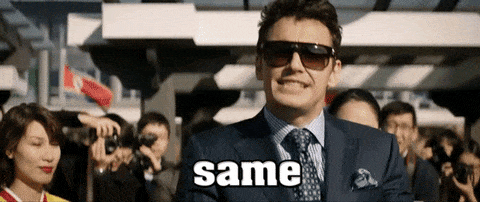 Once one die is used and no longer needed, it must be removed from the tool and replaced by the next "stage." It's a pain, but some companies like Lee, RCBS, and Hornady have proprietary bushing systems to make this easier.
Personally, I hate single-stage presses. I use them primarily to build a load for a particular rifle.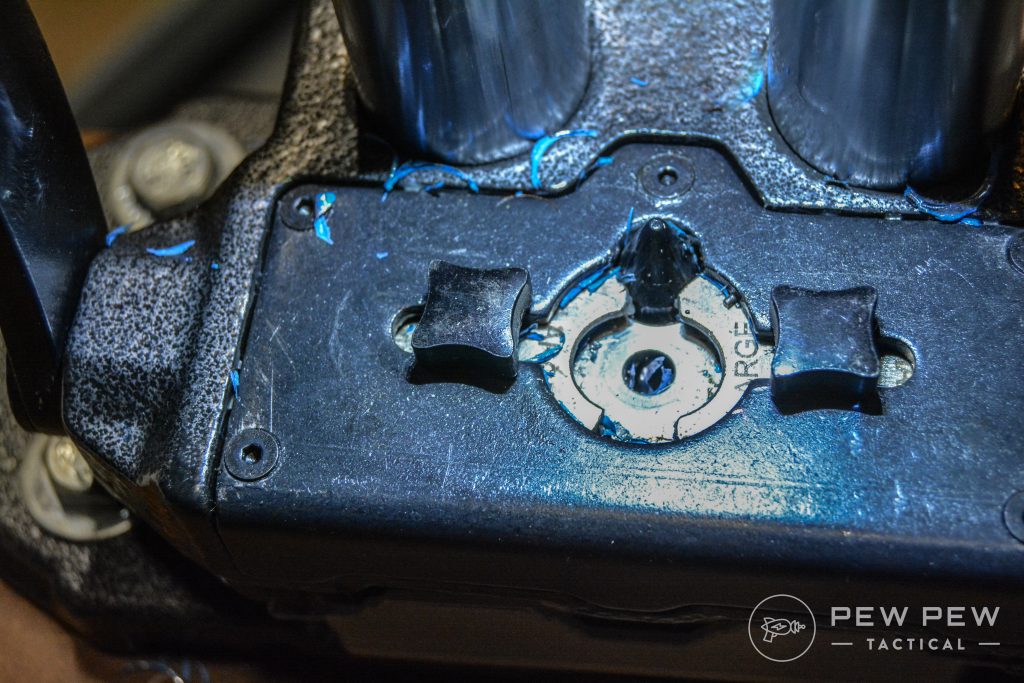 I can scale a cartridge with a preferred projectile and powder to a very specific charge, bullet weight, bullet seat depth (OAL), primer type, or even crimp style.
Once I know what works best with my firearm, I set it up on a different press.
Turret Press
| | |
| --- | --- |
| BENEFITS | DISADVANTAGES |
| Tooling Stays Set and In Place | Can Not Use Tooling in Other Presses |
| Replaceable Turrets | Manufacturer Specific Hardware |
| Start-to-Finish Reloading | Limited Die Placement |
| Multiple Stages Available at Once | Hard to Change Calibers or Add/Remove Stages |
| Drop Powder on Press | Difficult to Adjust |
One cartridge at a time with multiple dies.
A big step up from the single-stage is a turret press. These contain a literal turret (round tower) with multiple holes for stage tooling.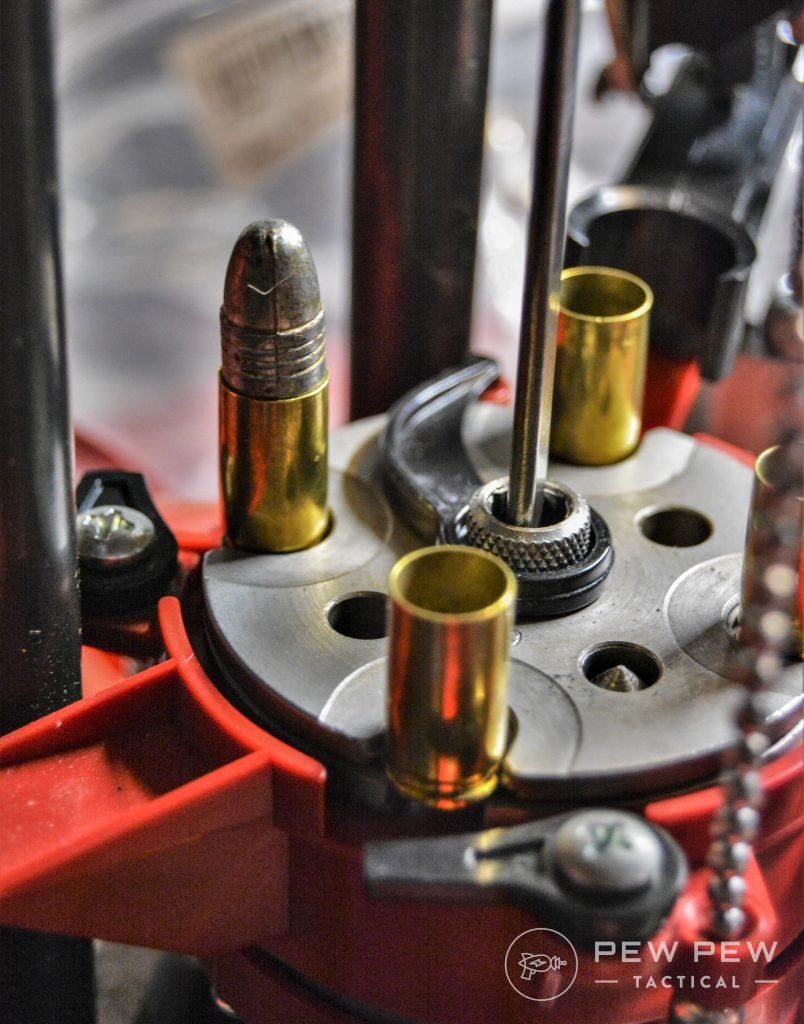 This turret will move and shift manually. Most current production variations also sport the ability to remove and attach different tool heads without taking the tooling out.
The main difference between a single-stage and a turret – other than the obvious turret – is the ability to reload a single case from start to finish without removing the case from the press.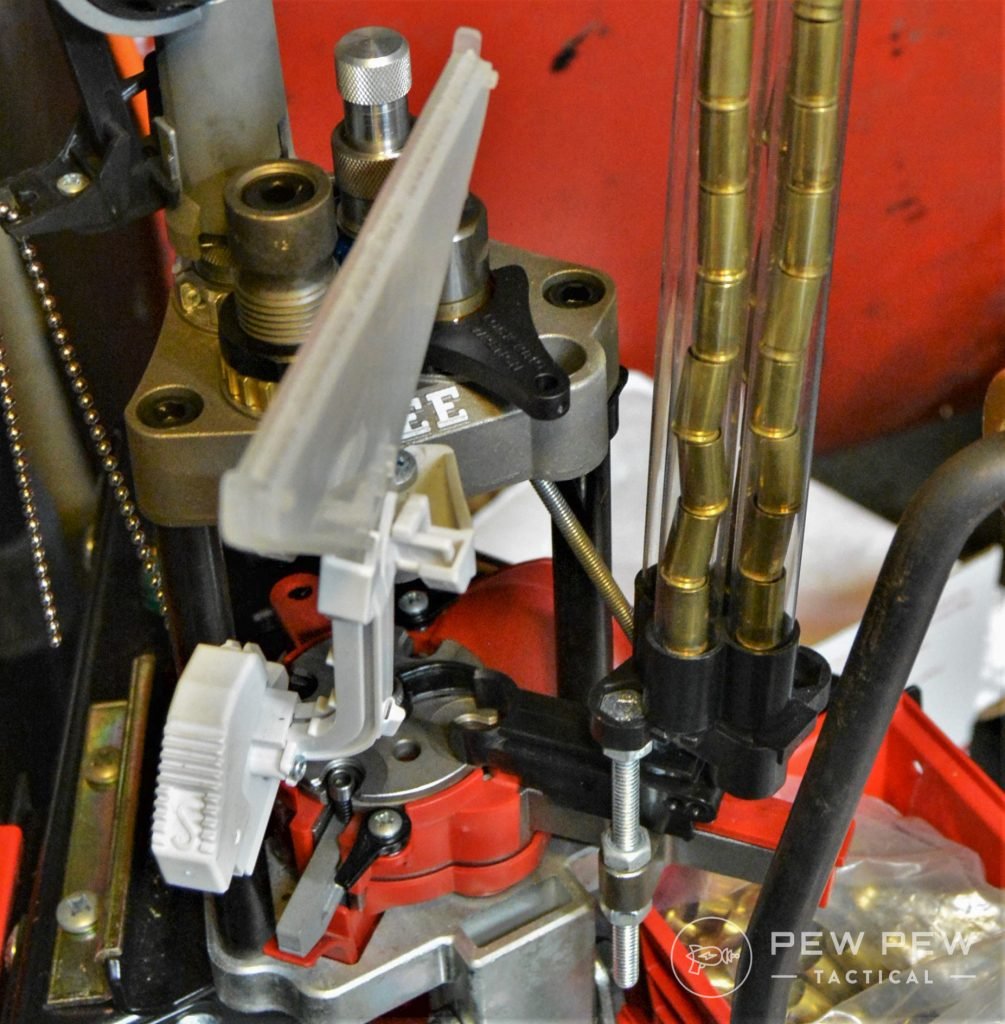 Many companies offer their turret presses with a specific placement for a powder drop.
Take the Lyman T-II, for example. It has an odd number of die placements. One of these is often used for a powder drop.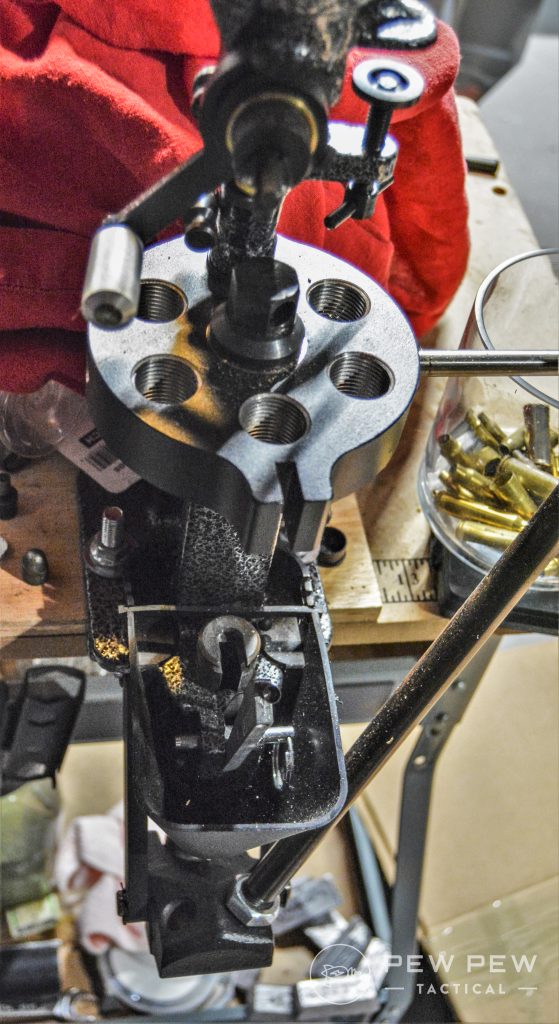 While the powder drop needs to be adjusted every single time you change calibers, a user can still have multiple caliber dies in a single turret.
Turrets are great. Once they are set up and ready to go, it is vastly faster than a single stage.
You can still get highly accurate ammunition and can use different powder funnel systems, which will allow greater versatility and accuracy of powder loads.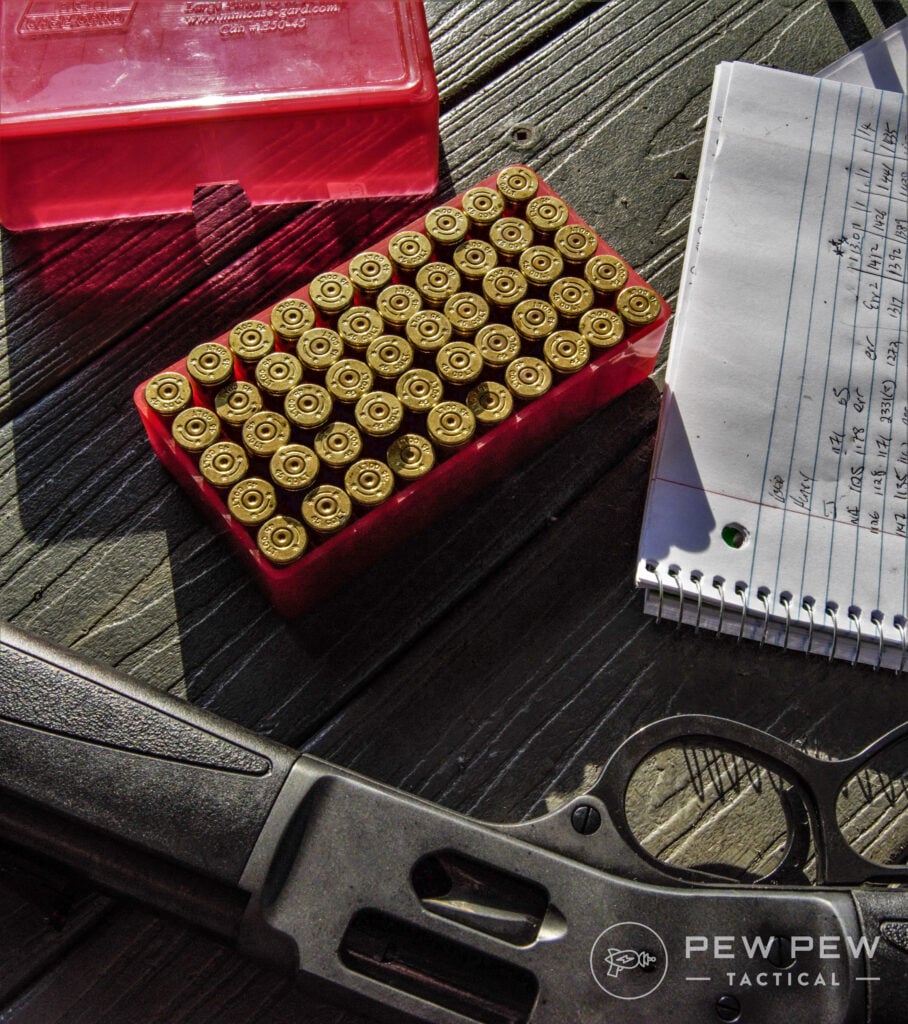 Progressive Press: Manual Indexing, Automatic Indexing & Machine Run
| | |
| --- | --- |
| BENEFITS | DISADVANTAGES |
| Very Fast Process | More Chances for Errors |
| Can Add or Remove Stages | Difficult to Set Up |
| Easy to Mount a Powder Drop | Require Pour Through Die or Powder Drop |
| Can Still Change Cartridges | Difficult to Swap Base Plate |
| Upgradable | Expensive and Upgrade Costs |
Multiple cartridges at a time with multiple dies.
Buckle up, Buttercup, because this is going to be a lengthy segment. Progressive presses offer a variety of different styles. Let's start with the most common to least common.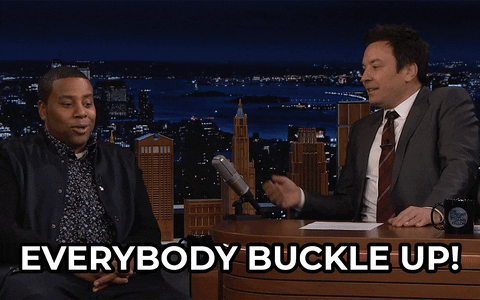 The thing all progressive presses have in common is that they will do multiple stages at the exact same time.
You may have a 4-position (four tooling dies available) that will have a cartridge used in each of the dies at exactly the same time.
This is great because it increases output significantly from all other progressive types. It also increases errors.
The bottom portion of all Progressive Presses – aka baseplate – has corresponding cartridge placements for the dies.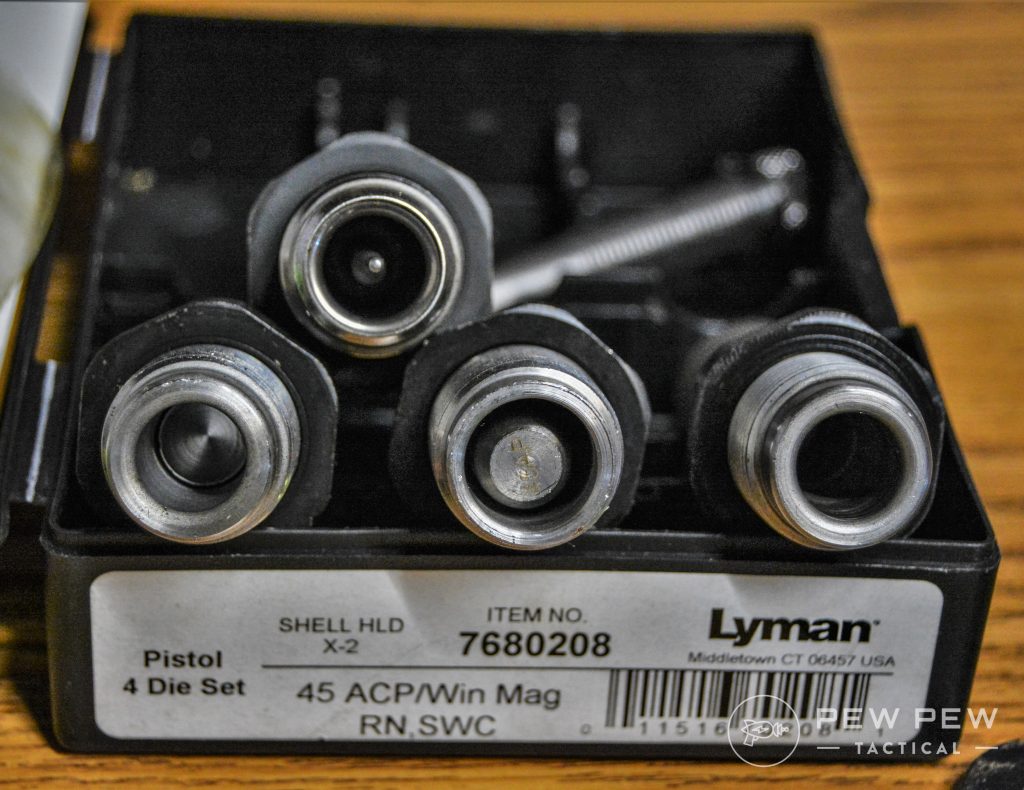 Hole #1 can still be stage 1. Hole #2 can house the dies for stage 2. It continues until there are no more dies or places to put dies.
The entire baseplate, including the multiple cartridges, is raised at exactly the same time, and each cartridge is inserted into a different die in unison.
Once the cartridge makes its way through all the dies, it gets spit out of the press and ready for loading.
Manual Indexing Progressive Press: The Beginner's Progressive…Much in the same way a turret press is manually manipulated, the baseplate of these presses is manually moved. I like these the most, even if it does slow me down a little bit. It gives me the luxury to examine the cartridges before moving to the next stage or reinserting if there is an issue.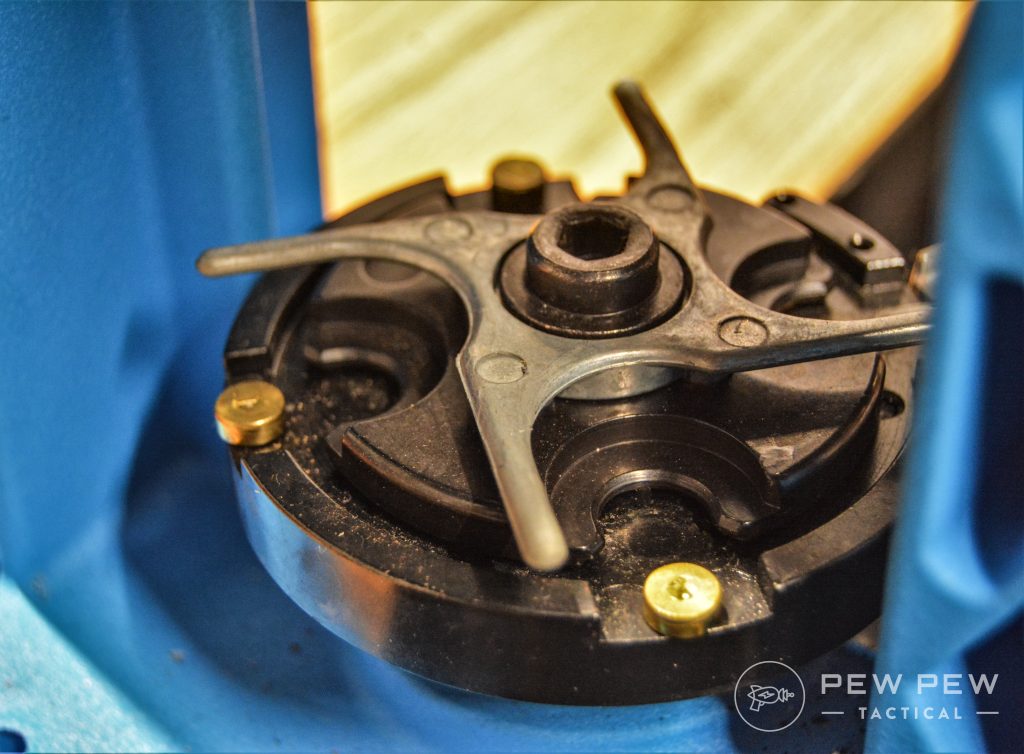 Auto-Indexing Progressive Press: This manually indexes the base plate – meaning it moves it to the next position. These are great presses but can get incredibly expensive compared to all other progressive types. One major issue with this type of press is the inability to reset or prevent the indexing from occurring.
Motor-Operated Progressive Press: You guessed it, a motor does the entire indexing process. These presses are not what I would call affordable. They are usually designed for the ammunition manufacturer or high-end/high production reloader.
In order to properly use any progressive press, a user must be familiar with all the stages of reloading – knowing what to look for and what to avoid. And for that reason, I don't recommend it for new reloaders.
The chances for errors increase exponentially, and so do the chances of blowing off fingers.
Basic Overview of Press Operation
The whole entire point of a press is to reload ammunition.
Any press, regardless of the type of function, will take all ammunition components and restore them to factory standards.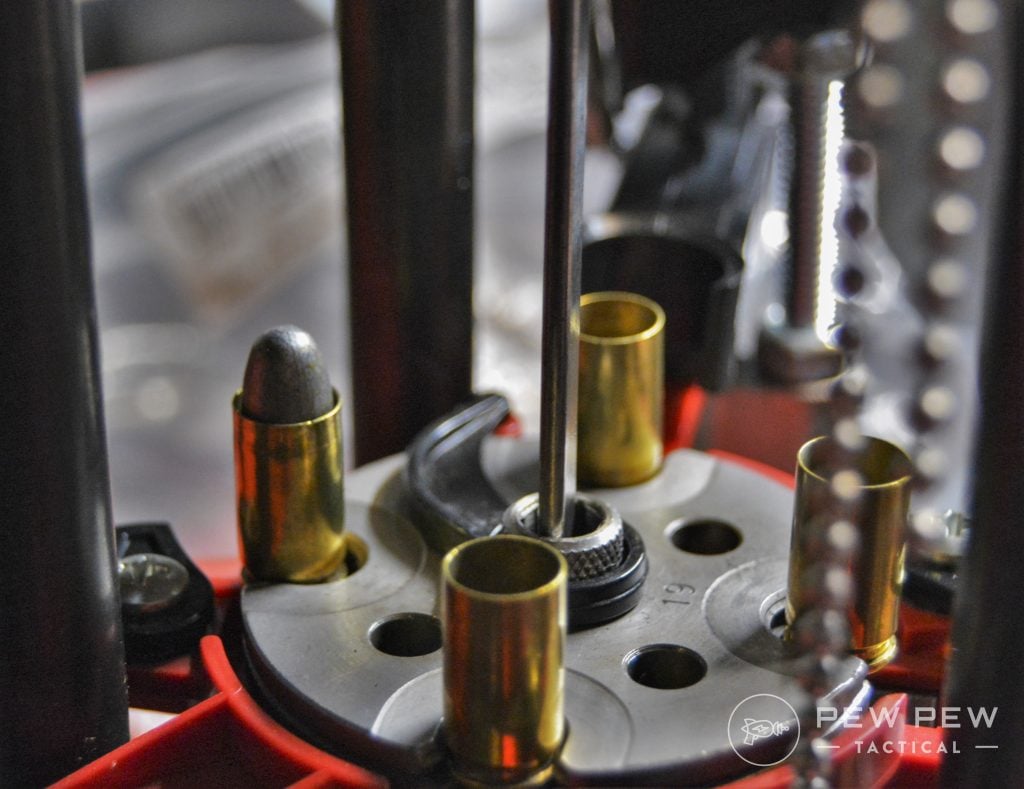 They remove the useless pieces and install new replacement components to assemble a functional piece of ammunition.
All steps fall into categories of "stages" and can be broken out or extended between the stages with additional tooling.
Unless you're going to be shooting 2 kilometers, you'll be good with standard reloading presses and stages.
First Stage: Resize Fired Brass and Remove Old Primer
Often, this stage is focused on because people are trying to take as much brass from the range as they possibly can to make cheaper ammunition.
Any case fired from one gun should be 'full-length' sized.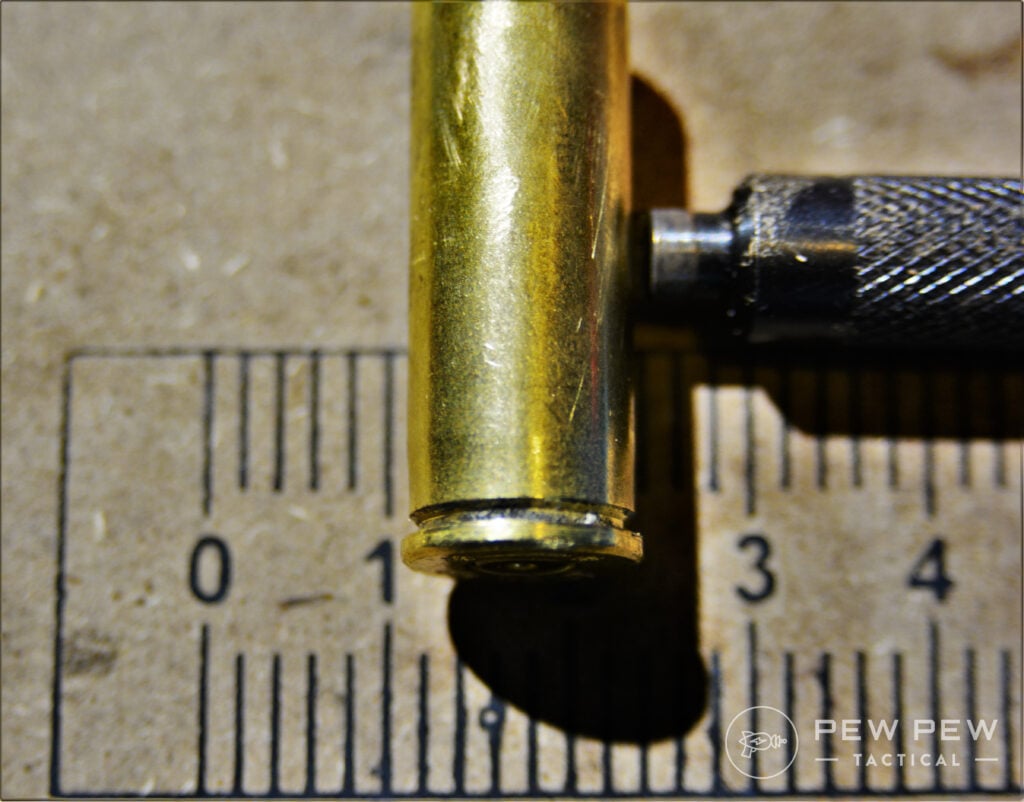 The first stage customarily achieves this with properly lubricated brass. If it's not lubricated and going in dry, it's going to be painful.
Once the sizing and primer removal is completed, most presses will seat a new primer.
Second Stage: Expand Case Mouth and Drop Powder
In some instances, the new primer may be added in this stage instead of the second stage. This is the stage when the best explosions happen.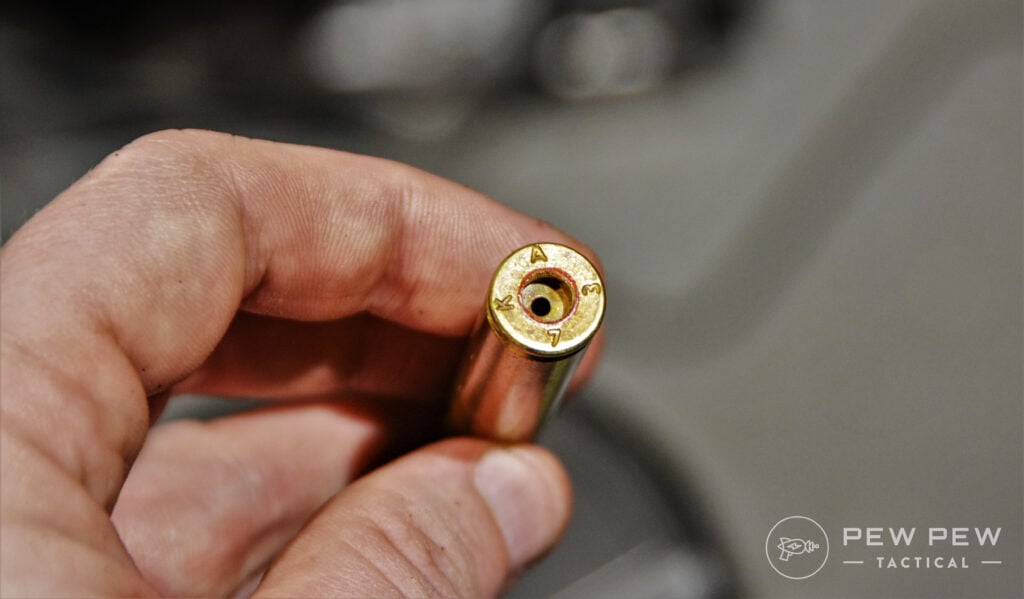 Third Stage: Bullet Seating and Roll Crimping
Here the bullet goes into the case and is pushed down to the correct depth.
The tool that pushes the bullet down will also put some kind of roll crimp (or create tension against the neck of the brass and the actual projectile) to help keep it in place.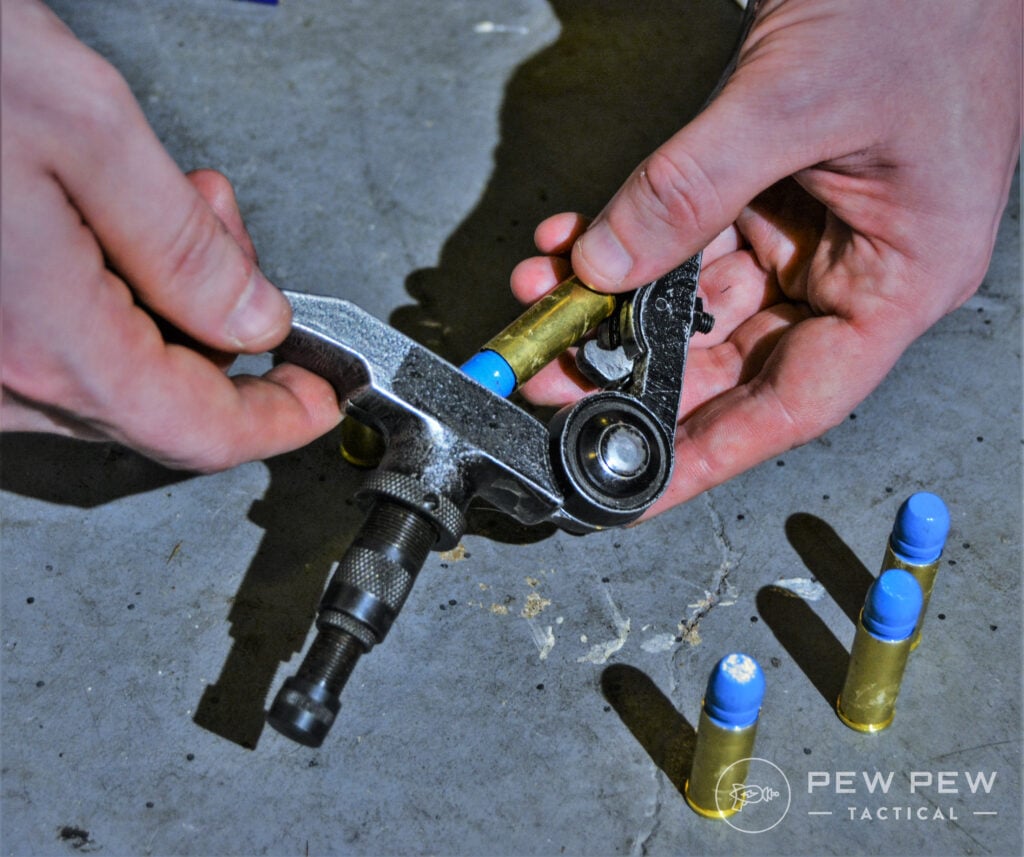 Fourth Stage: Factory Crimp
Adding more or extensive types of crimps can be done in this stage. Sometimes, a basic roll crimp is insufficient, OR the tooling doesn't offer a roll crimp.
The tooling necessary for these stages is going to be a die set.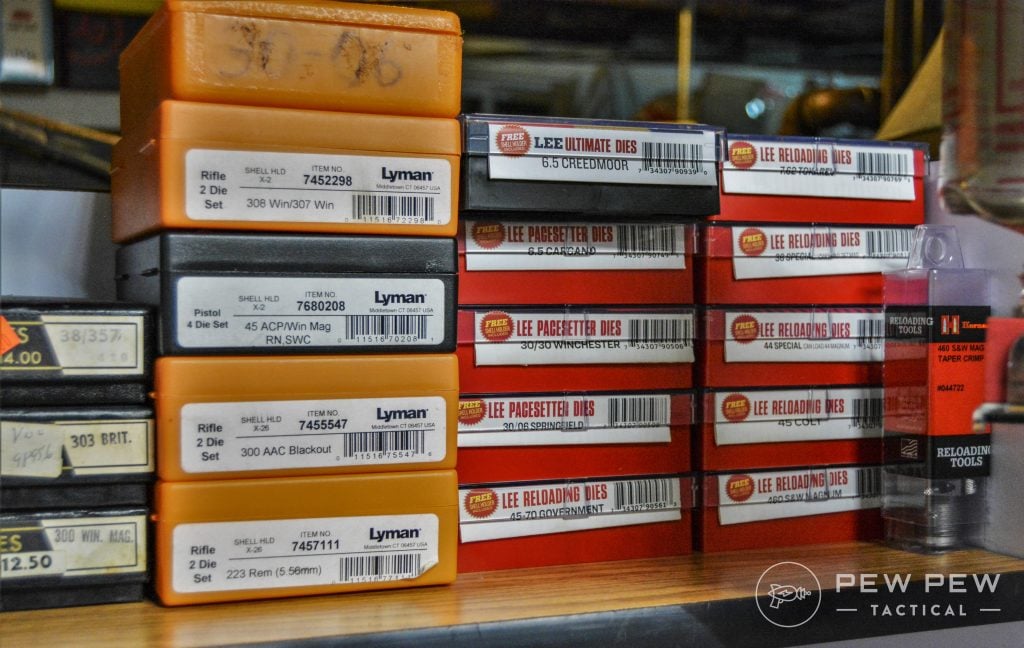 They most commonly come in 2, 3, and 4 die sets. There are die sets that can be in excess of 7 dies – talk about overcompensating – that all do a singular task.
These larger sets will most commonly be used for high-end reloading.
Final Thoughts
While all presses are slightly different, they all achieve the same thing in the end, and the best press is one that you put into use.
If you practice and use it often, you'll not only find out what works best for you but also what press can handle your production rate.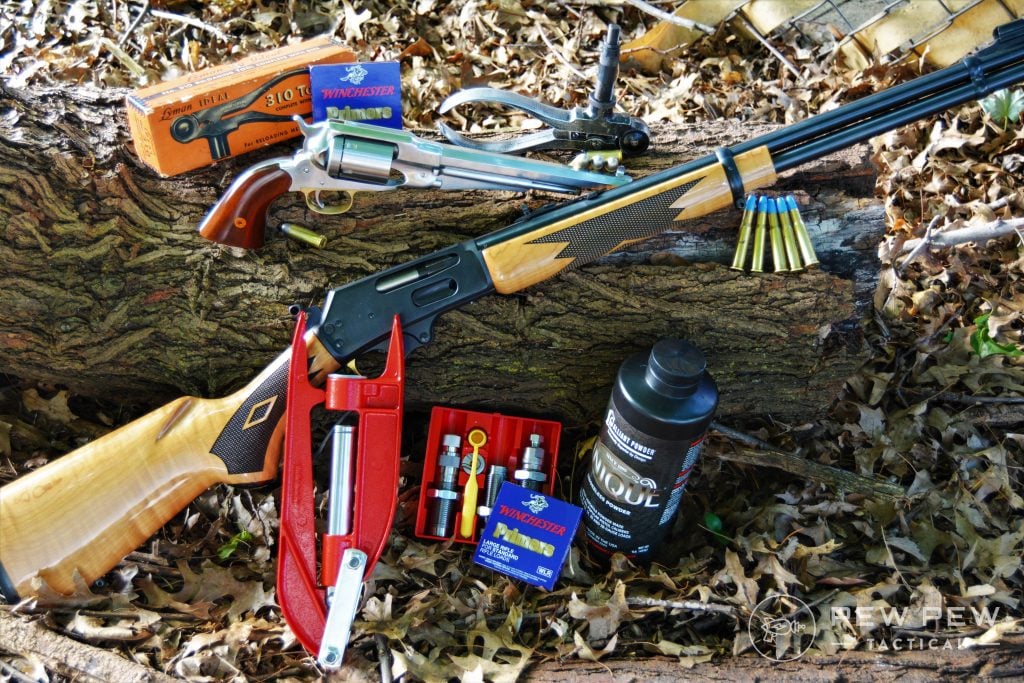 For some people, this may be minimizing the amount of movement that happens and focusing on one stage at a time. For others, it might be making consistent loads with minor variation but in high volume.
No matter what press you choose, know the operation of the entire process surrounding reloading. A double charge loaded into a rifle cartridge could easily cause trouble.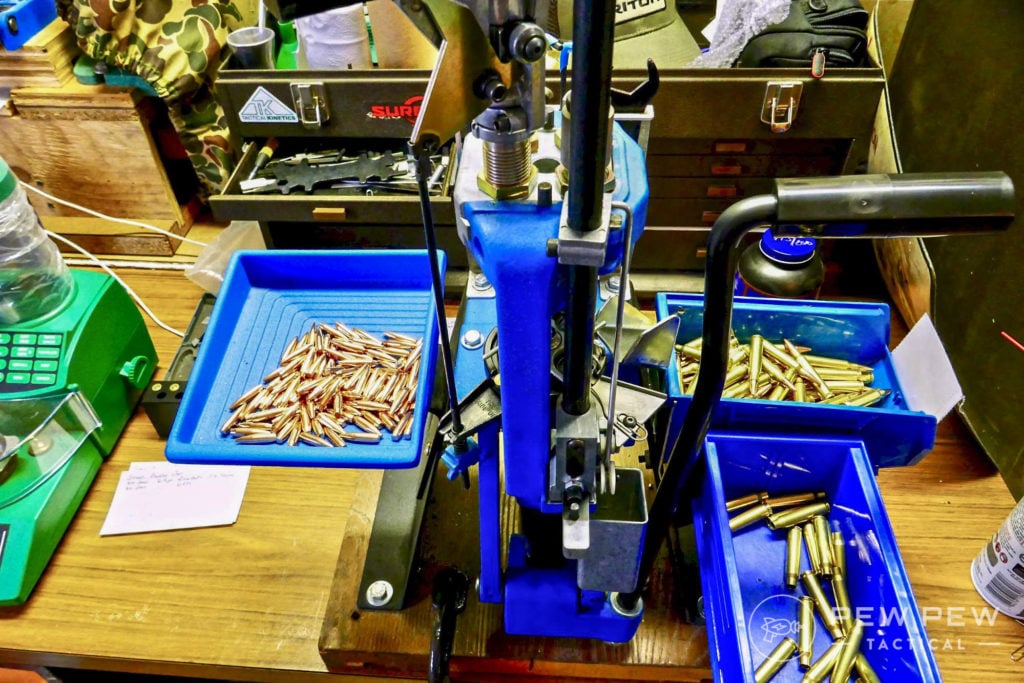 Regardless of the press, knowing the process from start to finish is mandatory for efficiency and safety.
What's your favorite press? Let us know in the comments below. For a walk through on how to reload ammo check out our Ammo Reloading Guide!
The post Best Reloading Presses for Beginners [Hands-On Review] appeared first on Pew Pew Tactical.