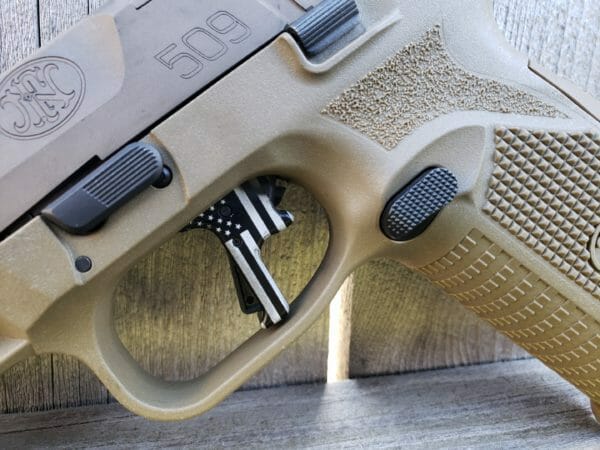 U.S.A. –-(AmmoLand.com)- Back in 2019, I got swept up in the hype surrounding the new FN 509 Tactical. Everyone was getting one, and as someone just beginning to explore optics, its unique mounting system caught my attention. Just a few days later I headed to Columbus, Texas for Shooter Symposium, with a new gun in hand. On the way down, I made a quick stop to snag some gear from a friend, including a new trigger for my 509 Tactical. This was the Apex Tactical Action Enhancement Kit, which was installed just before Symposium. Three years later, how has it performed?
Installation
Unfortunately, I cannot speak in-depth about the installation process of the Apex trigger, as I didn't do it myself. Instead, I opted to have my friend do the dirty work, as he's far more experienced in that realm than I am. I will say that most people I know say that it's a tricky operation, and recommend that only knowledgeable people attempt installation to avoid damaging your gun or the new trigger.
Function
The Apex trigger is significantly different than the factory trigger on the FN 509. Most glaringly obvious is that the Apex is flat-faced, opposed to the curved and rounded profile of the factory offering. This improves the shooter's ability to get a clean trigger press, mating the flat face of the trigger with the pad of the index finger for a straight rearward motion. The face of the trigger has also been slightly widened, providing more surface area, similar to target triggers on some precision rifles.
The trigger safety has been changed from a hinge to a blade within the trigger, somewhat similar to what is found on Glock pistols. If this blade is not fully depressed, the trigger will not complete its travel, potentially preventing an accidental discharge. I prefer this style compared to the hinge safety on the factory trigger and have found it to be unobtrusive, virtually unnoticeable under live fire.
Thanks to the new geometry of the Apex trigger, travel and reach have been significantly changed as well. The reduction in trigger reach is especially helpful for shooters with small hands. This made the FN 509 Tactical my default loaner pistol when teaching to younger shooters and women, allowing them to make full contact with the trigger.
Travel is substantially reduced with the Apex trigger, with a very defined wall before a clean break. There is only a millimeter or two of travel between fully depressed and reset, aiding with quick follow-up shots. These changes help remove some of the variables when shooting, easing some marksmanship challenges. While these differences aren't as noticeable when shooting something like a Bill Drill, they're definitely appreciated on high-value shots like the Failure Drill or 25-yard bullseyes.
Aesthetics
Currently, Apex Tactical offers eight different options for their FN 509 Action Enhancement Kit. These range from simple all-black, to the Freedom Edition line like mine, with a variety of colors available for both. While fancy colors and patterns don't do anything for function, they do offer some customization for users. I know most people who saw the flag on my trigger got a kick out of it, and it looks good for the gram too.
Real World Use
To date, I have fired approximately 2,000 rounds through my FN 509 Tactical with this Apex trigger installed. Rounds were primarily Blazer Brass, along with some Speer Gold Dot and a variety of other FMJ ammunition. I did not try and steel case or surplus ammunition, so I cannot speak to reliability with harder primers. On top of this, I have roughly 1,000 dry trigger presses with this combination as well.
While the gun hasn't been my mainstay over the years, it has seen some decent time at the range and in classes. Its first outing was in Scott Jedlinski's red dot class at the 2019 Shooter Symposium. In 2020 I brought the FN 509 and Apex trigger with me to a few classes with Chuck Haggard, finishing off its time in national-level courses. All other rounds were fired as part of regular range time, along with my wife's conceal carry class in 2021.
Overall, I've experienced zero issues with my Apex trigger, nor with my FN 509 Tactical. It has performed with incredible consistency and is good-looking to boot. I also really appreciate the bladed safety, as I think that is a far more effective method of creating a passive safety compared to the factory-hinged trigger.
Final Thoughts on the Apex Tactical Action Enhancement Kit for the FN 509
I've never been big on aftermarket triggers, but this is one that I highly recommend. I think Apex has knocked it out of the park here. This trigger offers improved geometry, better safety, enhanced performance on the range, and looks sharp as a bonus. I highly recommend you try one out for yourself.
As of the time of this writing, the Apex Tactical Action Enhancement Kit starts at $149.95 and goes up to $159.95 depending on the configuration. You can pick yours up from the Apex Tactical website. Apex also offers triggers for a variety of other pistols including Walther, Smith & Wesson, SIG Sauer, and more.
---
About Dan Reedy
Dan is an Air Force veteran, avid shooter, and dog dad. With a passion for teaching, he holds instructor certifications from Rangemaster, Agile Training & Consulting, and the NRA. He has trained with Darryl Bolke, Mike Pannone, Craig Douglas, among several other instructors, amassing over 400 hours of professional instruction thus far. In his spare time you'll find him teaching handgun, shotgun, and less lethal classes.
Dan's work has been published by Primer Peak, and The Kommando Blog, and he has been featured as a guest on Primary & Secondary.