Alien Gear Holsters have been around a while now and I've got to admit, I've always been curious about their products.
Having a good, sturdy holster is crucial when it comes to carrying a firearm. But it's even more important for law enforcement because the quality of retention can become a life-saving matter.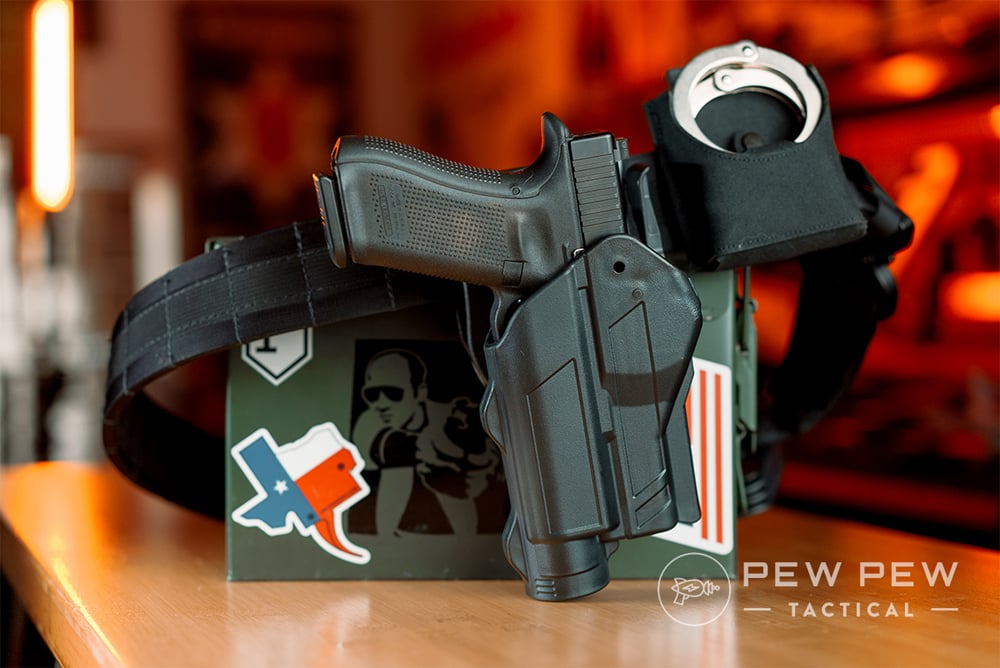 When Alien Gear entered this market with the Rapid Force Duty Holster, I determined to check it out for myself. I spent some time testing it at the range to see if it really could hold up to the rigors of duty carry.
All in all, I left with good impressions; but keep reading to find out what wowed me and what could be improved…
Table of Contents
Loading…
Pros & Cons
Pros
Available for most common duty weapons
Customizable
Secure
Cons
The Bottom Line
The Rapid Force Duty Holster is a solid option for securing your firearm if you're a police officer or an OWB carrier. The unit is tough, quick, and securely holds your weapon until you need it.
Features
Level II or Level III retention
Adjustable to hand size
Adjustable carry heights
Source: Alien Gear Rapid Force Duty Holster
Alien Gear Rapid Force Duty Holster
115
at Alien Gear Holsters
Prices accurate at time of writing
View Details

115
at Alien Gear Holsters

Prices accurate at time of writing
Available Coupons
25% off all OAKLEY products

– OAKLEY25
Background
If you're a concealed carrier, you can easily understand how important good retention in a holster is. You wouldn't want your gun sliding down the lane as you tried to pick up that spare at the bowling alley.
For law enforcement, the issue of embarrassing mishaps is a concern, but not nearly as important as overall safety.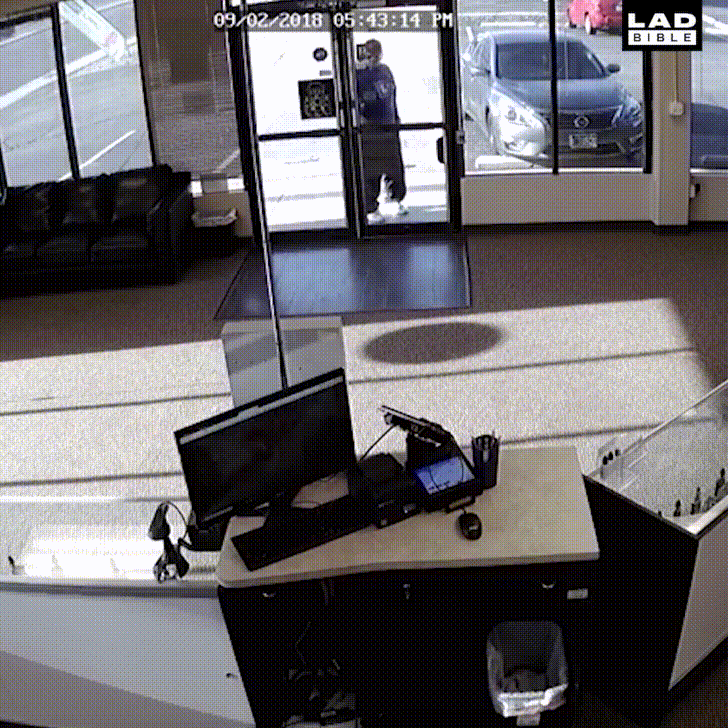 Suspects have been disarming cops for as long as they have been armed.
In the early years, retention was seen as a hindrance to speed. As more officers died from this problem, things began to change and we saw better retention in holsters.
Who Is It For?
The Rapid Force is a really good option for anyone carrying in a law enforcement capacity, but it's also a good choice for shooters wanting to carry outside the waistband in a more secure fashion.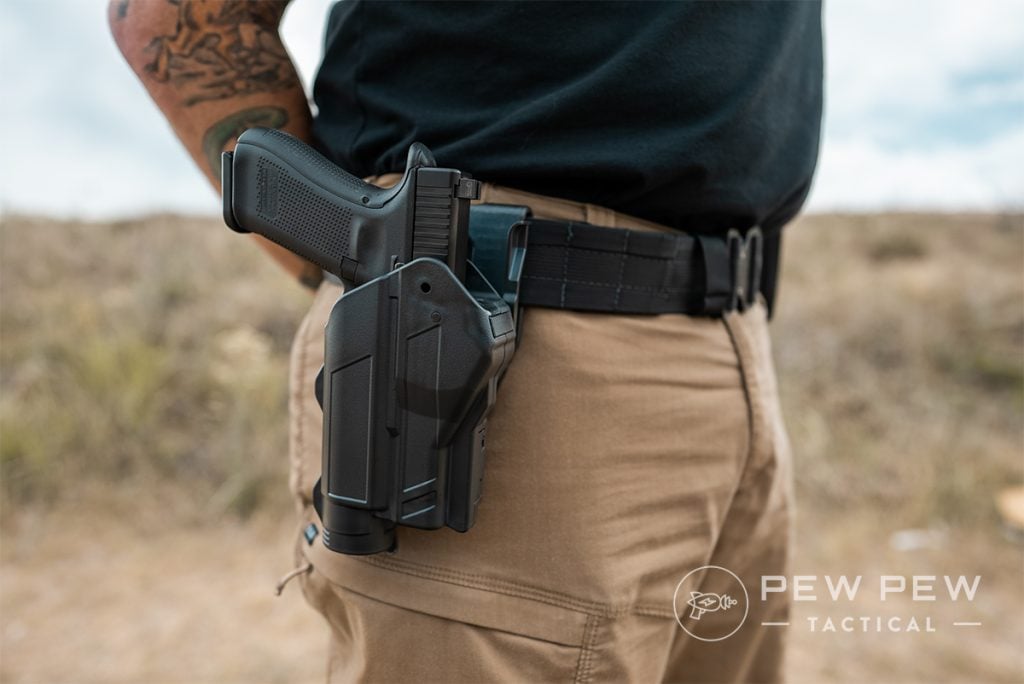 Any shooter could use this holster for training or when attending classes. The Rapid Force would also serve well in competitions where retention is needed, like the Tactical Games.
What Sets It Apart?
With such an awesome level of responsibility Alien Gear unflinchingly stepped up, took feedback from officers, and created a new holster option. The Rapid Force Duty Holster was born as a result.
The holster is extremely configurable. Users can select from mounting it up with a belt slide, paddle, MOLLE, or drop leg. From there you can choose a ride height of high, medium, or low.
You can select either Level II retention or Level III. It's available for left or right-handed shooters and comes in basketweave or matte (both black) finishes.
Even better, you can set up the holster to your hand size. The deactivation components have different-sized buttons which can be swapped out to better fit each individual shooter.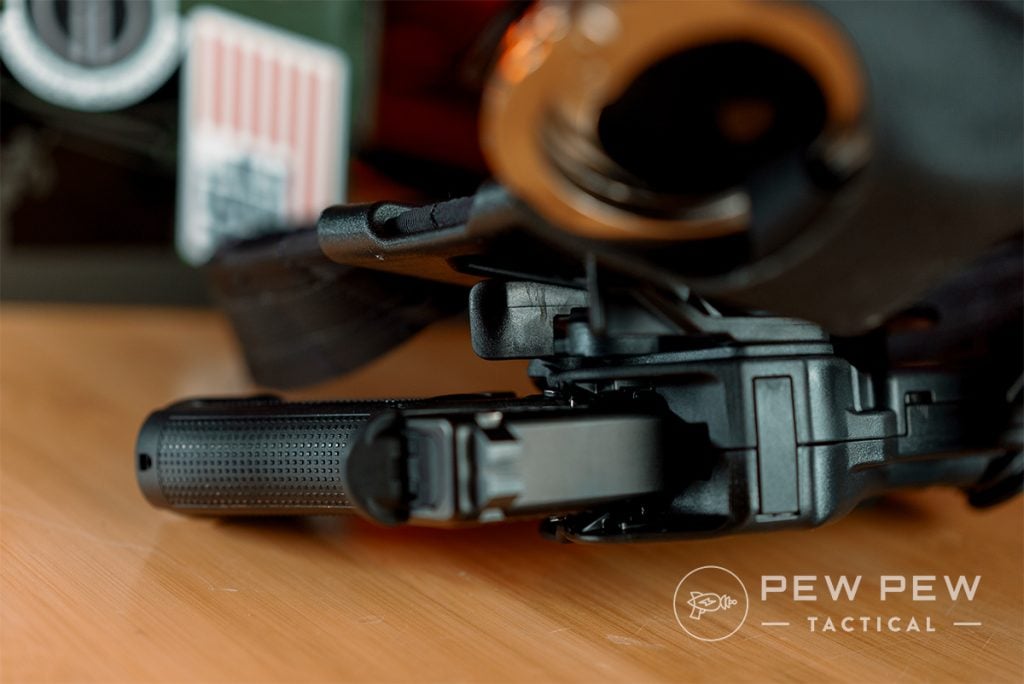 The Rapid Force has a cover option for pistols mounted with red dots and is currently available for Glock, Smith & Wesson, and Sig Sauer models.
How Does It Perform?
When I first got the Rapid Force, I was impressed with its sturdiness. The holster is very rigid and felt pretty bombproof. It appears to be made of some tough (alien?) polymer.
I had opted for level II retention for a Glock with a weapon light. I used a Gen 5 G17 with a Nightstick TWM-30 and when I inserted the gun, it locked in positively with a click.
One cool feature of the design is that retention is not based on the weapon light. Even with the light removed from the gun, the holster functions just fine.
Pushing down on the release mechanism felt natural as I practiced removing my gun from the holster. The Glock came out smoothly after the device released it.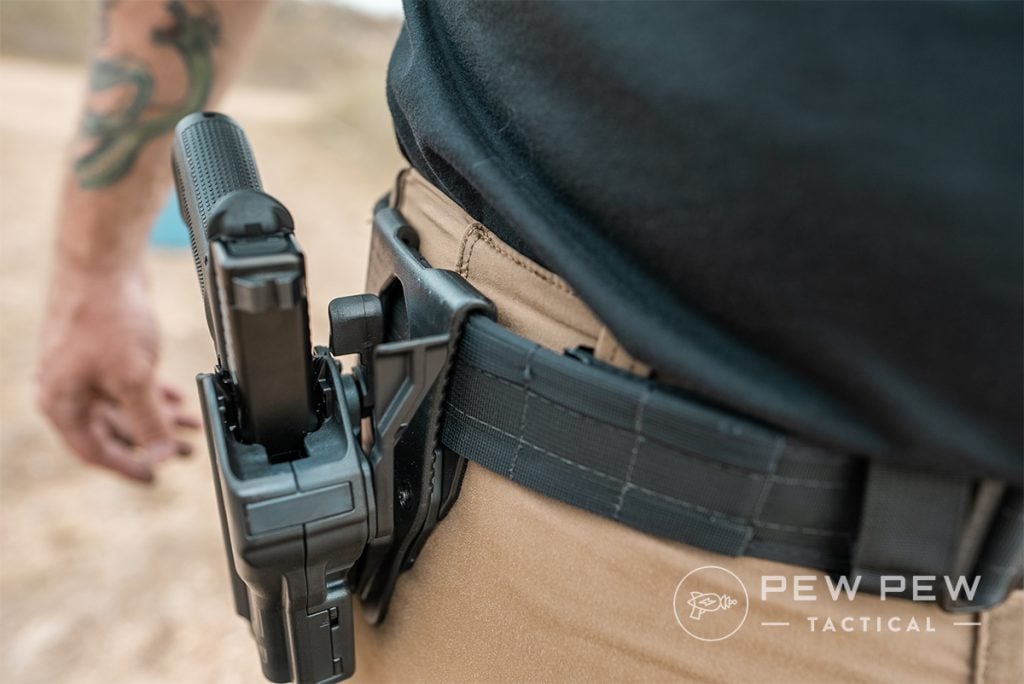 Satisfied, I then mounted the Rapid Force to a belt for some range testing. I opted for the slide and appreciated how the hardware was configured to accommodate various heights of belts.
Next, it was off to the range to try it out.
After loading up magazines I stepped onto the range to try out the Rapid Force Duty Holster. I started off slow and worked on my draw stroke.
Like other duty-oriented holsters, you need to draw straight up until you clear. But once the retention device releases, the gun pulls clearly from the holster.
The body even houses a deepened channel for suppressor height sights so there is no hanging up when you pull free. Holstering was a simple matter of lining up the gun and pushing down until I heard the click.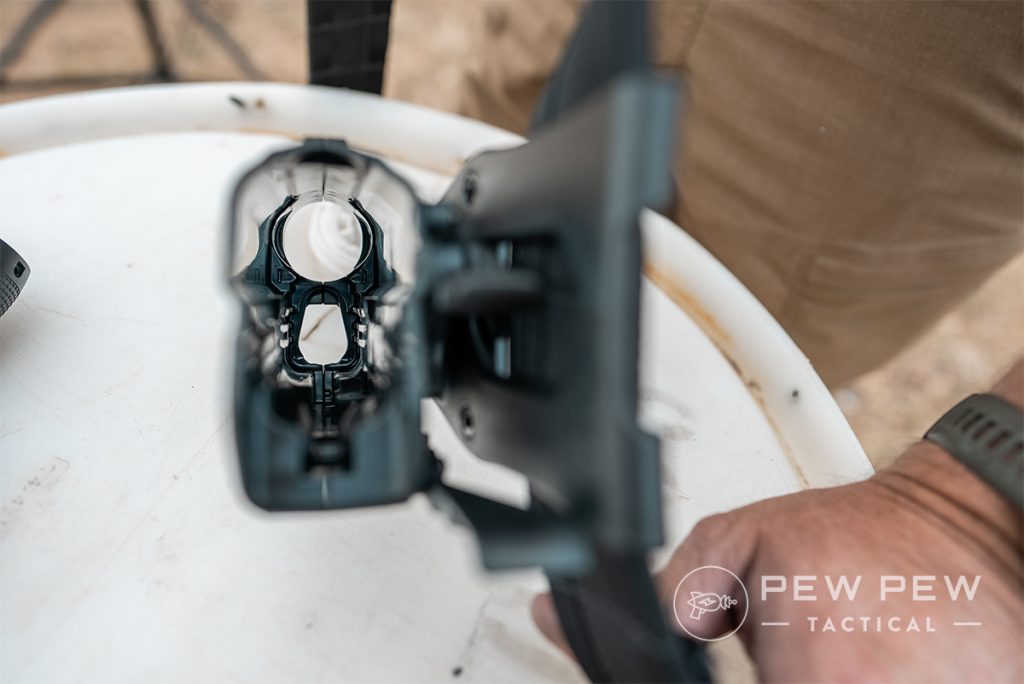 From there, I began to speed things up to see what I might be able to manage. As I pushed, I began to appreciate the placement of the retention deactivator at the thumb — it felt very natural and occurred easily as I established my grip.
After testing out a few draws I was impressed with the smoothness and moved on to retention. I didn't beat on the holster or go full force on force with it but pulled on my gun excessively in some belt-twisting tugs to try and free my weapon without releasing the retention.
It didn't budge.
Alien Gear's website said their engineers have spent a lot of time trying to destroy the holster and they are confident it is tough. My impressions were, that this is very likely true as the Rapid Force feels solid.
Alien Gear offers a 30-day test period for the holster as well as a 3-year manufacturer warranty.
By The Numbers
Durability: 5/5
This holster is a beast and I'm glad they designed it this way. You don't want your gun coming up for any reason until you make that decision.
Ergonomics: 5/5
I'm very impressed with the efforts Alien Gear took to make sure the controls on this holster were customizable. It's easy enough to adjust ride height, but to make the buttons taller or shorter to fit different-sized hands is going above and beyond.
Speed: 5/5
I was closing in on sub-second draws with the Rapid Force so I think it lives it to the name.
Value: 5/5
The Rapid Force Duty Holster has a base price of $123.88 but shooters can upgrade with a couple of options. Adding a light is an additional $8, Level III adds $20, and a quick disconnect is an additional $35.
This is very competitive when you shop around for similar offerings from competitors.
Overall: 5/5
Alien Gear Rapid Force Duty Holster
115
at Alien Gear Holsters
Prices accurate at time of writing
View Details

115
at Alien Gear Holsters

Prices accurate at time of writing
Available Coupons
25% off all OAKLEY products

– OAKLEY25
Final Verdict
I really have no evidence that aliens had anything to do with the creation of this holster. However, I understand cops were involved and it absolutely shows.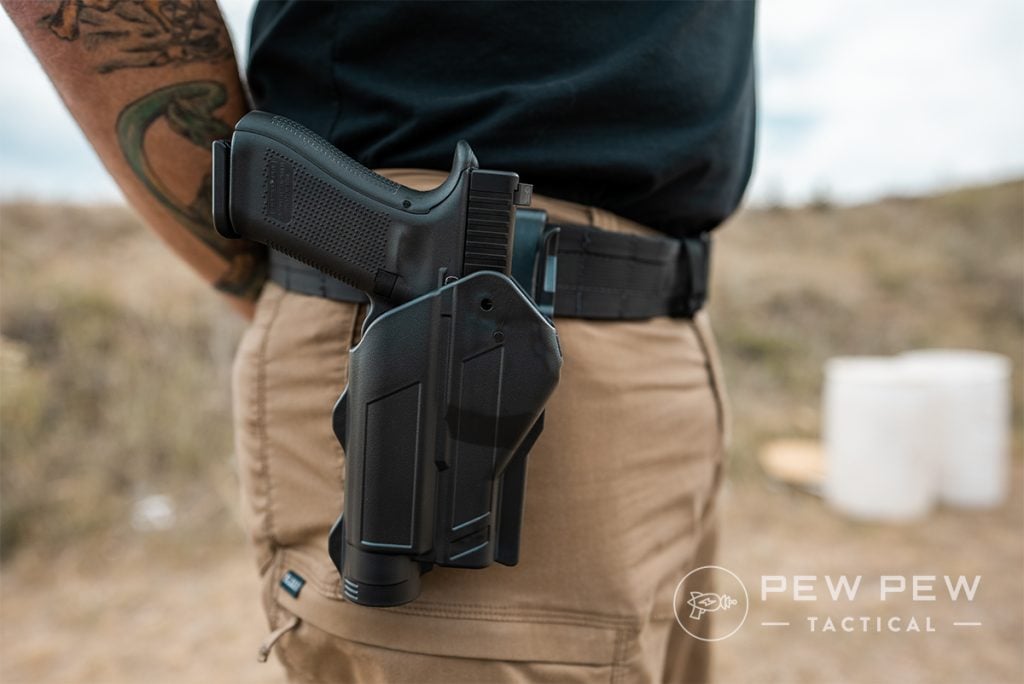 The holster is tough, highly adjustable, retention is strong, it's not terribly expensive, and the draw is quick. Alien Gear's Rapid Force Duty Holster checks all the boxes cops are looking for in a holster.
What do you think about the Rapid Force Duty Holster? Let us know in the comments below and check out our 9 Best OWB Holsters for more!
The post Alien Gear Rapid Force Duty Holster Review: Best OWB Holster? appeared first on Pew Pew Tactical.